EghtesadOnline: Shoppers looking to buy Apple Inc.'s new iPhone 7 smartphones Friday better have ordered ahead. Limited supply meant some stores sold out, leaving those who purchased online with the best chance to get their hands on the latest models -- and some resorting to extreme measures.
Apple stores around the world turned away would-be customers who hadn't already ordered online. At the Covent Garden location in London, a security guard told people to try back in a few days. A few hundred who had booked ahead stood in a barricaded line, in the rain, waiting to collect their devices. In New York at the company's store near Central Park, one man had been waiting in line for three days, and he wasn't even at the front of the queue. Still, he was hopeful he'd walk away with a phone. Several hundred waited in line at the flagship store at San Francisco's Union Square, with enthusiasm waning toward the back, reports Bloomberg.
Apple made several changes to its flagship product -- the new iPhones feature camera upgrades, a faster processor, longer battery life and a new water and dust-resistant design. But their size and shape aren't that different from the iPhone 6 line, apart from one key change: the removal of the headphone jack. That doesn't seem to have deterred customers showing up on Friday on the first day of sales.
Bobur Sadirov, a 21-year-old student from Uzbekistan, had been in the line in New York since Wednesday. He was among more than 100 people crowding the plaza in front of Apple's store on 59th street. He was confident his persistence would be rewarded: "I think my efforts will be assessed and I'll get my phone," he said.
The challenge for Apple now, as in years past, is making sure there are enough of the gadgets to meet demand. Customers who hadn't pre-ordered the larger iPhone 7 Plus models will be unable to buy them in Apple stores Friday, the company said earlier this week.
That's already leading to black-market tactics. Men outside the Convent Garden store were seen exchanging wads of cash to buy handsets from somebody who had ordered ahead.
The 5.5-inch-screen model boasts a dual back-facing camera system, and analysts said inadequate supply of components for that feature has held up manufacturing.
"We had known for some time that dual lens parts would be constrained at launch, nobody across the board is shipping these components in volume," said Ben Bajarin, an analyst at Creative Strategies. "The fact that all iPhone 7 Plus models are constrained is a sign of the supply chain."
The sight of hundreds of iPhone buyers waiting outside Apple stores to buy the latest handset has long been a ritual of the company's marketing. Yet expectations for the iPhone 7 had been muted before it was unveiled in San Francisco last week amid slowing growth in global smartphone sales. Analysts will be left guessing at early demand anyway because Apple won't disclose initial weekend sales numbers for the new models, breaking with the tradition of past years.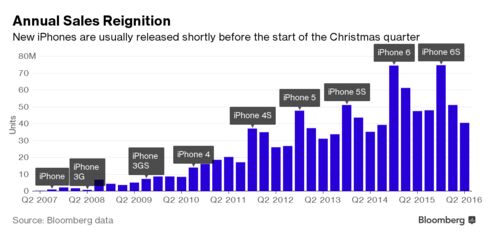 There are two versions of the new iPhone: the 7 and 7 Plus, which start at $649 and $769 respectively. Both come in silver, gold, rose gold, matte black and jet black colors. The first customers to obtain the new models were in the eastern hemisphere, starting in New Zealand and spreading west to Australia, Japan and China.
In Japan, the addition of a contact-less transit-card feature and better waterproofing was a draw for some shoppers.
"I want to test this in the bath," said Takashi Sato, 44, a professor from Saitama, near Tokyo. He was at Apple's Ginza store to pick up a pre-ordered iPhone 7 Plus. "I've been putting my iPhone in a Ziploc bag until now. I use my iPhone a lot in the bath."
The more complicated manufacturing process for the jet black versions of the iPhone 7 may also have held up supply. The production requires nine different stages to achieve the glossy black finish, Apple has said. The jet black version of the 4.7-inch iPhone 7 has also sold out, while the smaller iPhone's other color options will still be in stores Friday, according to the company.
T-Mobile US Inc. and Sprint Corp. said this week that pre-orders for the new models were almost four times as great as for previous models, helping drive Apple stock to its highest level in almost five years. The announcements provided some welcome news for Apple, which analysts expect will suffer its first annual sales decline since 2001. Verizon Communications Inc. said pre-orders were at a similar level to previous years. Orange SA, France's biggest carrier, said orders were slightly higher than last year, but that it didn't have a supply shortage.
More aggressive promotions from U.S. carriers may have attracted new customers, Morgan Stanley analysts including Katy Huberty said in a note to investors Wednesday.
Pierre Gavarat waited in San Francisco to buy his first iPhone Friday morning. The 28-year-old has until now owned handsets running Microsoft Corp.'s Windows mobile operating system.
"If Microsoft, you're abandoning your phone, then so will I," said Gavarat, who's originally from France and didn't want the larger 7 Plus model. "I'm interested to try an iPhone."
In 2013, Apple overestimated demand for the iPhone 5c and had to cut orders from suppliers. A similar experience occurred with the iPhone 6S, according to the Nikkei Asian Review. Industrywide, smartphone sales have also been slowing this year.
"Apple clearly controls supply tightly," said Matthew Kanterman, an analyst at Bloomberg Intelligence. "They're possibly keeping supply artificially low, or at least lower than demand, so as to avoid having the oversupply of previous years." An Apple spokesman declined to comment Thursday.
At the back of the line outside Apple's Union Square in San Francisco Friday morning, enthusiasm was lacking. "My iPhone 5 died two days ago, the screen became detached," said David Nelson, a 51-year-old attorney from Oakland. "If my phone had survived, I wouldn't be here."
Apple is likely to sell 44 million iPhones in the three months through September, according to RBC Capital Markets estimates, down from the 48 million sold in the same period a year earlier. The iPhone 6S became available in stores Sept. 25, 2015. Sales in the final three months of the year will meanwhile likely reach 79 million units, up from 75 million a year earlier, RBC forecast.
Bajarin said Apple could sell 75 million to 76 million iPhones in the December quarter, which would be year-over-year growth, but supply constraints could prevent that.
Many of the devices are reserved for Apple's iPhone Upgrade program, which started in the U.S. and is being introduced in China and the U.K. this year. Customers pay a monthly fee and can upgrade their handset once a year, potentially stabilizing iPhone sales in weaker years and helping Apple predict revenue more accurately. Apple has set aside new models for iPhone Upgrade customers to pick up beginning Friday.