It's still tough out there.
EghtesadOnline: Small businesses are increasingly having to pay more for their loans, according to a new survey that examines credit constraints for more moderate ventures across the U.S. and Europe.
Only 48 percent of small- and medium-sized businesses said they can get financing at rates below 8 percent, according to a new survey from C2FO, a financial technology startup that has created a marketplace where small- and medium-sized businesses can get paid early by the large companies they supply. The inaugural such survey, released last year, showed nearly 60 percent of respondents were able to secure funding at rates below 8 percent, according to Bloomberg.
The survey comes despite benchmark interest rates hovering at record lows, particularly in Europe where the central bank has begun buying corporate bonds in an effort to lower borrowing costs. Regulation introduced after the 2008 financial crisis, as well as a continued wariness of riskier loans, is often said to have made small business lending less attractive for banks, encouraging a host of new entrants eager to grab a slice of the market.
"The cost of capital is increasing significantly, and we were surprised by the extent of it in this year's survey," said Dru Shiner, C2FO's chief sales officer. "Most small businesses work with small and regional banks, especially in the U.S., and because of all the new regulations ... the credit risk and other things they have to navigate is making them lend to larger and larger organizations."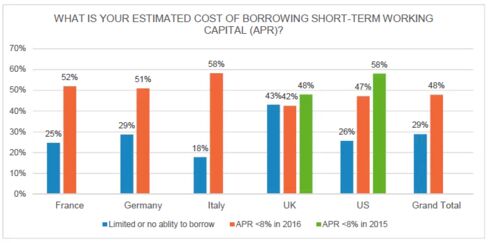 C2FO
C2FO canvassed more than 1,800 small- and medium-sized businesses (SMEs) in the U.S., U.K., Germany, France, and Italy, with 80 percent of those firms having $2 million or less in gross annual revenue. It found borrowing was priciest in the U.K. and the U.S. with 42 percent and 47 percent of SMEs borrowing at a rate of below 8 percent, respectively. That compares with 52 of respondents in France, 51 percent in Germany, and 58 percent in Italy.
An apparent higher cost of capital has caused some of these firms to look at other sources, such as peer-to-peer, or marketplace, lending that involves directly matching would-be borrowers with lenders. On average, 18 percent of respondents in each country reported using peer-to-peer lending at some point.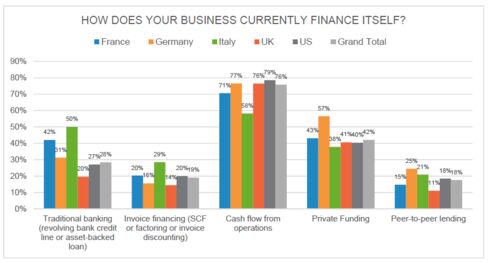 C2FO
More expensive credit in the U.S. stands somewhat at odds with the most recent survey from the National Federation for Independent Business (NFIB), which showed just 3 percent of small business owners reporting in July that their borrowing needs were not satisfied — 1 percentage point above the record low reached in September of last year. Still, the NFIB small business optimism survey has been sputtering with sentiment making little to no improvement over the last year, falling 0.2 point in August to a three-month low of 94.4.
"Uncertainty is high, expectations for better business conditions are low, and future business investments look weak," NFIB Chief Economist Bill Dunkelberg said in a statement. "Our data indicates that there is little hope for a surge in the small business sector anytime soon."