EghtesadOnline: European stocks advanced and Spanish 10-year bond yields fell to a record low on speculation Mario Draghi will show a bias for extending the European Central Bank's stimulus measures. Oil climbed on signs a U.S. glut is easing.
Banks led European shares toward the highest since January as ECB policy makers met in Frankfurt, while futures signaled U.S. equities will advance after closing near an all-time high on Wednesday. Crude rose above $46 a barrel, spurring gains in currencies of commodity-producing countries. Ireland auctioned 10-year bonds at record-low yields. Yuan borrowing costs surged to the highest since February amid speculation China is taking steps to deter bets on depreciation, according to Bloomberg.

The ECB may help revive markets following a slump in volatility as traders focus on potential tweaks to quantitative easing and economists predict Draghi will prolong bond buying even if policy makers don't cut rates. In the U.S., investors will be looking at data on jobless claims after prospects for an interest-rate increase in September faded amid data showing slowdowns in hiring and business activity.
"Rather than waiting for concrete measures from Draghi, this time we're all looking for any signals regarding what more could be done if needed," said Alan Higgins, chief investment officer at Coutts & Co. in London. "That means whether the ECB could extend the period of QE, any word about buying more government bonds in the periphery and whether they can include bank bonds in the program. It's all about clues today."
Stocks
The Stoxx Europe 600 Index gained 0.1 percent as of 10:35 a.m. London time. Futures on S&P 500 added 0.1 percent after the U.S. measure barely moved in the last session. The benchmark has held in a band of 1.5 percent for 39 days, the narrowest ever for that length of time. A 50-day volatility measure for the MSCI All Country World Index of shares has more than halved since the start of this month.
The Hang Seng China Enterprises Index rose 0.4 percent after Chinese trade data showed export declines moderated in dollar terms last month and imports unexpectedly grew. Daily moves in the Shanghai gauge have been less than 1 percent for 17 days in a row, a phenomenon that last occurred in 2001.
Japan's Topix index fell 0.3 percent. The nation's gross domestic product expanded by an annualized 0.7 percent in the three months ended June 30, more than an earlier estimate of 0.2 percent. Nintendo Co. jumped 13 percent in Tokyo after the company announced plans to make its Super Mario Run game available on Apple Inc.'s iPhones from December.
As investors assess the outlook for both U.S. and Japanese monetary policy, "it's difficult to make a definitive move in either direction," said Koichi Kurose, Tokyo-based chief market strategist at Resona Bank Ltd.
Currencies
The Bloomberg Dollar Spot Index fell 0.3 percent, nearing a two-week low. Australia's dollar led gains among 16 major currencies with a 0.7 percent advance and the Taiwan dollar was the worst performer with a 0.3 percent loss. The euro rose 0.3 percent to $1.1274.
The Philippine peso sank to a four-week low after foreigners pulled $153 million from the nation's stocks since the end of August, on track for the heaviest monthly net sales since November.
China's yuan weakened less than 0.1 percent in the onshore market, declining for the first time this week, and was little changed in offshore trading.
Fixed Income
The overnight rate for yuan loans between banks in Hong Kong jumped 3.88 percentage points to 5.45 percent, a daily fixing showed. The equivalent rate in Shanghai increased by one basis point to 2.10 percent.
The People's Bank of China may have tightened liquidity in the offshore market, as it did in January, to make it prohibitively expensive for foreign speculators to short the yuan in the wake of a Group of 20 summit that ended Monday, according to Mizuho Bank Ltd.
"The authorities may be repeating January's trick -- tighten the liquidity and crack down on bearish speculation on the yuan," said Ken Cheung, a foreign-exchange strategist at Mizuho Bank in Hong Kong. "Everyone was talking about depreciation after the G20 meeting, and China could be reacting to that."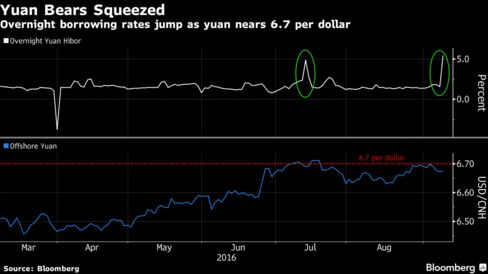 The yield on Spain's 10-year bond fell as much as two basis points to 0.909 percent, and Italy's yield dropped one basis point to 1.07 percent.
U.S. Treasuries due in a decade were steady and yielded 1.53 percent. The probability of the Fed boosting benchmark interest rates at its meeting this month has dropped 10 percentage points this week to 22 percent, futures prices indicate.
Commodities
West Texas Intermediate crude climbed 2 percent to $46.38 a barrel. It's risen more than 7 percent in the past week amidoptimism major producers will agree measures to support prices.
U.S. crude inventories fell by 12.1 million barrels last week, the industry-funded American Petroleum Institute was said to have reported. A similar drop in official data due Thursday, which is forecast to show an expansion, would be the largest since 1999.
"The size of inventories around the world are a headwind for oil prices," said Ric Spooner, a chief market analyst at CMC Markets in Sydney. "If government data backs up the API figures, and we saw a decline in inventories instead of a build, then that would be a positive development."
Gold rose 0.2 percent, approaching a three-week high, and tin retreated in London from its best close since January 2015.