EghtesadOnline: Emerging-market stocks and currencies rallied after a slew of weak U.S. economic data quelled speculation the Federal Reserve will raise interest rates this month. European equities held near an eight-month high.
An MSCI gauge of shares in developing nations and South Korea's won climbed to their highest levels in more than a year. A strengthening yen weighed on shares in Japan after a media report cast doubt on the central bank's willingness to boost stimulus. Australia's dollar snapped a five-day winning streak after economic growth missed estimates. Gold traded near a two-week high, while bonds rallied across most of Asia following gains in U.S. Treasuries, reports Bloomberg.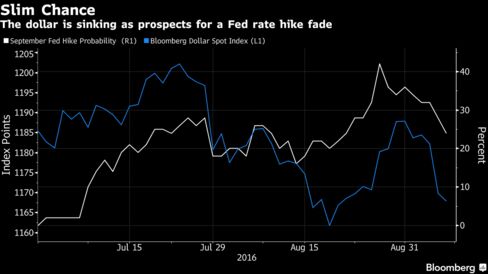 The probability of the Fed hiking rates this month dropped by eight percentage points to 24 percent in the futures market on Tuesday as a report showed the Institute for Supply Management's gauge of U.S. services activity slumped to a six-year low. The figures add to a picture of uneven growth in the world's biggest economy after indicators in the past week showed a contraction in manufacturing and a slowdown in hiring.
"The recent string of weak economic data makes it difficult for the Fed to raise rates this month," said Michael McCarthy, chief market strategist in Sydney at CMC Markets. "A hike in December remains a coin toss. If the data deteriorates further, we could be looking at rate hikes in 2017. The flood of easy money will continue to support this equity rally."
Central banks in Canada and Sweden are forecast to leave interest rates unchanged at policy reviews on Wednesday, while Bank of England Governor Mark Carney testifies before lawmakers and the Fed is due to release its Beige Book survey of regional economic activity. China is scheduled to report its foreign-exchange reserves, while the U.K. has data on industrial output and home prices.
Stocks
The Stoxx Europe 600 Index was little changed as of 8:13 a.m. London time, trading within 0.5 percent of its highest close since January. Germany's industrial production unexpectedly dropped in July by the most in almost two years, official figures showed.
The MSCI Emerging Markets Index gained 0.4 percent, advancing for a fourth day. Taiwan Semiconductor Manufacturing Co., a major Apple Inc. supplier, climbed to a record before the expectedunveiling of the iPhone 7 in San Francisco on Wednesday.
"We can't really ignore the fact that the ISM numbers were fairly poor," said Kiyoshi Ishigane, chief strategist at Mitsubishi UFJ Kokusai Asset Management Co. in Tokyo. Shares across most of Asia "are rising on the expectations of a delayed U.S. rate hike, but in Japan the effects of the stronger yen mean that stocks can't avoid falling," he said.
Japan's Topix index retreated from a three-month high as yen gains weighed on exporters, with Toyota Motor Corp. falling for a fourth day. Nippon Soda Co. posted the biggest drop on the Nikkei 225 Stock Average, tumbling 11 percent, after Nikkei Inc. announced the chemical maker will be removed from the gauge. Online marketplace operator Rakuten Inc., which will replace Nippon Soda, surged 7.2 percent.
Philippine stocks dropped to their low for the quarter after foreigners pulled funds from the securities on each of the last 10 trading days.
Futures on the S&P 500 Index were steady, following a 0.3 percent increase in the underlying measure on Tuesday. Nasdaq 100 Index contracts were also little changed after gains in Amazon.com Inc. and Facebook Inc. drove the Nasdaq Composite Index to an all-time high.
Currencies
The Bloomberg Dollar Spot Index, a gauge of the greenback against 10 major peers, held near a two-week low. It tumbled 1 percent in the last session, the biggest loss since July.
"The near-term dollar outlook is not good," said Gareth Berry, a foreign-exchange and rates strategist at Macquarie Bank Ltd. in Singapore. "There is room for the market to further price out the risk of a September hike, which should add to downside pressure on the dollar."
The yen appreciated 0.5 percent, after jumping more than 2 percent over the last two sessions. BOJ policy board members are divided between those who support negative interest rates, those who want to expand government bond purchases, and others who oppose additional easing measures, Sankei reported, without saying who provided the information.
South Korea's won jumped 1.4 percent, leading gains in emerging markets. Taiwan's dollar extended this week's advance to 1.5 percent, the biggest three-day gain since 2009, after overseas investors pumped almost $600 million into the island's shares over the last two sessions.
Australia's dollar weakened 0.4 percent in the wake of a five-day, 2.4 percent advance. Gross domestic product expanded 0.5 percent in the quarter ended June 30 from three months earlier, less than the 0.6 percent growth forecast in a Bloomberg survey.
Bonds
U.S. Treasuries due in a decade were little changed, after their yield slid seven basis points to 1.53 percent in the last session following the ISM services data. Ten-year bonds in Australia and New Zealand climbed for the first time in a week, pushing their yields down by at least six basis points to 1.83 percent and 2.26 percent, respectively.
Commodities
Crude oil rose 1.1 percent to $45.31 a barrel in New York, extending its rebound after the price sank to a three-week low of $43 on Sept. 1. American stockpiles likely expanded by 705,000 barrels last week, according to a Bloomberg survey before official data on Thursday. A Monday meeting between the energy ministers of Saudi Arabia and Russia ended without any specific proposals for measures to support prices.
"The markets will still be watching very closely any concrete action that comes out of what happened between the Saudis and Russia," said David Lennox, a resources analyst at Fat Prophets in Sydney. Increasing U.S. stockpiles "will be a headwind for any rally," he added.
Gold held near its highest level in almost three weeks after a 1.7 percent surge on Tuesday, its biggest gain since the results of the Brexit vote came out on June 24. Bullion is gaining as fading prospects for a Fed rate hike weigh on the dollar.
Tin was little changed near its highest level since January 2015 in London, having jumped more than 30 percent this year. Traders are paying the most in a year to maintain bearish positions amid asqueeze caused by tightly held supplies on the London Metal Exchange. One unidentified company controls at least half of tin stockpiles and the amount available for withdrawal from warehouses is at an 11-year low, exchange data show.