EghtesadOnline: Stocks rallied in Asia and Europe, while the dollar weakened as prospects for a U.S. interest-rate hike this month remained subdued. Australia's dollar rose after a central bank policy meeting.
The MSCI Asia Pacific Index climbed to a one-year high and the Stoxx Europe 600 Index was headed for its best close in eight months. The Bloomberg Dollar Spot Index slid to a one-week low as the Aussie advanced for a fifth day, its longest winning streak in six months. Crude oil traded above $45 a barrel after the world's top two producers pledged to cooperate to stabilize global markets. Japan's 30-year bonds snapped a nine-day losing streak as demand firmed at an auction of the notes, reports Bloomberg.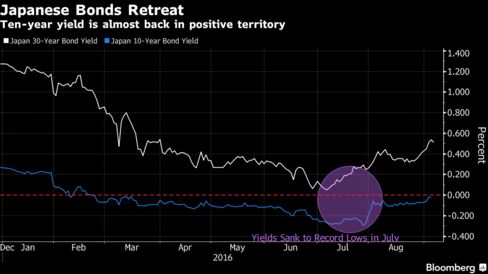 Global equities and emerging-market assets have gained ground since American payrolls data on Friday damped speculation the U.S. would raise rates in September. While the Federal Reserve is pondering tightening monetary policy, its counterparts across much of Asia and Europe are in the midst of easing cycles and a U.S. hike has the potential to destabilize financial markets. The Reserve Bank of Australia left its benchmark rate at a record low on Tuesday, after cutting borrowing costs in August.
"Monetary policy is going to remain easy around the world and that will continue to be supportive of risk assets," said James Woods, a strategist at Rivkin Securities in Sydney. "The non-farm payrolls last week indicate there's no rush for the Fed to raise rates."
Markets in Canada, India and the U.S. resume trading on Tuesday after holidays, and data on services output in the world's biggest economy are due. Fed Bank of San Francisco President John Williams is scheduled to speak and his comments may help shape the outlook for monetary policy. The probability of the Fed opting for a September rate hike fell by 10 percentage points last week to 32 percent, futures prices indicate.
Stocks
The Stoxx Europe 600 Index added 0.3 percent as of 8:09 a.m. London time. Swiss economic momentum accelerated more than expected during the last quarter, while Germany's factory orders grew in July by less than economists forecast, data showed Tuesday.
The MSCI Asia Pacific Index rose 0.7 percent, after advancing 1.3 percent in the last session. Japan's Topix index climbed to a three-month high, while benchmarks in Hong Kong, India and South Korea rallied to their best levels in more than a year.
Futures on the S&P 500 Index added 0.1 percent, after the gauge rose 0.4 percent on Friday. Bayer AG sweetened its takeover bid for Monsanto Co. for the second time, saying it would be prepared to pay $127.50 a share for the U.S. seed giant provided a negotiated deal can be reached. Monsanto ended last week at $107.44 in New York.
Currencies
The Bloomberg Dollar Spot Index lost 0.2 percent for the second day in a row. The yen reverse earlier losses to trade 0.1 percent firmer versus the greenback. The Bank of Japan should refrainfrom stepping up monetary stimulus until after the Fed decides on interest rates, according to Koichi Hamada, an economic adviser to Prime Minister Shinzo Abe.
The Aussie appreciated 0.9 percent, the second-best performance among major currencies. The RBA kept its benchmark interest rate at 1.5 percent in Governor Glenn Stevens's final meeting, a decision forecast by all 26 economists in a Bloomberg survey. South Africa's rand surged 1.1 percent, advancing for a fourth day.
South Korea's won and Taiwan's dollar were both near two-week highs, with the latter advancing 0.3 percent. India's rupee climbed to a four-month high, trading for the first time since Urjit Patel took over as governor of the central bank.
"Asian currencies will be especially sensitive to comments from various Fed speakers this week," said Khoon Goh, head of regional research at Australia & New Zealand Banking Group Ltd. in Singapore. "Any talk of September still being live should see Asian currencies give up some of their recent gains."
Commodities
Crude oil traded at $45.27 a barrel in New York, 1.9 percent higher than at the end of last week. It climbed as high as $46.53 on Monday before retreating after Russia and Saudi Arabia -- the world's two biggest producers -- ended talks in China without agreeing any concrete actions to support prices. The two nations will attend talks this month in Algeria with other major producers and Russian Energy Minister Alexander Novak said Monday that they both view an output freeze as the most constructive instrument.
Aluminum rose 0.6 percent in London, after sliding more than 2 percent over the last two trading days to its lowest level in almost three months. Goldman Sachs Group Inc. warned that metals including aluminum and copper are poised for a retreat this year as Chinese demand wanes. Lead and tin retreated from their highest levels since the first half of 2015, while zinc extended the last session's retreat from a 16-month high.
Bonds
Japan's 30-year bonds rose for the first time in two weeks, pushing their yield down by 2 1/2 basis points to 0.50 percent. An auction of the tenor achieved a higher-than-estimated price on Tuesday and the bid-to-cover ratio rose from the previous sale.
U.S. Treasuries due in a decade declined from Friday, pushing their yield up by one basis point to 1.62 percent. The rate on the two-year notes, which tend to be more sensitive to the monetary policy outlook, increased by one basis point to 0.80 percent.