EghtesadOnline: The pound's longest winning run since the U.K. shocked financial markets by deciding to leave the European Union is failing to shake strategists, who expect a slide to its weakest level in three decades.
While sterling completed a third weekly gain versus the dollar after reports pointed to resilience in the U.K. economy, the median of analysts' forecasts compiled by Bloomberg remained unchanged at $1.27. That represents an almost 5 percent drop to levels not seen since 1985, while some banks, including Royal Bank of Canada and HSBC Holdings Plc, expect the pound to slide by about twice that much, reports Bloomberg.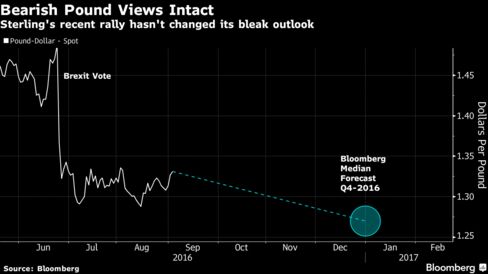 Indications that the U.K.'s economic prospects outside the EU may not be as bleak as some analysts forecast supported sterling this week, pushing it to the strongest level in a month versus both the dollar and the euro. A report on Friday showed a gauge of construction climbed in August from a seven-year low, capping a week in which sentiment was also bolstered by surveys showing an improvement in manufacturing output and higher household confidence.
That's not convincing pound bears who say the economic costs of Brexit will become clearer later in the year, with the government still to decide on when to trigger the formal separation from the EU. The prospect of a slowdown has already prompted the Bank of England to cut its key interest rate to a record and restart its asset-purchase program, and officials have said more easing may be necessary.
'Real Idea'
"It will probably be around the end of the fourth quarter before we start to get a real idea of what's happened to the economy after the referendum and when we do, there'll be scope for sterling to take another big leg down," said Adam Cole, London-based head of global foreign-exchange strategy at RBC. "Although we have a very bearish medium-term view on sterling, it's not a view that we expect to play out quickly."
The pound rose 1.2 percent this week to $1.3297 as of 5 p.m. London time on Friday, after touching $1.3352, the highest since Aug. 3. Its three-week winning run is the longest since April 29. Sterling appreciated 1.6 percent to 83.91 pence per euro, matching last week's gain.
Reports next week will show declines in U.K. house prices, as well as industrial and manufacturing production, according to Bloomberg surveys of economists. BOE officials, who cut rates on Aug. 4, are scheduled to announce their next policy decision on Sept. 15.
RBC's Cole forecasts the pound will fall to $1.21 by year-end, while HSBC, Europe's largest bank, sees it dropping to $1.20 this year and $1.10 in 2017.
"Cyclically nothing's really changed and we've had a bit of a rebound in some of the data," Dominic Bunning, a senior currency strategist at HSBC in London, said Friday in a Bloomberg Television interview. "The case for a weaker sterling is a structural case, it's about the current-account deficit, it's about the broader relationship with the U.K. and the EU and how that pans out. It's a long-term story about uncertainty."