EghtesadOnline: Bond sales in the Persian Gulf sparked back to life this week, with Dubai's Emaar Properties PJSC joining a growing pipeline of borrowers who may take issuance to a record this year.
Emaar hired banks including Standard Chartered Plc, Emirates NBD PJSC and National Bank of Abu Dhabi PJSC to arrange investor meetings before a potential dollar-denominated sukuk sale. Dubai's Emirates Islamic Bank PJSC reopened the market after the summer lull on Tuesday by offering a fresh $250 million portion of its 2021 Islamic bond, receiving orders worth three times that figure. Qatar National Bank SAQ and Sharjah Islamic Bank both came to market on Wednesday, reports Bloomberg.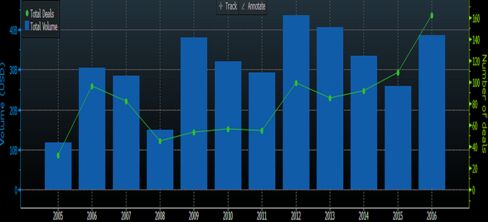 GCC full year bond sales.
With sales announced from other borrowers including NBAD and Burgan Bank, and Saudi Arabia's expected mega-deal, issuance from the six-nation Gulf Cooperation Council may now be poised to top the record $43.6 billion sold in 2012. While about $39 billion has been raised so far, sales slowed to a trickle since May as a traditional summer lull in investor activity was compounded by global market instability following the U.K.'s Brexit vote.
"There's been limited primary market issuance over the last couple of months and pent-up demand should easily absorb the flurry of deals in the pipeline," said Doug Bitcon, a fund manager at Rasmala in Dubai. "We expect strong local and international demand for Saudi and Kuwait Government issuance."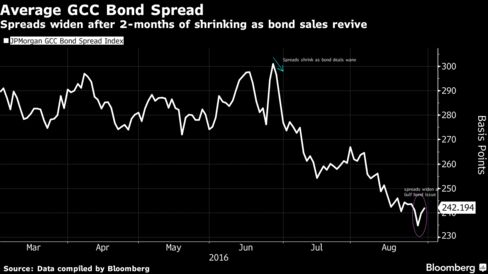 After dropping for two months amid a slowdown in sales, bond spreads in the region climbed eight basis points this week, according to JPMorgan Chase & Co. indexes. The decline in oil prices since mid-2014 has forced Gulf sovereigns to introduce austerity steps to curb budget deficits. Most governments are running down assets and issuing local currency debt, which has reduced domestic liquidity and pushed them to tap international investors for funds.
Bond and sukuk sales in the GCC, which includes the two biggest Arab economies of Saudi Arabia and the United Arab Emirates, doubled this year as governments in Qatar, Abu Dhabi and Oman sold securities.
"Corporate issuers will see good demand as there is a lack of supply from that space so the likes of Emaar will be absorbed easily," said Chirag Doshi, the Doha-based senior vice president of investments at Qatar Insurance Co. "But financials will have to leave a generous spread to find demand."