EghtesadOnline: JPMorgan Chase & Co.'s decision to include Islamic bonds in its indexes will draw more global investors to the $370 billion sukuk market and boost trading of the debt.
Shariah-compliant notes will be eligible for inclusion in five JPMorgan gauges from Oct. 31 and will account for between 0.35 percent to 0.99 percent of total assets on the benchmarks, according to an Aug. 18 statement by the bank. Sukuk will be assessed on the same criteria as non-Islamic bonds, the index compiler said.
"We've already received several queries from clients who previously have not invested in sukuk and now want to understand the product," said Hasif Murad, an investment manager at Kuala Lumpur-based Aberdeen Islamic Asset Management Sdn. JPMorgan's step "will potentially lead to a wider acceptance of sukuk for investors" that don't want to risk performance diverging too far from their benchmarks, Bloomberg quoted him as saying.
The inclusion, which comes after Barclays Plc added Malaysian local-currency sovereign Shariah debt to its index last year, may help to revive worldwide interest in sukuk offerings, which flagged last year amid tumbling oil prices. Sedco Capital in Jeddah said more index compilers may follow as a growing number of investors become familiar with Islamic bonds.
JPMorgan said Islamic notes will be added to its EMBI Global Diversified, GBI-EM Global Diversified, CEMBI Broad Diversified, CEMBI Diversified and JACI indexes. "Prior to inclusion, the liquidity of each eligible sukuk instrument will be closely scrutinized and fully assessed for potential inclusion," JPMorgan said in the statement.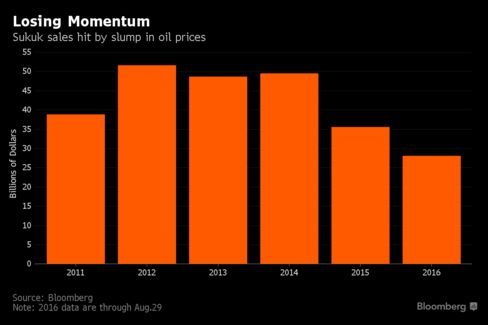 Worldwide sales of debt which comply with the Koran's tenets climbed 17 percent to $28.1 billion so far in 2016 from a year earlier, but interest outside its traditional markets of Malaysia and the Middle East has waned. After a slew of first-time sukuk issuers from South Africa to Luxembourg and the U.K. tapped the market in 2014, there's been a dearth of debut offerings. Kuwait, Pakistan and Malaysian sovereign wealth fund Khazanah Nasional Bhd. have said they plan to tap the market in coming months.
A plan by the Australian government to sell Shariah-compliant debt hasn't materialized five years after the authorities initiated attempts to amend tax laws to accommodate such offerings. South Korea's efforts to issue sukuk met with opposition from Christian groups while Thailand, France and Ireland have yet to tap the Islamic bond market despite introducing laws.
'Foster Participation'
The inclusion in JPMorgan indexes "will foster stronger market participation for sukuk," said Angus Salim Amran, the Kuala Lumpur-based head of financial markets at RHB Investment Bank Bhd. "This is market positive. Funds that benchmark against these indices will be required to increase allocation to sukuk."
The inclusion by JPMorgan may spur more secondary trade of the Islamic debt, which has been hampered by a tendency among investors to buy and hold, amid a shortage of assets, said Fakrizzaki Ghazali, a senior fixed income analyst at Sedco Capital.
Trading of sukuk in Malaysia, the world's biggest market for such bonds, totaled 372.9 billion ringgit ($92 billion) in 2015, compared with 601 billion ringgit for non-Islamic securities, according to data from Bond Pricing Agency Malaysia Sdn.
Barclays estimated in January last year the addition of Malaysian ringgit-denominated government sukuk to its Global Aggregate Index would draw $2.5 billion to $3 billion of inflows to the Islamic bond market.
"Sukuk will gain more attention from now on, but the market may need variety in terms of offerings to sustain the momentum," said Sedco's Fakrizzaki. "Issuers may now consider issuing benchmark sizes and to be rated."