EghtesadOnline: Federal Reserve Chair Janet Yellen still has faith. On Friday she expressed confidence that tighter labor markets over time will push inflation back to the central bank's 2 percent goal, setting up a rate hike this year -- possibly as soon as next month -- if jobs data remain strong.
That view breaks with a minority group of Fed officials who are more pessimistic about the relationship between labor markets and prices.
"September is live," said Priya Misra, head of global interest-rates strategy at TD Securities in New York, referring to the Sept. 20-21 meeting of the Federal Open Market Committee.
"This would have probably been the time to say" the relationship between the job market and inflation "is flat -- that lower unemployment hasn't delivered any inflation," she added. "But they are still believers."
Ending two months of public silence about her views, Yellen cited "continued solid performance of the labor market" and said the "case for an increase in the federal funds rate has strengthened in recent months" in her speech Friday to central bankers and economists in Jackson Hole, Wyoming, reports Bloomberg.
Stocks initially rose after Yellen's remarks, only to decline after Stanley Fischer, the Fed's vice chairman, reiterated in an interview on CNBC that the possibility exists for two rate increases this year, starting as soon as September.
Yellen's remarks also signaled she didn't need to see actual inflation rising toward 2 percent to raise interest rates. She said inflation would reach their 2 percent target "over the next couple of years," and emphasized that gradual, timely moves were required "to achieve and sustain employment and inflation near our statutory objectives."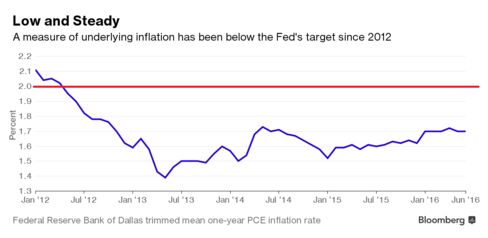 Those comments show that Yellen still has confidence in her forecast-based policy using traditional models of the economy. Others, ranging from St. Louis Fed President James Bullard to former Treasury Secretary Lawrence Summers, have argued the economy is stuck in a low-inflation rut.
Minutes from the July FOMC meeting laid out the two camps -- a group of "most" officials who anticipated the depressive effects of lower energy prices and non-oil imports would fade, while tightening labor markets delivered higher wages. An opposing view came from "other" officials who were more pessimistic about traditional linkages between tighter resources and prices.
At the Kansas City Fed's annual retreat in Grand Teton National Park, Yellen clearly sided with the former crowd. However, she cautioned that the outlook is uncertain and the committee is prepared to adjust to shocks.
"They're willing to be patient when the economy encounters shocks," said Laura Rosner, a senior U.S. economist at BNP Paribas in New York. "But absent shocks, if the data are confirming their outlook, which they are right now, then they think it's appropriate to make gradual hikes."
U.S. payroll gains averaged about 200,000 jobs a month over the past year, and on Sept. 2, the Labor Department will report on August employment. A Dallas Fed measure of underlying inflation, which trims off high and low readings from the monthly personal consumption expenditures price index, has been near 1.7 percent all year.