EghtesadOnline: How a $10 million investment in Ethiopia blossomed into an upstart rival to Kenya for control of Europe's flower trade?
In a giant warehouse near Lake Ziway in central Ethiopia, hundreds of women in aprons work at yellow workbenches under the flags of Dutch soccer clubs PSV Eindhoven and Feyenoord, sorting bunches of multicolored roses, reports Bloomberg.
Within two days the stems, shipped in perforated cardboard tubes from Dutch-owned AQ Roses' flower farm, will be on sale at florists across Europe.
Ten years ago, AQ Managing Director Frank Ammerlaan took a gamble by investing in Ethiopia's brand-new flower industry instead of putting his money into neighboring Kenya, where flower-growing dates back to 1969. The $10 million farm is evidence the wager paid off. Helped by tax breaks, state-bank loans and an intolerance of graft, a $200-million-a year industry has emerged that's taking market share from Kenya, which sells $500 million worth of flowers a year and supplies more than a third of the flowers sold in Europe annually.
"Here is much better than Kenya," Ammerlaan, 34, said at the plant, about 170 kilometers (106 miles) south of the capital, Addis Ababa. "What for us is very important is the security and corruption, which is much better here than in Kenya. Kenya is more Wild West than Ethiopia."
The emergence of Ethiopia to become Africa's second-biggest flower exporter in just 10 years is the latest evidence that the country is superseding Kenya's traditional role as a regional economic powerhouse. It supplanted Kenya as the fourth-largest economy in sub-Saharan Africa last year and has expanded five-fold since 2005 to $61.6 billion, according to International Monetary Fund data. That's attracted foreign investors, who plowed $1.2 billion into Ethiopia in 2014, compared with the $944 million that went to Kenya, World Bank statistics show.
Ethiopia offers duty-free imports on capital goods and income-tax exemptions for up to nine years, the Ethiopian Investment Commission says on its website. It also gives flower investors a five-year exemption from corporate income tax and exempts them from duties on inputs such as fertilizer, according to Tewodros Zewdie, the executive director of an exporters' association.
Ethiopia is exploiting dissatisfaction among Kenyan exporters who complain of excessive taxes by national and county government officials and frequent bribe demands from state officials, said Dipesh Devraj, chairman of the Fresh Produce Exporters Association of Kenya. Kenyan producers say tax officials ask for bribes to expedite value-added tax returns. Growers also complain about the high cost of labor, land and fertilizer. Last year, five companies in Kenya moved their operations to Ethiopia, according to the Kenya Flower Council.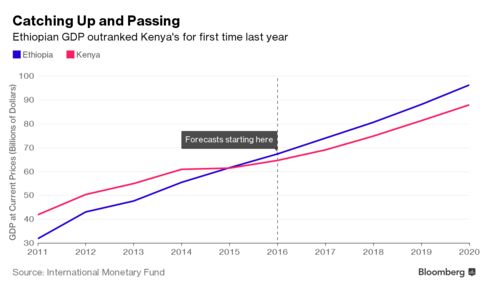 "They are milking us. Most of the flower farms were in the negative in 2015," said Jeff Kneppers, the Dutch owner of Maridadi Flowers Ltd. He's been in Kenya for more than 20 years. "Other farmers are talking about relocating to Ethiopia." He's staying for now, preferring the country's more favorable climate, better-skilled workers and private land ownership, which is barred in Ethiopia.
Kenya's government is "not aware of bribery problems," said Irungi Ndirangu, director of crops at the country's agriculture ministry. "We are always looking into taxes with the Treasury to make it easier for our farmers."
The need for globally traded currency is the primary reason Ethiopia encourages horticulture investors with tax breaks and state-bank loans. Regulations include depositing hard currency with Ethiopian banks, which the growers then convert into the local currency, the birr, within a month. Investment rules permit profit repatriation, though foreign-currency shortages make it difficult in practice.
That's fine by Ammerlaan, who supports the government's desire to make productive investments and move Ethiopia away from fragile subsistence agriculture.
"By bringing a lot of foreign currency, the country can better take care of food security," he said, ambling through the humid greenhouses, awash with pink, red, yellow and orange roses.
Despite his openness, Ammerlaan didn't allow any of his 1,100 workers to be interviewed. The caution is due to a recent Dutch documentary alleging tax evasion and pollution at Ziway flower farms. Efforts to talk to workers outside the complex were blocked by a security guard in a bright pink football shirt, who then tailed a reporter on a motorbike into Ziway.
AQ provides long-term customers in the Netherlands with high-quality roses, which make up 80 percent of the 100 million stems grown annually at the farm. Ethiopian-grown flowers are making their way into the world's largest flower auction, in Aalsmeer in the Netherlands. There, they compete with blossoms from 64 other countries on the auction floor at Royal FloraHolland, a cooperative that traded about 3.5 billion rose stems last year.
At the site, which covers an area equivalent to 182 soccer fields, workers standing on electric carts and wearing reflective safety vests move trolleys with flowers around the warehouse. Alongside the auction floor, several dozen traders, many of them graying, middle-aged men, sit in an auditorium that seats 300 people, facing auction clocks on the wall. All wear headsets to communicate with the auctioneers seated opposite each other in the bottom corners on the bidding hall's floor, and in other salesrooms.
"The past couple of years you can see supply from Ethiopia really taking off," said Cees van Egmond, who started his company in 1972. It supplies "higher-segment" florists across the Netherlands, using four refrigerated trucks. The quality of Ethiopian roses has improved over the last two years as transportation times have been reduced, he said.
Ethiopia still has progress to make when it comes to democracy and transparency. The country's ruling coalition controls all federal and regional parliamentary seats and an authoritarian government led by Prime Minister Hailemariam Desalegn restricts the activities of the opposition, media and rights advocates. The government uses five-year economic plans to direct resources to strategic industries, while state-owned enterprises monopolize or dominate key areas such as financial services, telecoms, transport and energy.
And in flowers, Ethiopia has some way to go before it catches its southern neighbor: Production in 2015 was about 50,000 metric tons a year, according to the Ethiopian Horticulture Producer Exporters Association. That compares with 122,800 tons in Kenya.
Richard Fernandes, who founded the Kariki Group in Nanyuki at the foot of Mount Kenya 14 years ago and has now diversified to Holeta in Ethiopia, says he's unlikely to move more until the government makes the economy more open to investors.
"We decided to diversify our risks," said Fernandes, 53. His operations in Ethiopia have faced obstacles including difficulty in obtaining inputs such as fertilizer and biological insecticides. But in the long term there's potential for massive growth, he said.
"If Ethiopia opens up, the industry, the whole economy will grow tremendously, and that is what we are waiting for," Fernandes said.