EghtesadOnline: Oil extended its retreat from a seven-week high on supply concerns, while the dollar weakened versus major peers as traders weighed prospects for a U.S. interest-rate hike this year. European shares rose as data showed economic activity in France picked up this month.
Crude sank to about $47 a barrel in New York, dragged down by possible increases in shipments from Iraq and Nigeria, and energy stocks were the worst-performing equities in both Europe and Asia. The Bloomberg Dollar Spot Index snapped its biggest two-day advance in a month as South Korea's won led gains in emerging markets. New Zealand's currency strengthened after its central bank said the pace of interest-rate cuts in the nation will be gradual. U.S. Treasury bond volatility held near a 20-month low, reports Bloomberg.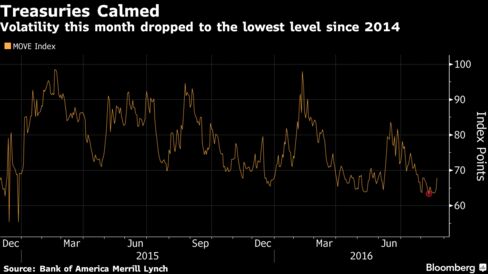 Financial markets have been dominated over the past week by speculation about the timing of the Federal Reserve's next increase in borrowing costs and an air of caution is evident before Chair Janet Yellen speaks Friday at an annual symposium in Jackson Hole, Wyoming. Regional Fed presidents including William Dudley and John Williams indicated last week that a rate hike could come as soon as next month, while futures prices indicate a 51 percent chance of such a move this year.
"With investors waiting for Yellen, it's unlikely that we'll see a strong direction in the stock market," said Toshihiko Matsuno, a senior strategist with SMBC Friend Securities Co. in Tokyo. Still, "oil, which had been rebounding, has started to correct again," dragging down commodity-related shares, he said.
Preliminary gauges of this month's manufacturing activity in Germany, the euro area and the U.S. are scheduled for release on Tuesday, while central banks in Turkey and Hungary have policy meetings. A report is also forecast to show sales of new homes in America held near an eight-year high in July.
Commodities
West Texas Intermediate crude for October delivery slid 0.6 percent to $47.11 a barrel as of 8:20 a.m. London time. Militants in Nigeria have made a proposal to end hostilities, a development that could boost the nation's oil output, and Iraq is in the process of boosting crude exports by about 5 percent.
WTI crude jumped 9.1 percent last week, buoyed by speculation that informal talks among major producers next month will bring about an output freeze.
"We're seeing a bit of profit-taking," said Ric Spooner, chief analyst at CMC Markets in Sydney. "There is still plenty of supply around. It wouldn't be surprising to see this downtrend continue and it's possible we could see some sort of basing around $44 to $45 a barrel."
Gold gained 0.3 percent and silver added 1 percent amid the the greenback's retreat. Zinc advanced as much as 1.2 percent in London after Morgan Stanley said it was bullish and that demand from China's steel industry would continue to support the price. The metal, which is used to galvanize steel, has surged more than 40 percent this year.
Stocks
The Stoxx Europe 600 Index was up 0.6 percent as of 8:21 a.m. London time. France's services sector led a pickup in economic activity this month, offsetting a sixth contraction in manufacturing, according to preliminary purchasing managers' indexes published Tuesday by Markit Economics.
A gauge of energy stocks on the European benchmark added less than 0.2 percent and the MSCI Asia Pacific Energy Index of shares fell for a fourth day.
Japan's Topix index fell for the first time in three days as trading volumes were down 21 percent from their 30-day average, according to data compiled by Bloomberg. Australia's S&P/ASX 200 Index advanced to a two-week high, Hong Kong's Hang Seng Index declined 0.3 percent and the Shanghai Composite Index gained 0.2 percent.
Futures on the S&P 500 Index were little changed after the measure ended the last session within 0.4 percent of an all-time high.
Currencies
The Bloomberg Dollar Spot Index lost 0.4 percent, after jumping 0.6 percent over the last two trading days. South Korea's won strengthened 0.9 percent versus the greenback, rebounding from its weakest close of the month, as the Japanese yen and the euro rose 0.3 percent.
"The U.S. dollar may have pulled back on hopes that the Jackson Hole symposium may focus on lower-for-longer type of policy rather than the need to imminently tighten policy," said Vishnu Varathan, a senior economist at Mizuho Bank Ltd. in Singapore. "But in the run-up to Jackson Hole we do expect markets to be hyper-sensitive on U.S. policy hints, real or perceived, and so the U.S. dollar and U.S. yields will be volatile."
The kiwi surged as much as 1 percent after Reserve Bank of New Zealand Governor Graeme Wheeler said that while he intends to lower interest rates further to revive inflation, a series of rapid cuts is not justified.
Bonds
Yields on U.S. government debt with maturities ranging from two to 30 years moved less than a basis point Tuesday, with the 10-year rate at 1.55 percent. Bank of America Corp.'s MOVE Index, which measures price swings in Treasuries, was at 67.87. It reached 63.34 on Aug. 10, the lowest since December 2014.
"The market is in a bit of a holding pattern for the moment ahead of Yellen's speech," said Adam Donaldson, head of debt research in Melbourne at Commonwealth Bank of Australia. "The market is not quite ready to push through the 1.60 percent ceiling that has prevailed for Treasuries since Brexit."
Australia's 10-year bonds rose, pushing their yield down by six basis points to 1.85 percent. The move comes after the yield on similar-maturity U.S. notes fell by four basis points on Monday.