EghtesadOnline: Shale drillers are adding the most oil rigs since crude was worth $100 a barrel as confidence that OPEC may finally agree to freeze output pushed futures into a bull market.
U.S. producers have put 76 oil rigs back to work in eight weeks, the biggest and longest increases since 101 were added a couple months before the price crash started in mid-2014, Baker Hughes Inc. data released Friday show. The count rose by 10 this week, bringing the total oil rig count to 406, reports Bloomberg.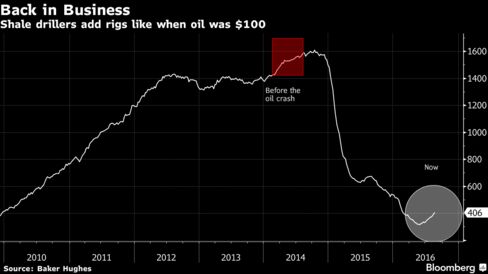 "As oil has remained in the $40-$50 range, it's not surprising to see the rig count still advancing," Luke Lemoine, an analyst at Capital One Southcoast in New Orleans, wrote Friday in an e-mail. "With oil moving towards $50, we believe the oil rig count can approach 600 rigs over the next year."
Members of the Organization of Petroleum Exporting Countries are on track to agree on an output-freeze deal as its biggest producers pump flat-out, said Chakib Kehlil, the group's former president. Russia and Saudi Arabia have both hinted that the countries are open to discussing actions that would help stabilize the market.
"If they go to Algiers with some type of agreement, they aren't going to back out this time," Phil Flynn, senior market analyst at Price Futures Group in Chicago, said earlier this week. "It's definitely offering support."
Bull Run
Oil drillers begun returning parked rigs to service this summer after prices rebounded from a 12-year low in February. West Texas Intermediate, the U.S. benchmark crude, rose 22 percent through Thursday from a dip below $40 a barrel earlier in the month, meeting the common definition of a bull market as futures headed for the strongest weekly increase in five months. While little changed on Friday, WTI was up 8.4 percent for the week at $48.21 a barrel as of 1:31 p.m. in New York.
The recent drilling expansion has led to speculation that U.S. production, which has been declining from a peak in June of last year, may rebound and bring back the specter of a growing supply glut. Output climbed by 152,000 barrels a day last week, in part because of an adjustment to address disparities between weekly and monthly data, the Energy Information Administration said Wednesday. The review showed production is holding up better than the government previously thought.
Explorers in the Permian Basin of West Texas again led the week's advance, bringing seven rigs back to work, for a total of 196 oil rigs in the nation's biggest field. It was the Permian's biggest weekly increase in oil rigs in a month.