EghtesadOnline: The rally in Qatar's stock market may have been too strong for its own good.
The QE Index's world-beating 2.2 percent advance on Tuesday left it about 7 percent above the average of analysts' price targets, the most among more than 70 gauges tracked by Bloomberg. The measure's 14-day relative strength index was at 79 points, above the level of 70 that typically signals a security is poised to reverse direction, reports Bloomberg.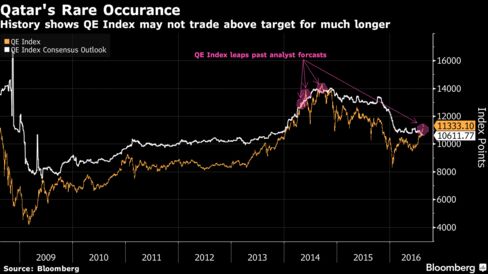 Investors are betting a promotion by index provider FTSE Russell to emerging-market status next month will stoke inflows to Qatari stocks. The shares have outpaced a wider rally across the six-nation Gulf Cooperation Council amid a rebound in energy prices. The gains accelerated this week when FTSE relaxed criteria for including the equities.
"People are putting money in the Qatari market not because they're absolutely convinced of its fundamentals, but to anticipate passive flows following the FTSE upgrade," said Simon Kitchen, an equity strategist at Cairo-based EFG-Hermes Holding, the Arab world's largest listed investment bank. "It's a one-off event. Some investors are wondering how long the rally can last."
There are still signs the market is gaining momentum. Qatar National Bank, the nation's biggest publicly traded company, last month reported second-quarter profit that beat analyst estimates by the most in almost five years. Last week, the QE Index's 50-day moving average climbed above its 100-day equivalent, a trading pattern known as a golden cross that may signal more gains are to come.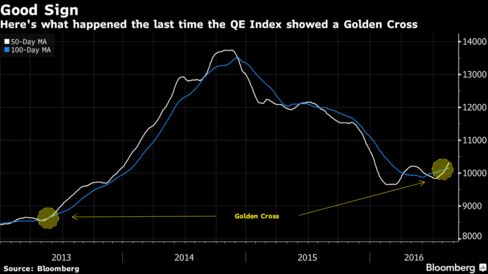 The gauge dropped 0.4 percent at 11:55 a.m. in Doha on Wednesday, its first decline in four days. That pared its advance this quarter to 15 percent, still the most in the world after Egypt's EGX 30 Index.
Qatar's benchmark, which climbed above the average of analyst price targets for the first time in two years this month, is trading at about 13 times the estimated future earnings of its members, the highest of any GCC-member nation, according to data compiled by Bloomberg.
In 2014, the index stayed above its average 12-month estimated price for about a month, during which time it soared to an all-time record, before dropping for six straight days.
EFG-Hermes on Tuesday revised up its expectations for September flows into Qatari stocks to $550 million from $289 million. Overseas interest has already increased, with net foreign purchases of the nation's stocks this year beating the total for all of 2015. Holdings on Tuesday rose $52 million, the most since November, to $745 million.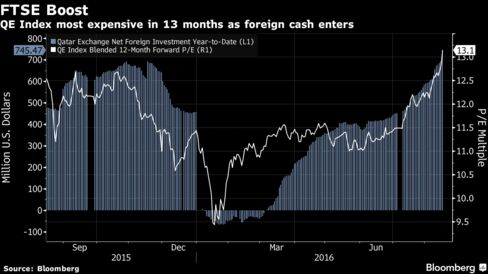 "We don't think the rally is sustainable," said Yazan Abdeen, who manages about $300 million of Middle East and North African assets at Jeddah, Saudi Arabia-based Sedco Capital, and is staying underweight in Qatari stocks. "The liquidity squeeze in the banking system and company earnings don't justify the highest valuation in the region."
The finances of Qatar, the world's biggest producer of liquefied natural gas, have been strained amid a more than 30 percent slump in prices of the fuel in the past two years. A cash shortage in the banking system pushed the three-month interbank borrowing rate to a five-year high in June.
FTSE will name the companies to be included on its emerging-markets gauge on Aug. 31.