EghtesadOnline: The dollar weakened and government bonds advanced on speculation the Federal Reserve will be slow to raise interest rates amid uneven global growth.
The greenback slid against all of its major peers, dragging the Bloomberg Dollar Spot Index down for a second day. A gauge of emerging-market currencies climbed to the highest level since July 2015. Metals were also boosted by the dollar's retreat, with palladium, tin and zinc rising to the highest in a year. Oil fell as U.S. stockpiles expanded and Saudi Arabia was said to have raised July production to a record. U.K. government bonds extended gains after the Bank of England indicated it will stick with its current quantitative-easing plans. European stocks and most Asian shares fell.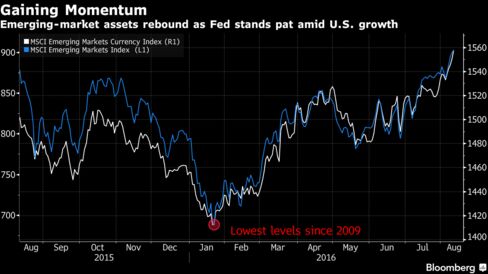 "The market is pricing in less chance of a fed rate hike," said Steven Saywell, head of currency strategy at BNP Paribas SA. "You had a big increase in U.S. Two-year yields on Friday on the back of the payrolls and the market has steadily reduced that."
While better-than-expected U.S. jobs data briefly buoyed the dollar on Friday, investors remain skeptical that the Fed will tighten policy any time soon. Only about a one-in-four chance of a rate increase has been priced in for its September meeting. Global equities climbed over the last four days on optimism central banks from London to Tokyo will keep expanding stimulus. The Reserve Bank of New Zealand is forecast to lower its benchmark interest rate to a fresh record.
Currencies
The Bloomberg Dollar Spot Index, which tracks the greenback against 10 major peers, fell 0.5 percent as of 11:19 a.m. London time. The yen added 0.6 percent to 101.31 per dollar. New Zealand's dollar strengthened 1 percent, while Australia's currency advanced 0.7 percent.
"The U.S. dollar is unlikely to rally significantly against the commodity-sensitive currencies," said Elias Haddad, a senior currency strategist at Commonwealth Bank of Australia in Sydney. "Monetary policy settings around the world are going to be loose or looser going forward, and fiscal policy is expected to be more accommodative. That will support the global economic recovery and underpin commodity prices."
The MSCI Emerging Markets Currency Index rose 0.6 percent, extending its five-day gain to 1.8 percent. The gauge has climbed 10 percent from this year's low set in January. The won led gains on Wednesday, appreciating 1.1 percent to the strongest since May 2015, followed by gains of at least 0.8 percent for Malaysia's ringgit and Taiwan's dollar.
Bonds
Yields on 10- and 30-year U.K. bonds fell to record lows after the central bank made no changes to its gilt-purchase plan after its first uncovered QE operation since beginning the program in 2009.
Fixed-income markets are rallying on speculation central banks will continue to keep interest rates low. Japan's 10-year bond yield fell two basis points to minus 0.11 percent, Germany's declined two basis points to minus 0.1 percent and that on similar-maturity. Treasuries dropped by one basis point to 1.54 percent. The U.S. is selling $23 billion of 10-year bonds Wednesday as part of $62 billion of auctions this week.
The rate on New Zealand's 10-year notes fell five basis points ahead of Thursday's monetary policy review.
Emerging-market bonds rose, with the yield on South Africa's 10-year security dropping 11 basis points to 8.42 percent, and Turkey's rate sliding three basis points to 9.58 percent. China sold five-year debt at a 2.43 percent yield, less than the median forecast of 2.51 percent in a Bloomberg survey.
Goldman Sachs Asset Management is betting a rally in emerging-market debt will last as global central banks pump cash into their economies, and is even turning to distressed Venezuelan bonds for greater returns.
Demand for emerging-market assets will be supported as the European Central Bank keeps monetary policy loose and after the Fed turned more "dovish," said Owi Ruivivar, managing director in Singapore who helps oversee about $1 trillion for the Wall Street firm.
The cost of insuring corporate debt against default rose for the first time in five days. The Markit iTraxx Europe Index of credit-default swaps on investment-grade companies climbed one basis point to 66 basis points. It remains near the lowest in a year. The Markit iTraxx Europe Crossover Index of swaps tied to sub-investment grade corporate debt rose three basis points to 308 basis points.
Commodities
The Bloomberg Commodity Index, which measures returns on raw materials, climbed 0.6 percent as metals advanced on the weaker dollar.
Gold rose 0.9 percent to $1,352.93 an ounce, while silver and platinum added at least 2.3 percent. Palladium, used in the pollution control systems of cars, jumped as much as 7.7 percent, the most since May 2010, after data showed Chinese vehicle sales accelerated by the most in 17 months.
On the London Metal Exchange, copper for delivery in three months rose 1 percent to $4,827 a ton, while zinc, lead and tin rose at least 0.8 percent.
Crude oil fell 1.2 percent to $42.25 a barrel in New York on signs of higher supply. It slid 0.6 percent on Tuesday as American Petroleum Institute data indicated U.S. stockpiles rose by 2.09 million barrels last week. Saudi Arabia pumped 10.67 millionbarrels of oil a day in July to satisfy the summer surge in domestic demand, according to two people with knowledge of the data.
Stocks
The Stoxx Europe 600 Index fell 0.2 percent, after reaching its highest close since Britain's June vote to leave the European Union. The number of shares changing hands was 32 percent lower than the 30-day average.
Germany's DAX Index slipped 0.5 percent after entering a bull market. EON SE dragged a gauge of utility companies to the worst performance of the Stoxx 600's 19 industry groups, sliding 5.6 percent as it posted a first-half loss because of charges linked to the listing of its Uniper unit.
Prudential Plc rose 1.2 percent after reporting first-half profit that beat analyst estimates, boosted by higher earnings at its Asia and U.S. units.
Danish biotech company Novozymes A/S sank 9.4 percent as it reported profit that missed estimates and cut its sales outlook. Brenntag AG dropped 2.2 percent after the profit forecast of the world's largest distributor of chemicals missed some analyst projections.
S&P 500 futures rose 0.1 percent after U.S. equities closed little changed near a record high on Tuesday. Investors will look to earnings from companies including Ralph Lauren Corp. for indications of the health of corporate America. Stocks have benefited from better-than-forecast earnings this season, particularly among technology companies. With about 90 percent of S&P 500 members having posted results, 78 percent have beaten profit predictions and 55 percent have topped sales projections.