EghtesadOnline: China's imports of crude oil, coal and natural gas slowed in July, offering no solace for producers hoping demand from the world's largest energy consumer may help mop up global gluts of the fuels.
The nation imported about 7.35 million barrels a day last month, the slowest pace since January, according to data Monday from the General Administration of Customs. Inbound shipments of coal slipped 2.5 percent from June, while natural gas slumped more than 13 percent, reports Bloomberg.
The July data reflects sluggish economic growth in the world's second-largest economy and contrasts with the country's risingenergy imports in the first six months, which added some support to global prices. During that period, crude purchases jumped 14 percent and coal rose 8.2 percent as domestic users turned to cheaper overseas supplies as domestic production shrank. Natural gas shipments increased 23 percent during the first half of the year.
"China's strong appetite for crude oil and coal certainly boosted global prices in the first half of the year," Guo Chaohui, an analyst at Beijing-based China International Capital Corp., said by phone. "However, we think China's support for oil prices is weakening because of high domestic stockpiles and sluggish demand for oil products."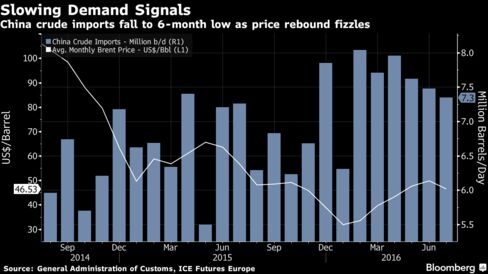 Brent crude rallied almost 90 percent to a peak in June from its 12-year low in January, before sinking into a bear market. Liquefied natural gas spot prices in Southeast Asia have risen more than 40 percent from their low this year in April. Prices for both are currently about 60 percent below where they were two years ago. Coal prices at the Australian port of Newcastle, an Asian benchmark, have increased 23 percent this year, according to data from Globalcoal.
While excess crude production abates globally, inventories arebrimming and a revival in U.S. drilling threatens to further swell supplies. Stockpiles of crude and products that built up in industrialized nations during the years of oversupply stand at a record of more than 3 billion barrels, according to the Paris-based International Energy Agency. Traders struggling to sell cargoes are hoarding the most barrels on board tankers at sea since the end of the 2008-2009 financial crisis, the agency says.
"The double-digit growth in Chinese crude oil imports in the first half of 2016 was not sustainable because real consumption is growing at low single digits" and stockpiling is slowing because of capacity constraints, JPMorgan Chase & Co. analysts including Ying Wang wrote in a research note on Monday.
Coal, Gas
China's coal consumption will likely drop 3.4 percent this year amid slowing industrial activity and the government's efforts to switch dependency from the fuel, Citigroup Inc. said in a report last month. The nation's coal imports will likely ease in the third quarter along with domestic demand, which will pressure prices in Asia, CICC's Guo said.
Meanwhile, China's efforts to increase its reliance on gas to help cut pollution will be slowed because of weakening seasonal consumption. The government cut gas prices for users in November last year, hoping to boost use of the fuel.
"China's natural gas imports will remain subdued in the third quarter as it's the low season for demand," Liu Guangbin, an analyst with Shandong-based SCI International, said by phone. "We expect imports to rebound substantially starting from October as we'll likely see tight supplies this winter."
Global gas markets will remain oversupplied until 2018, and demand and supply won't align until 2021 as capacity to liquefy and export natural gas jumps 45 percent through 2021, the IEA said in June.