EghtesadOnline: Saudi Arabia's banks may have an easy answer to the tightest liquidity conditions in the kingdom since 2008: International bond sales.
Lenders in the biggest Arab economy have less foreign-currency debt outstanding than peers in any of the six nations making up the Gulf Cooperation Council, according to data compiled by Bloomberg. Of the 57 securities outstanding from issuers in the kingdom, only one is a dollar bond from a bank, compared with more than 400 foreign-currency notes from lenders in the United Arab Emirates and almost 100 from those in Qatar.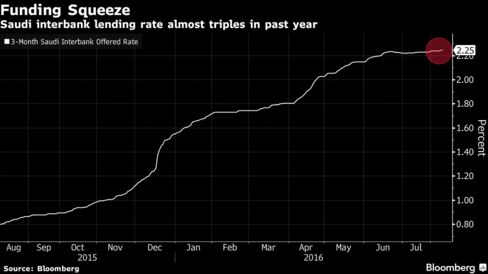 "Saudi banks are discussing the possibility," said Elyas Algaseer, the Dubai-based deputy general manager for the Middle East and North Africa at the Bank of Tokyo-Mitsubishi UFJ Ltd., one of the top 10 bond arrangers for the region this year. "They want to take advantage of the benchmark set by a potential government issue later this year."
According to Bloomberg, Saudi Arabia is considering a Eurobond sale as early as September, a debut offering that may trigger a wave of sales giving investors access to a relatively untapped market with an investment-grade rating. Yields on bonds by the the kingdom's banks will probably exceed those of many GCC peers given that Saudi Arabia's rating is below that of Qatar and Abu Dhabi, according to Commerzbank AG.
Emergency Lending
Moody's Investors Service downgraded Saudi debt to A1 in May, the fifth highest investment grade and two levels below that of both Abu Dhabi and Qatar, saying the slump in oil prices may lead to a "material deterioration" in the nation's credit profile. Jeddah-based National Commercial Bank, the nation's biggest bank, is also rated A1, while National Bank of Abu Dhabi PJSC is a step higher.
Saudi financial institutions are facing a cash squeeze as the government withdraws deposits and sells local-currency debt to fund a budget deficit after a halving in oil prices in two years cut revenue. Banks' loan-to-deposit ratio, a key measure of liquidity, climbed to 90.2 percent in June, its highest since November 2008, forcing the government to lend them 15 billion riyals ($4 billion) in short-term funds to ease the crunch. The three-month Saudi Interbank Offered Rate has almost tripled in the past year to 2.25 percent.
Finding Stability
Saudi banks haven't been issuing foreign-currency bonds "because they quite simply haven't needed to," said Dubai-based Redmond Ramsdale, a senior director for financial institutions at Fitch Ratings, which downgraded the sovereign to the equivalent of one level above Moody's in April. "With liquidity tightening, there might be a call for more."
While at least six Saudi banks have previously issued foreign currency bonds, of 14 securities currently outstanding only an Islamic bond from Banque Saudi Fransi, a unit of Credit Agricole SA, is denominated in a currency other than the Saudi riyal. The yield on the security due May 2017 climbed 17 basis points this year to 1.98 percent on Tuesday.
"There's certainly an argument to issue bonds, and there are a handful of banks capable of doing it," said Murad Ansari, a Riyadh-based analyst at EFG-Hermes Holding SAE, the largest listed Arab investment bank. "Doing an issue in this environment would be expensive, but would add stability to their funding profile."