EghtesadOnline: Global equities advanced with commodities and emerging markets on speculation the U.S. economy is strong enough to sustain growth while only triggering a gradual increase in interest rates.
The MSCI All Country World Index headed for its highest close in almost a year, extending Friday's advance that was spurred by a bigger-than-estimated increase in American payrolls. Perceived investment-grade corporate credit risk fell to the lowest in about a year. U.K. government bonds rose as the Bank of England begins its latest round of quantitative easing. Crude traded above $42 a barrel, the highest in two weeks, and copper advanced, reports Bloomberg.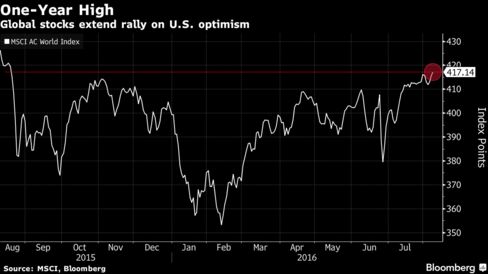 U.S. data showing improvements in employment, retail sales and factory output have bolstered confidence that the world's biggest economy can withstand faltering growth elsewhere, reviving speculation that the Federal Reserve will raise interest rates this year. Any moves may be gradual -- Fed board member Jerome Powell warned that America is trapped in a prolonged period of subdued growth that requires lower official rates than initially expected, the Financial Times reported.
"There's a positive follow-through from Friday's payroll numbers as it shows strength in the U.S. economy," said Michael Hewson, a market analyst at CMC Markets in London.
Stocks
The MSCI index climbed 0.4 percent as of 6:50 a.m. in New York. The Stoxx Europe 600 Index rose 0.2 percent, with trading volumes 37 percent below the 30-day average.
A gauge of banks led gains, with Barclays Plc adding 3.3 percent after Exane BNP Paribas upgraded the U.K. lender to outperform, similar to buy, from neutral. BHP Billiton Ltd. and Anglo American Plc climbed 3.4 percent, pushing miners higher as commodity prices increased.
PostNL NV surged 12 percent after the Dutch mail-delivery company forecast a resumption of dividend payments in 2017. Mediobanca SpA gained 3.2 percent after La Stampa reported that French investor Vincent Bollore may increase his 7.9 percent stake in the Italian investment bank to as much as 23 percent.
Airbus Group SE fell 0.8 percent after saying that the the U.K. Serious Fraud Office has opened a criminal investigation into allegations of fraud, bribery and corruption relating to some of the planemaker's third-party consultants.
S&P 500 futures added 0.2 percent after the U.S. gauge hit an all-time high. Nasdaq 100 contracts also rose 0.3 percent. The Nasdaq Composite Index closed at a record Friday for the first time in a year.
The MSCI Emerging Markets Index advanced 1 percent to a one-year high, with benchmarks in Hong Kong, Thailand and Turkey gaining at least 1.4 percent. South Korea's Kospi rose 0.7 percent.
Thailand's shares gained after voters backed a new constitution, while South Korean assets were buoyed by a debt-rating upgrade. Turkish stocks rose to a three-week high after Moody's Investors Service said on Friday it would keep assessing the medium-term impact of last month's failed coup.
Currencies
The Japanese yen slid 0.5 percent and New Zealand's dollar lost 0.3 percent as the Bloomberg Dollar Spot Index held near a one-week high.
Odds on the Fed increasing rates by December rose to 47 percent in the futures market after the U.S. payrolls report, up from 37 percent on Thursday. While America's jobs report surprised on the upside, Chinese data on Monday showed exports from the world's biggest trading nation declined 4.4 percent in dollar terms from a year earlier in July and its imports dropped 12.5 percent.
The ruble strengthened 0.9 percent and peso added 0.6 percent. The won advanced 0.2 percent, having recovered from a loss of as much as 0.6 percent after S&P raised South Korea to AA, its third-highest ranking.
Commodities
The Bloomberg Commodity Index rose as much as 0.4 percent to the highest since Aug. 1 as West Texas Intermediate crude oil gained 1.6 percent to $42.47 a barrel. Copper climbed 0.7 percent in London and nickel headed for the highest close in a year.
Gold fell 0.4 percent extending Friday's losses. The prospect of higher U.S. interest rates dim the appeal of the precious metals versus yield-paying assets.
Soybeans climbed as much as 1.5 percent in Chicago amid strong demand for U.S. exports. Wheat also advanced amid concern about the outlook for European crops.
Bonds
The yield on 10-year gilts fell three basis points to 0.64 percent. As well as cutting interest rates for the first time since 2009, the BOE exceeded economists' expectations with its Aug. 4 policy announcement by increasing its gilt-purchase program to 435 billion pounds ($567 billion), starting Monday.
Italy's government bonds declined for the first time in three days after the nation's sovereign rating came under review before a proposed constitutional referendum. Yields on the nation's 10-year debt climbed from a 17-month low reached Friday after DBRS Ltd. said that it was reevaluating its A (low) credit grade, with negative implications.
The yield on Treasuries due in a decade fell one basis point to 1.58 percent, having increased by nine basis points on Friday. That compares with the all-time low of 1.32 percent reached last month.
The cost of insuring corporate debt against default fell for a third day. The Markit iTraxx Europe Index of credit-default swaps on highly rated companies dropped one basis point to 66 basis points. A gauge of swaps on junk-rated companies declined six basis points to 311 basis points.