EghtesadOnline: Traders sent U.S. stocks to a record after better-than-forecast jobs data underscored the strength of the world's largest economy. The dollar rose and Treasuries fell as the report also bolstered the case for higher interest rates.
Both the S&P 500 and Nasdaq Composite Index closed above their all-time highs, while the dollar strengthened against most of its 16 major peers, as payrolls exceeded all estimates in a Bloomberg survey of 89 economists. Yields on two-year notes, the most sensitive to Federal Reserve policy, rose for the first time in four days. Gold, oil and copper retreated. European shares climbed amid thin trading volume, reports Bloomberg.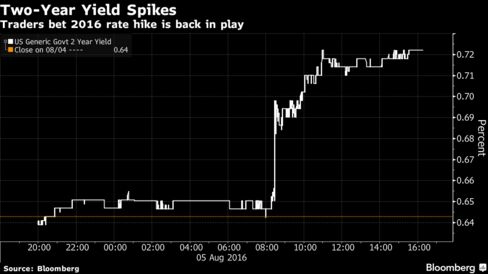 Investors have rebuilt wagers on an increase in U.S. borrowing costs in 2016 as data showing improvement in jobs, retail sales and industrial production have stoked confidence the American economy can withstand pressure from slowing growth abroad. There's now a 48 percent chance of a Fed rate increase by December, according to futures data compiled by Bloomberg, up from a 37 percent probability seen Thursday.
"These are good numbers across the board," said Darrell Cronk, president of Wells Fargo Investment Institute in New York. "I don't think it brings the Fed back to the table for September but there are more people entering the work force, which is healthy. The story with these numbers is higher equity prices, higher yield and higher dollar. "
Payrolls climbed by 255,000 last month, following a 292,000 gain in June that was larger than previously estimated, according to Labor Department data. The jobless rate held at 4.9 percent. The report came in a week that saw the Bank of England unveil a stimulus package, while Japan and Australia took steps to shore up their economies.
Stocks
The S&P 500 rose 0.9 percent at 4 p.m. in New York, advancing for a third day. The index has climbed 19 percent since hitting a 22-month low back in February. Technology giants Apple Inc. and Microsoft Corp. paced gains in the Nasdaq Composite, which added 1.1 percent. Goldman Sachs Group Inc. and JPMorgan Chase & Co. led a rally in financial companies. Merck & Co. surged after its competitor Bristol-Myers Squibb Co. said the use of its drug Opdivo as a single agent for lung cancer failed in a trial.
The Stoxx Europe 600 Index was up 1.1 percent, with trading volumes 28 percent below the 30-day average. Hugo Boss AG added 7.4 percent after the German fashion label
posted
better-than-expected revenue. Royal Bank of Scotland Group Plc declined 7.2 percent after the British lender
reported
a larger loss than projected and gave no update on the planned sale of its Williams & Glyn consumer bank.
The MSCI Emerging Markets Index added 0.6 percent. Hong Kong's Hang Seng Index rallied on bets the People's Bank of China will inject more stimulus into Asia's largest economy, while Japan's Topix index fell 0.2 percent after seesawing most of the day.
Bonds
U.S. two-year note yields rose eight basis points, or 0.08 percentage point, to 0.72 percent, according to Bloomberg Bond Trader data. Benchmark 10-year note yields increased nine basis points to 1.59 percent. Fed funds futures are pricing in only about a 26 percent probability that officials led by Fed Chair Janet Yellen will boost rates in September, following a liftoff from near zero last year.
"I think that's too low -- I'd put it at 40, 45 percent," Mohamed El-Erian, the chief economic adviser at Allianz SE, said in a Bloomberg Television interview. "The front end is controlled by the Fed and today's number tells you there's a higher probability that the Fed may hike rates this year."
U.S. debt had climbed with European bonds in the previous session as the BOE's move reinforced the trend for monetary easing globally.
Vodafone Group Plc sold the longest-dated corporate bond in sterling this year, locking in record-low borrowing costs for four decades. Europe's largest mobile-phone operator issued 1 billion pounds ($1.3 billion) of notes due in August 2056, according to data compiled by Bloomberg.
Currencies
The Bloomberg Dollar Spot Index, which tracks the currency against 10 major peers, rose 0.3 percent. The greenback gained 0.4 percent to $1.1086 per euro, and 0.6 percent to 101.79 yen.
The labor report is welcome news for hedge funds and other large speculators in the futures market, who grew more bullish on the dollar in recent weeks, data from the Commodity Futures Trading Commission show. The payrolls data, which included signs of rising wages, may allay concern fueled by a much weaker-than-projected report on second-quarter economic growth last week.
"The U.S. dollar should be bid here," said Bipan Rai, senior foreign-exchange and macro strategist at Canadian Imperial Bank of Commerce in Toronto. "Taken with the firmer wages number, the pain from last week's growth number has been eased."
Elsewhere in the world, Canada's dollar slid after a report showed the nation's labor market unexpectedly contracted, while Brazil's real jumped to a one-year high.
Commodities
Gold futures for December delivery dropped 1.7 percent to settle at $1,344.40 an ounce at 1:48 p.m. on the Comex, the biggest loss since May 24. Prices had the first weekly decline in three weeks.
Oil fell 0.3 percent to settle at $41.80 a barrel on the New York Mercantile Exchange as a dollar rebound reduced the appeal of investments in commodities.
Copper slumped as Goldman Sachs Group Inc. forecasts a "supply storm" is about to hit the market amid a pick-up in mine supply, lower production costs and softening demand growth.