EghtesadOnline: U.S. stocks fell the most since the November election, while Treasuries advanced with gold as Donald Trump's order on immigration raised concern that he may follow through with isolationist policies touted on the campaign trail, overshadowing a pro-growth agenda.
The Dow Jones Industrial Average lost more than 200 points before paring the slide in the final half hour of trading. It finished below 20,000 after closing at a record Thursday. The S&P 500 Index registered its biggest loss of the year, as Trump's ban drew a rebuke from some Republican lawmakers, raising the specter of a rift between the executive and legislative branches. The dollar fell versus the yen and gold advanced as investors favored haven assets, Bloomberg reported.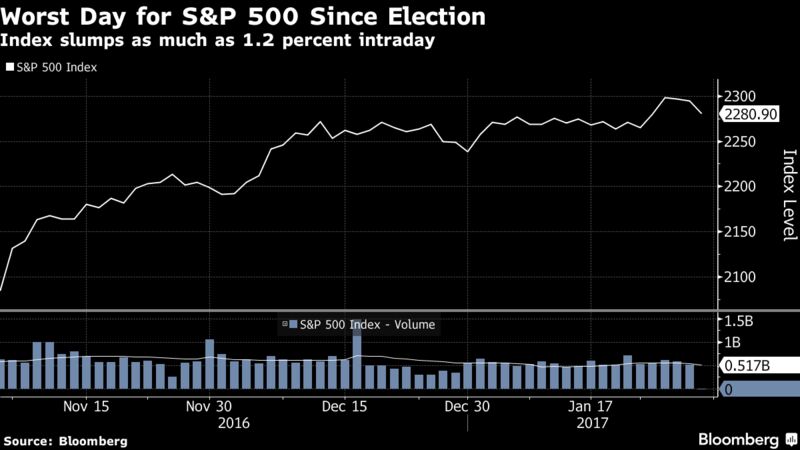 The selling of riskier assets Monday represented the biggest market rebuke yet to the new administration's policy preferences after U.S. stocks had staged one of the best-ever post-election rallies on speculation Trump would pursue pro-growth policies. Instead, the focus in the administration's early days has been on trade and immigration, with little clarity on tax and business reform. While Trump on Monday promised to do a "big number" on the financial regulations in Dodd-Frank, bank shares plunged the most since Jan. 17.
Here's what's coming up this week:
Trump plans to announce his nomination to the Supreme Court Tuesday, a move certain to dominate headlines and perhaps delay the presentation of further details on spending policies.
The Federal Reserve holds a policy meeting on Feb. 1 and the Bank of Japan convenes this week. Neither is expected to change lending rates, though the Fed's statement will be parsed for any reading on Trump's impact on the world's largest economy.
Apple Inc., Facebook Inc. and Amazon.com Inc. are among the major U.S. companies due to report results. Of the 219 S&P 500 names to report so far, 73 percent have topped profit estimates. Japan will see earnings from heavy hitters including Sony Corp. and Honda Motor Co.
The first U.S. jobs report of the year is due on Feb. 3., while China manufacturing and services industry data are scheduled for Feb. 1.
Stocks
The S&P 500 fell 0.6 percent to 2,280.67 at 4 p.m. in New York, for its first three-day slide of 2017. The index fell as much as 1.2 percent before staging a late-day comeback. It's up 1.9 percent in January and is higher by 6.6 percent since Trump's election.
The Dow fell as much as 223 points before paring the slide in afternoon trading. It lost 124.02 points on the day to end at 19,969.76, and is down 0.7 percent since closing at a record on Jan. 26.
Energy shares sank 1.9 percent Monday as oil slipped below $53 a barrel in New York. Financial and technology stocks retreated more than 0.6 percent.
The Stoxx Europe 600 Index fell 1.1 percent and emerging-market equities declined by 0.5 percent.
Bonds
U.S. Treasury 10-year yields were little changed at 2.49 percent after falling as low as 2.46 percent earlier.
Microsoft Corp. is returning to the market with a $17 billion deal to refinance its shortest-dated debt less than six months after it sought funds for its LinkedIn Corp. acquisition.
European bonds fell after data showing Germany's consumer price index accelerated to 1.9 percent from a year ago, the highest rate since July 2013. The yield on 10-year German bunds fell one basis point to 0.449 percent.
Currencies
The Bloomberg Dollar Spot Index retreated 0.3 percent, pushing its loss in January to 2 percent.
The yen climbed 1.3 percent to 113.675 per dollar.
Mexico's peso strengthened 0.5 percent to 20.7771.
Commodities
West Texas Intermediate crude lost 1 percent to settle at $52.63 a barrel, capping a second straight day of losses.
Gold rose 0.6 percent to $1,197.90 an ounce, reversing its first weekly loss in a month.