EghtesadOnline: The yen may strengthen beyond 100 per dollar this year as expectations for Trumponomics shatter when the U.S. president fails to attain the economic growth he's promised, according to Eisuke Sakakibara, a former top currency official at Japan's Finance Ministry.
The dollar is close to its peak and has already started to target 110 yen since Donald Trump's inauguration, said the man dubbed as "Mr. Yen" for his ability to influence the exchange rate in the 1990s. The trend for a weaker U.S. currency and stronger yen will intensify as the president's pledge of 4 percent annual growth proves unrealistic, he added.
"The dollar will shift into 105-110 yen range, and around the turn of the year, it's possible it will break 100 yen," the 75-year-old Sakakibara, now a professor at Tokyo's Aoyama Gakuin University, said in an interview in Tokyo on Monday. "Four percent U.S. economic growth is impossible. In all likelihood it'll remain around 2 percent or 2.5 percent, and that'll be the end of Trump fever."
According to Bloomberg, the dollar has retreated close to 5 percent against the yen after reaching a 10-month high of 118.66 in December. Trump has yet to reveal details of the "massive" tax cuts and infrastructure spending he's promised even as he followed through on his protectionist pledges. Just days after his "America First" inauguration speech, the U.S. president pulled his country out of the Trans-Pacific Partnership free trade accord.
The dollar bought 113.68 yen as of 10:05 a.m. in Tokyo. It briefly broke below 100 yen several times last year including a dip to 99.02 in the immediate aftermath of the June Brexit vote. The last time the greenback traded below 100 on a sustained basis was in November 2013, about a year into Abenomics.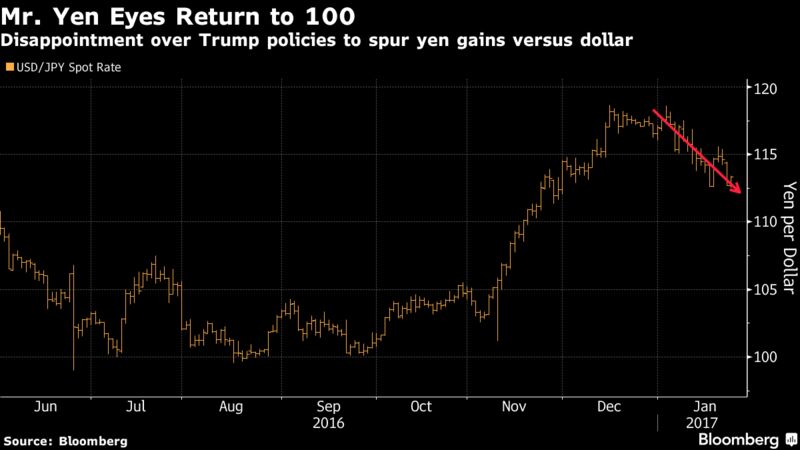 Trump and his nominee for Treasury Secretary, Steven Mnuchin, have cautionedagainst dollar strength in recent days. The U.S. president told the Wall Street Journal the dollar had already become "too strong," while Mnuchin said a few days later that an "excessively strong dollar" could have a negative short-term effect on the economy.
"The Trump administration wants a weaker dollar in the short term to shore up exports and employment," Sakakibara said. "But if it gets too weak, it'll be a problem. That's why there was reiteration of support for the strong dollar policy."
Mr. Yen said he doubts the U.S. economy will be robust enough to justify more than two, quarter-point interest-rate increases by the Federal Reserve this year, more dovish than the rates market which has priced in about a one-third chance of three or more hikes. He also expects haven demand for the yen to stem from continued uncertainty over Trump's policies and the populist wave sweeping across developed nations ahead of European elections this year.
Sakakibara correctly predicted the yen's surge last year to 100 per dollar, although he was wrong in forecasting a further advance to 90 following Trump's victory. He was, however, prescient in saying ahead of the U.S. election that Trump had close to even odds of winning.
Intervention Unlikely
The man who oversaw currency intervention between 1997 to 1999 sees little risk that Japan will rein in any gains in the yen until the currency strengthens past 95 per dollar. Japan hasn't intervened in the market since the March 2011 earthquake and tsunami, and that was a coordinated effort with other Group of Seven nations.
"Unless Japan has agreement from the U.S., it can't intervene," he said. "Trying to force it won't be effective. Until the yen breaks 100 per dollar, there's not really any chance of getting consent. Both governments need to feel some degree of crisis."