EghtesadOnline: It was supposed to be the face of new China -- a stock market in the technology hub of Shenzhen designed to nurture future stars like Alibaba Group Holding Ltd. and Tencent Holdings Ltd.
Yet the ChiNext market set up in 2009 is proving a dud, at least when measured against the old-economy heavy Shanghai Composite Index in recent months. That's in face of economic data that show how the new growth drivers -- consumption and services, where private companies dominate -- are in good shape.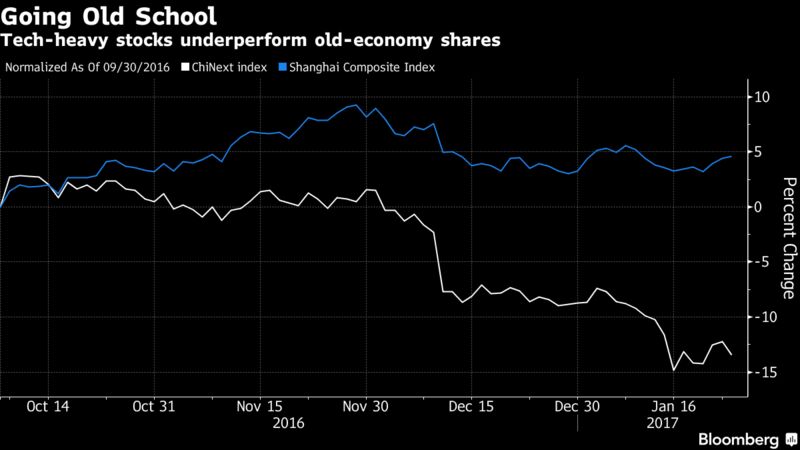 What helps explain the divergence is the move by policy makers to rein in liquidity in late 2016, part of a broader effort to reduce a record build-up in leverage. That's put pressure on the private sector businesses that lack the kind of privileged access to cheap financing enjoyed by big state-owned enterprises -- all the more so given their higher stock valuations relative to earnings. And the old-line players have seen their earnings improve as commodity prices come back, according to Bloomberg.
"There's funding uncertainty for some of the smaller private companies -- it's always the big boys that get favored and bailed out and it's the smaller ones that are having a hard time," said Uwe Parpart, Hong Kong-based chief strategist at investment bank Capital Link International Holdings Ltd.
The underperformance was clear in Tuesday trading, when the ChiNext gauge slumped 1.4 percent, led by technology firms including Gosuncn Technology Group Co., a supplier to the telecommunications industry, and Allwinner Technology Co., which designs semiconductor chips for tablets and smart phones. By contrast, the Shanghai Composite rose 0.2 percent, with cement makers and an oil-pump maker among the winners.
The ChiNext gained 0.7 percent at the midday break on Wednesday.
China's policy makers face the conflicting priorities of reducing leverage that approached the equivalent of 250 percent of the economy's size in 2015, and sustaining growth at a minimum of around 6.5 percent. A shift toward stimulus spending early last year, along with some industrial capacity cuts, helped to send producer prices up the most in more than five years in December. That in turn has driven a rebound in industrial companies' profits.
Less Support
With the economic growth stabilizing, authorities put a focus on boosting borrowing costs to reduce leveraged bets in financial markets in the final months of 2016, efforts that may carry through this year, in the view of a number of economists.
"There is less support for small caps from the government than big cap names, which tend to be SOEs," said David Cui, a strategist at Bank of America Corp. in Singapore. China's onshore small-capitalization companies "will probably underperform the broader market, or the major caps, for the foreseeable future," he said.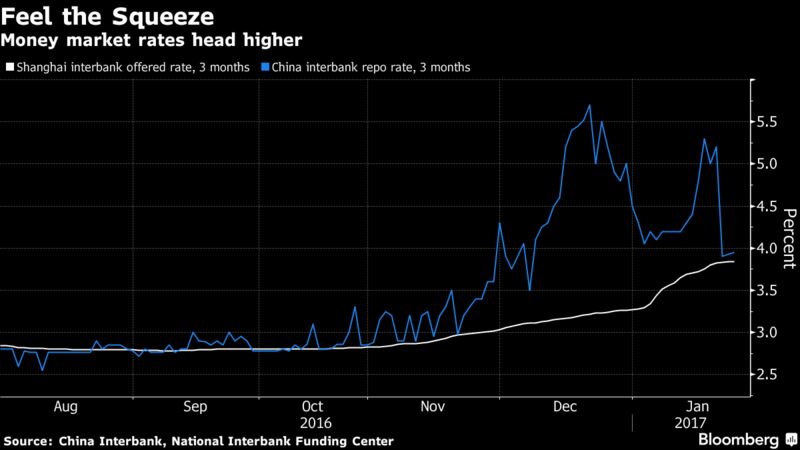 But don't count the ChiNext out for the count, analysts say -- ultimately China's growth will be driven by the more-nimble private enterprises catering to the needs and evolving tastes of the nation's swelling middle class.
"Shenzhen is by far the more interesting market, by a factor of 10, and it is definitely the future of China," said Mark Matthews, Singapore-based head of Asia research at Bank of Julius Baer. Inflation and increasing pricing power served as tailwind for old economy shares last year, "but long term do you really want to be in Chinese steel and coal? I don't think so."
Stock Valuations
Jordi Visser, who runs investments at $1.3 billion hedge fund Weiss Multi-Strategy Advisers, says of Shenzhen's market: "I still think it's going to do very well in the coming years." And he notes that many of China's new-economy tech giants aren't included in that market -- such as New York-traded Alibaba, the country's biggest online retailer. Shenzhen-based Tencent is listed in neighboring Hong Kong.
For now, valuation levels make buying into the ChiNext a hard sell for some investors. The gauge of mostly small-cap technology companies trade at 38.7 times reported earnings -- more than double the ratio for Shanghai, according to data compiled by Bloomberg.
"Valuation is still high -- so it's not like you can simply go in and buy anything on ChiNext and say you're buying into the new economy," Tai Hui, chief Asia market strategist at JPMorgan Asset Management, told reporters in Hong Kong this month. "These are high-volatility stocks that still need a lot of professional research and insight."