EghtesadOnline: The dollar fell for a fourth day as U.S. Treasury Secretary nominee Steven Mnuchin said a strong currency could hurt the economy. The yen fluctuated after the biggest jump since July and Asian stocks were mixed as investors assessed the impact from Donald Trump's efforts to rework U.S. trade pacts.
The dollar traded at the lowest level since early December. The Japanese currency was little changed, erasing an early decline, while the MSCI Asia Pacific Index swung between gains and losses. Equities in Tokyo fell while Hong Kong and Australian shares climbed. Gold was steady after touching the highest since November and 10-year Australian yields fell a second day, according to Bloomberg.
While investors have been looking for details on campaign promises to boost growth and government spending, much of the incoming administration's initial pronouncements targeted trade or pushed companies to invest more inside the U.S. President Trump promised a "very major" border tax and signed an executive order to withdraw the U.S. from the Trans-Pacific Partnership deal.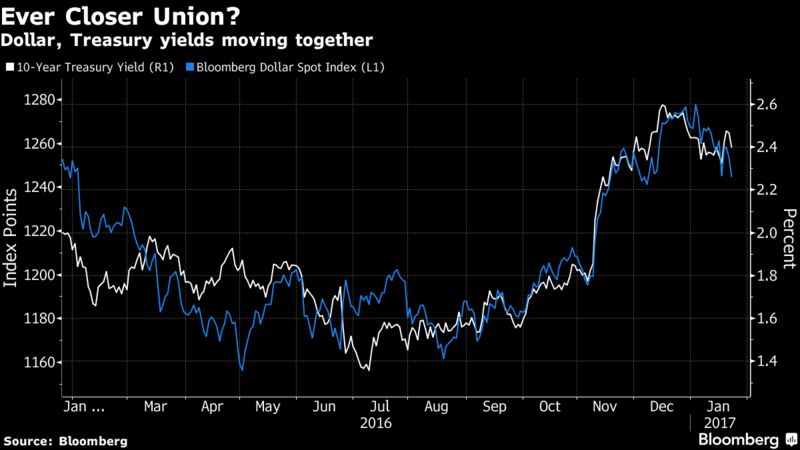 "The first couple of days of the new presidency have seen the rhetoric weighted toward protectionist policies while little detail is yet available on stimulus measures," said Ric Spooner, Sydney-based chief analyst at CMC Markets Asia Ltd.
Trump's pro-growth campaign-trail pronouncements helped drive a rally in equities after his November election victory, while the dollar surged. Those trades are largely unwinding this month as investors assess whether the moves had pushed prices too far, too fast. Meanwhile, money managers are turning their focus to earnings from some of the world's largest companies, with Alphabet Inc. and Alibaba Group Holding Ltd. among those reporting results this week.
Here are the main moves in markets:
Currencies
The Bloomberg Dollar Spot Index slid 0.3 percent as of 12:37 p.m. in Tokyo. The currency dropped 0.7 percent on Monday, as Mnuchin said an "excessively strong dollar" could have a negative short-term effect on the economy. The greenback has fallen for four straight weeks, the longest retreat since February.
The yen added less than 0.1 percent to 112.65 per dollar, after jumping 1.7 percent the previous session. The currency was down as much as 0.4 percent earlier in the day.
The Australian dollar rose 0.2 percent and the New Zealand dollar added 0.3 percent, both trading at levels last seen in November. The Mexican peso increased 0.4 percent.
Stocks
The Topix fell 0.5 percent, led by declines in banks and exporters, after slumping 1.2 percent on Monday.
The MSCI Asia-Pacific Index fluctuated between gains of 0.2 percent and losses of as much as 0.1 percent.
Australia's S&P/ASX 200 Index rose 0.4 percent, after a two-day slide, while New Zealand stocks retreated 0.2 percent and South Korea's Kospi lost 0.2 percent.
Emerging-market equities rose, with Indonesia's benchmark up 0.5 percent. Vietnam stocks are trading near the highest since 2008, while those in Singapore, Taiwan and Thailand are at levels unseen in more than a year.
Futures on the S&P 500 Index were little changed after the gauge fell 0.3 percent on Monday.
The Stoxx 600 benchmark index of European shares fell 0.4 percent on Monday to the lowest close since December.
Bonds
The yield on the 10-year Treasury was down one basis point at 2.39 percent after it declined seven basis points Monday; bonds had extended their rally after Trump vowed "a very major border tax" on imports in a meeting with business leaders.
Australian bonds gained in the wake of Treasuries, with the yield on 10-year notes down six basis points to 2.70 percent.
Commodities
Gold was little changed after climbing 0.7 percent Monday and touching a two-month high of $1,220.26 an ounce.
West Texas Intermediate crude oil rose 0.5 percent to $52.99 a barrel. It slid 0.9 percent the previous session after U.S. drillers added the most rigs in more than three years, making it difficult for OPEC to drain global oversupply.