EghtesadOnline: U.K. Chancellor of the Exchequer Philip Hammond told a Davos gathering on Friday that an inflation pickup will put a damper on consumers this year. The first signs may already be appearing.
Less than an hour before Hammond spoke, data showed retail sales fell at the fastest pace in almost five years in December, recording a 1.9 percent drop that far exceeded even the most pessimistic forecasts in a Bloomberg survey.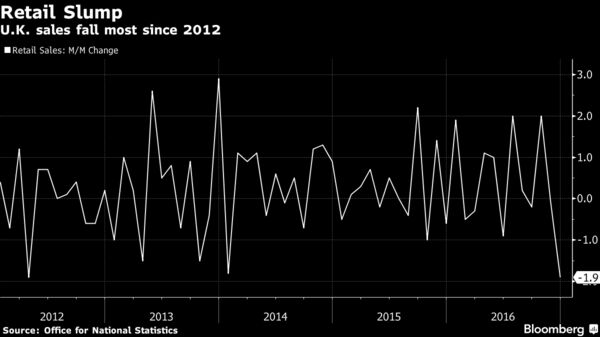 Possible explanations include price increases and consumers scaling back purchases after taking advantage of Black Friday discounts the previous month. Mild weather also probably affected clothing sales -- down 3.7 percent on the month -- though the weakness in the sector was broad-based, with turnover at food, household goods and department stores all falling, Bloomberg reported.
The decline could be a portent of 2017, with the pound's 17 percent drop since the June vote to leave the European Union boosting import costs and fueling a sharp upturn of inflation. That means consumers, who have weathered the Brexit vote so far, now face a squeeze that will eat into real incomes. That could potentially hurt growth in an economy that relies heavily on their enthusiasm for spending.
While the slowdown in 2017 may not be as sharp as initially expected, cooler growth is predicted. Both the Office for Budget Responsibility and the Bank of England forecast expansion of 1.4 percent this year, down from just above 2 percent in 2016. Hammond said a weaker consumer is partly behind that view.
"The currency depreciation is now feeding through into inflation which will increasingly affect consumer behavior during this year," he said at the World Economic Forum Annual meeting. "Hence the lower forecast for economic growth in 2017 as that inflation effect takes place."
Much of the economic impact of the Brexit vote depends on the deal Prime Minister Theresa May ends up securing with leaders on the continent. She said this week the country won't remain part of the EU's single market of more than 500 million consumers or the customs union, though indicated she will seek maximum possible access across "frictionless" borders.
The price of retail goods sold in December, as measured by the deflator, increased on an annual basis by 0.9 percent, the most in three years. Consumer-price inflation jumped to 1.6 percent, according to a report earlier this week, and is forecast to keep climbing through 2017. While most surveys see it around 3 percent by the end of the year, some expect a figure closer to 4 percent.
"This is likely to be the theme for the rest of the year -- higher prices will reduce disposable income and hurt consumer spending growth," said Alan Clarke, an economist at Scotiabank. The pound was at $1.2291 as of 12:45 p.m. London time, down 0.4 percent on the day.
The fourth quarter as a whole saw retail sales rise 1.2 percent, meaning the sector made a 0.1 percentage point contribution to gross domestic product. Still, growth was weaker than the 1.8 percent pace recorded in the third quarter. In December, sales rose an annual 4.3 percent, compared with a peak of 7.2 percent as recently as October.
"We suspect that retail sales growth will soften in 2017," said James Knightley, an economist at ING in London. "Consumer confidence is weakening and employment growth has stalled while real household disposable incomes are being eroded by higher prices. At the same time retailers themselves are going to see profit margins squeezed by higher import costs."