EghtesadOnline: Apparently you can put a price on being a strategic adviser to a president. Morgan Stanley analyst Adam Jonas expects shares of Tesla Motors Inc. to surge 30 percent this year — and one of the reasons is the relationship between CEO Elon Musk and President-elect Donald Trump.
"Elon Musk has an important line of communication to Donald Trump through his role as a strategic adviser to the President-elect," he wrote in a new note. "While we cannot explicitly apply a monetary value to this relationship, we believe this level of coordination with the new administration could actually evolve into greater strategic value than with the prior administration.''
Bringing manufacturing jobs back to the U.S. has been a focus point for Trump throughout his campaign and in the weeks leading up the the inauguration. While some on Wall Street are skeptical of the effort because technological advancements have made many industry positions obsolete, Jonas believes that Tesla could benefit from Musk's role in helping Trump, according to Bloomberg.
"To the extent the creation of high tech manufacturing jobs in the United States is a high priority of the administration, we believe Mr. Musk might have some objectives that could be very much in alignment with those of the Trump administration," Jonas writes.
Shares of Tesla initially fell following Trump's surprise victory in November, but they've risen since then, as fears about how new clean energy regulations might affect the environmentally focused company have calmed.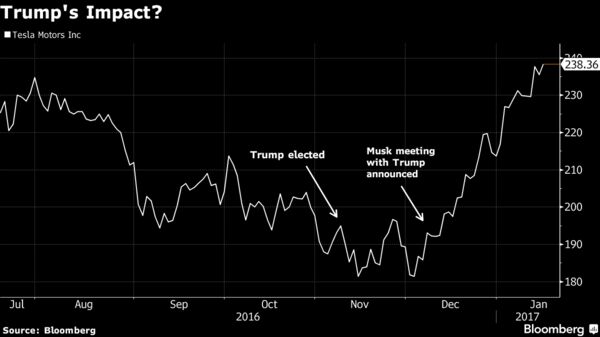 Jonas also believes Tesla will benefit from the coming launch of the Model 3 — which is ahead of schedule with more units than previously forecast — the increasing popularity of electric vehicles, and reduced competition from other technology firms.
Of the analysts covering Tesla, eight have buy ratings, 10 have holds and six have sells. Their average price target is $244 per share.