EghtesadOnline: Lingering concern over Donald Trump's policies and the U.K.'s position in the European Union extended rallies in gold and the yen to a seventh day. Treasuries rose and most Asian stocks declined.
Chinese shares extended a rout to six days, their worst run in three years. The yen continued its longest streak since the run-up to the U.K.'s Brexit vote in June. The pound fluctuated before a speech by U.K. Prime Minister Theresa May in London on Tuesday where she will say that the U.K. is likely to pull out of the EU's single market for goods and services and seek a completely new trading relationship with the bloc.
According to Bloomberg, stock investors are assessing whether the market has run too far during its two-month rally leading up to Donald Trump's inauguration as U.S. president on Friday. About $3 trillion was added to the value of global stocks in that time as the dollar surged amid signs of inflation and growth picking up. The International Monetary Fund is taking a cautious stance toward Trump's policies, assuming a modest boost to the U.S. economy from his promise of fiscal stimulus, and upgraded its growth forecast for China's economy in 2017 to 6.5 percent.
"We've had a strong rally in equities and we remain cautious," said Niv Dagan, Melbourne-based executive director at Peak Asset Management LLC. "There is a bit of angst and nervousness leading up to Trump's inauguration and on the U.K.'s position in Europe. We expect this volatility to continue in the near term."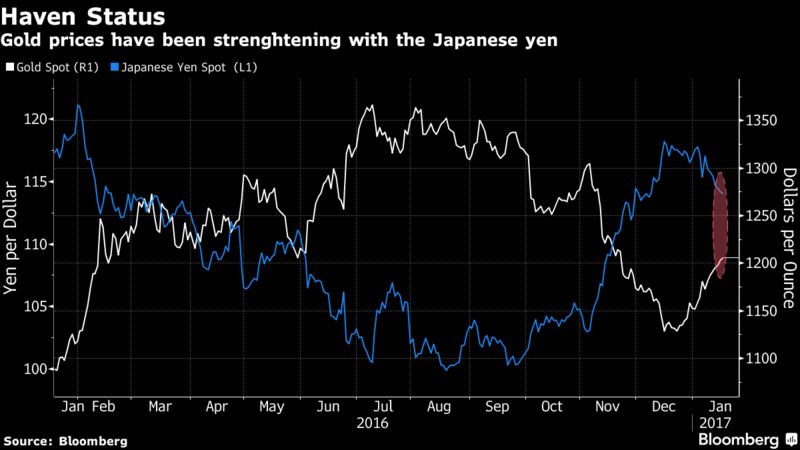 Here are the main moves in markets.
Stocks
The MSCI Asia Pacific index fell 0.1 percent as of 1:20 p.m. in Tokyo, dropping for a third straight day.
The Shanghai Composite lost 0.5 percent, heading toward the lowest close since October. The Hang Seng was up 0.4 percent.
South Korea's Kospi rose 0.6 percent as Samsung Electronics Co. climbed 1.6 percent, regaining part of Monday's losses.
Japan's Topix index fell 0.9 percent, after a similar decline on Monday. Australia's S&P/ASX 200 Index also fell 0.9 percent.
Currencies
The pound rose 0.3 percent to $1.2078, erasing an earlier decline after plunging as much as 1.6 percent Monday.
The yen traded at 113.90 per dollar, up 0.3 percent. The currency has strengthened 2.8 percent over seven sessions, touching the highest level in more than a month.
Bonds
The yield on 10-year Australian government bonds rose one basis point to 2.70 percent. Those for Treasuries dropped three basis points to 2.36 percent.
U.S. markets were closed Monday for a holiday.
Commodities
Gold climbed 0.4 percent to $1,207.01 per ounce, extending its winning streak to seven days, the longest since November.
Crude oil futures advanced 0.2 percent to $52.47 a barrel.
Iron ore dropped for the first time in seven days, falling 1.4 percent after erasing an earlier gain. Futures had rallied 16 percent over the previous six days.