EghtesadOnline: The pound fell, equities slid and gold climbed on concern U.K. Prime Minister Theresa May is prepared to lead Britain out of the European Union's single market and as the U.S. President-elect suggested other countries could break from the bloc.
Sterling fell below $1.20 for the first time since October after the Sunday Times said May is ready to withdraw from tariff-free trade with the region in return for the ability to curb immigration and strike commercial deals with other countries. Banks led European stocks lower after Goldman Sachs Group Inc. downgraded Royal Bank of Scotland Group Plc, citing exposure to volatile politics. U.S. markets are closed Monday due to a holiday, Bloomberg reported.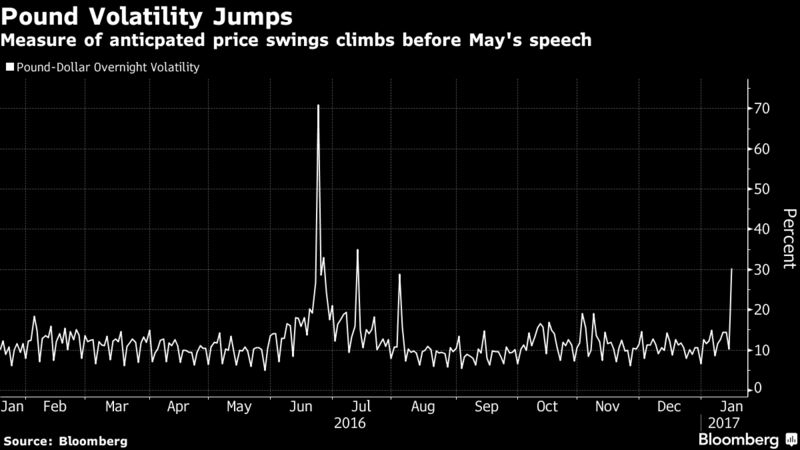 Caution dominated markets amid tough talk from May and Donald Trump about Europe's economic and political institutions. British government officials trying to limit damage to the pound will speak to major banks in London before the U.K. leader sets out her vision for leaving the bloc in a speech on Tuesday, according to people familiar with the situation. Meanwhile Trump predicted that Britain's exit will be a success that will encourage others to do the same. He also branded NATO obsolete.
"Markets are trading in risk aversion mode," said Neil Jones, the head of hedge-fund sales at Mizuho Bank Ltd. in London. "Investors and corporates around the world are concerned by the prospect of a hard Brexit. Pound rallies are limited and weak, while plunges are harsh and prolonged."
Here are the main moves for the major asset classes:
Currencies
The U.K. currency traded 1 percent lower to $1.2065 at 1:01 p.m. in London after touching $1.1986, its weakest level since October. Overnight implied volatility in the pound against the dollar climbed to a five-month high before May's speech. The measure exceed 30 percent, a level only breached before three events in 2016 -- Britain's EU vote and the Bank of England's July and August meetings.
The euro dropped 0.5 percent to $1.059. The yen rose 0.3 percent to 114.19 per dollar, extending gains for the longest winning streak since June.
Turkey's lira weakened 1.5 percent. The currency jumped 3.7 percent over Thursday and Friday after the central bank took steps to prop it up by tightening liquidity.
Stocks
The Stoxx Europe 600 Index dropped 0.6 percent, with losses led by automaker and lenders. Royal Bank of Scotland slid 2.7 percent and Fiat Chrysler Automobiles NV dropped 4.8 percent as a spat about pollution control widened.
The U.K.'s FTSE 100 Index halted a record streak of daily gains and 10 consecutive all-time highs.
S&P 500 futures expiring in March declined 0.2 percent, with stock markets in the U.S. closed for a holiday.
Bonds
Yields on the U.K.'s 10-year government bonds fell five basis points to 1.31 percent after climbing seven basis points on Friday.
Italy's bonds underperformed their euro area peers after DBRS Ltd. downgraded the nation to BBB High, a move which will mean the securities will be subject to a higher haircut when used as in European Central Bank operations.
Commodities
Gold climbed 0.5 percent, extending last week's surge to trade at $1,203.74 an ounce.
Oil fell 0.2 percent to $52.28 a barrel.