EghtesadOnline: The pound tumbled on a report that U.K. Prime Minister Theresa May will signal plans to quit the European Union's single market to regain control of Britain's borders and laws. Haven assets from gold to the yen rose while stocks fell across Asia.
Sterling declined as much as 1.6 percent against the greenback after The Sunday Times said that May will prepare to withdraw from tariff-free trade with the region in return for the ability to curb immigration and strike commercial deals with other countries. The pound pared losses after the U.K. Treasury was said to plan to calm investors after her speech on Tuesday and the Times of London reported Donald Trump would offer a quick trade deal to Britain when he assumes power. The euro also fell and the yen strengthened for a sixth day. Stock indexes in Japan, China and South Korea all lost at least 0.5 percent, Bloomberg reported.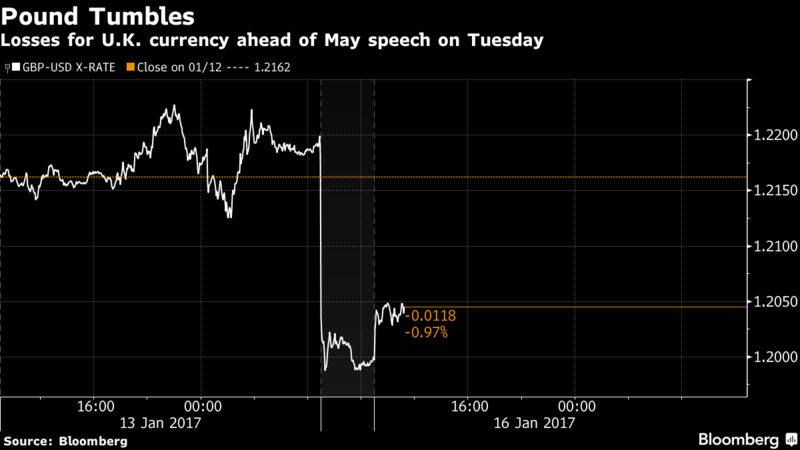 The British currency has fallen 19 percent against the dollar since the nation opted to leave the EU in June's referendum, with declines since the initial aftermath of the vote mainly sparked by concern May would pursue a so-called hard Brexit. Global equity markets have added more than $3 trillion since Donald Trump's election, with U.S. shares near record highs and Asia Pacific shares having posted three straight weeks of gains.
"The market is now positioning for some fairly punchy rhetoric from Theresa May and this idea of hard Brexit and a clean break from the single market seems increasingly likely," said Chris Weston, Melbourne-based chief market strategist at IG Ltd. "The prospect of volatility here is now very high."
There will be no trading in Treasuries Monday due to a U.S. holiday.
Read more from our Markets Live blog here. Here are the main market for each asset class.
Currencies
The pound dropped to as low as $1.1986, a level unseen since October. Sterling pared losses to 1.3 percent against the dollar as of 11:29 a.m. in Tokyo.
The yen rose 0.1 percent to 114.37 per dollar, extending gains for the longest winning streak since June. The euro dropped 0.2 percent to $1.0621.
The Aussie slid 0.2 percent to 74.84 U.S. cents, after climbing 2.8 percent in the best weekly performance since March.
Stocks
S&P 500 Index futures lost 0.2 percent.
Japan's Topix index slipped 0.8 percent and the Shanghai Composite fell 0.9 percent.
Australia's S&P/ASX 200 Index bucked the trend, gaining 0.5 percent after Billionaire Li Ka-shing agreed to buy Duet Group.
South Korea's Kospi dropped 0.5 percent and Hong Kong's Hang Seng fell 0.8 percent.
Bonds
Australia's 10-year bond yield rose less than one basis point to 2.69 percent.
Futures pointed to further decline in Treasury yields after 10-year rate dropped 2 basis points last week to 2.40 percent. The benchmark contract climbed 3/32 to 124 7/8.
Commodities
Oil rose 0.3 percent, holding above $52 a barrel.
Gold climbed 0.5 percent, extending last week's surge to trade at $1,203.50 an ounce.