EghtesadOnline: Donald Trump's first press conference as president-elect spurred a brief bout of volatility on U.S. financial markets before stocks, the dollar and Treasuries drifted back toward pre-event levels with investors still awaiting details on the Republican's policy prescriptions.
Treasuries rallied, the dollar tumbled more than 1 percent from its high and U.S. stocks erased gains as Trump took the podium around 11:15 a.m. in New York. Health-care shares led equity losses on comments that he'd force the industry to bid for government business, while Mexico's peso headed for a fresh low as Trump didn't soften his stance on America's business relations there. Haven assets advanced, according to Bloomberg.
While Trump addressed issues from Russian hacking allegation to drug prices and the fate of his family business, there was a dearth of details on the timing and scope of planned policies from infrastructure spending to trade pacts that will determine the direction for financial markets in 2017.
Once the president-elect concluded his remarks, stocks staged an afternoon comeback to close 0.1 percent below an all-time high, ending virtually unchanged from the level when Trump began speaking. A rally in crude helped, as oil and gas producers surged after oil jumped almost 3 percent. The dollar recovered much of its losses to finish little changed along with Treasuries.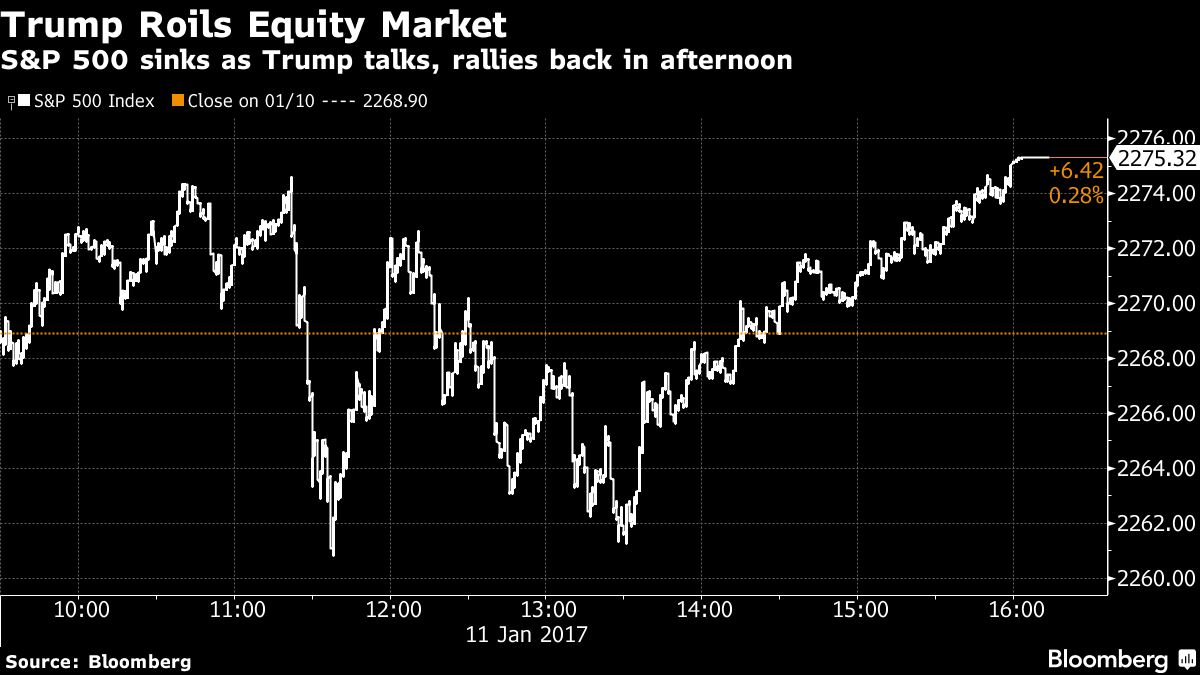 "The market didn't get what it wanted –- details on stimulus to be provided," said Bipan Rai, senior foreign-exchange and macro strategist at Canadian Imperial Bank of Commerce. "For now, today's pre-Trump trades are being unwound."
The dollar and stocks have been stuck in a monthlong rut since the Federal Reserve's rate decision after speculation Trump will pursue a pro-growth agenda unencumbered by backlash from any protectionist moves sparked rallies that drove American equities to records and the dollar to a 14-year high.
"The market has been questioning this Trump trade," said Priya Misra, the head of global rate strategy at TD Securities. "We were looking for specific details on tax reforms and other pro-growth ideas that people have been pricing in since the election. The burden of proof is on the policies, and we haven't seen any of that. The big Trump trade is on pause, stuck at this 'show-me-the proof' type of level."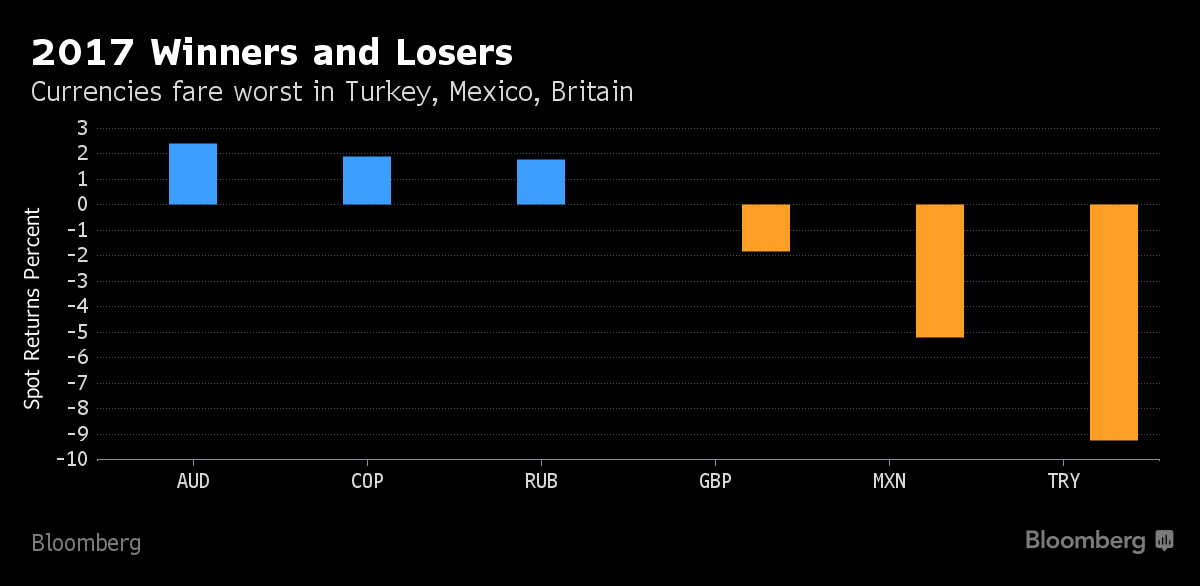 Read more from our Markets Live blog here.
U.S. Stocks
The S&P 500 rose 0.3 percent to 2,275.32 at 4 p.m. in New York, two points below its record from Jan. 6.
The index erased gains and traded lower after as Trump made his comments on the drugmakers, which ended the session down 1 percent.
The benchmark for American equity is up 6.4 percent since the election, though it's virtually unchanged since Dec. 13, the day before the Federal Reserve's rate decision.
The Dow Jones Industrial Average resumed its pursuit of 20,000, closing 47 points from the round-number milestone.
The Nasdaq Composite Index rose 0.2 percent, erasing a drop that reached 0.5 percent.
U.S. Dollar
The Bloomberg Dollar Spot Index, a gauge of the greenback against 10 major peers, fell 0.2 percent, erasing an advance of 0.7 percent. It's advanced 0.3 percent since the Fed's rate decision.
"The dollar reversed course shortly after the Trump news conference, which had very little substance regarding the economy and policy," said Minh Trang, a senior foreign-exchange trader at Silicon Valley Bank in Santa Clara, California."
Mexican Peso
The peso fell 0.4 percent to 21.8867 per dollar.
"The U.S. president-elect has not softened his stance on Mexico, which should continue putting pressure on the most-traded currency in developing nations," said Win Thin, head of emerging-market currency strategy at Brown Brothers Harriman & Co. in New York.
Treasuries
The yield on the 10-year Treasuries fell one basis point to 2.37 percent. It slid as much as five basis points to 2.33 percent, touching the lowest since November, amid Trump's comments and the auction.
Commodities
West Texas Intermediate crude settled at $52.25 a barrel in New York, rising after a government report showed U.S. refiners processed a record amount of crude last week.
Gold futures approached $1,200 an ounce as the dollar fell. Bullion rose 0.9 percent to settle at $1,196.60.
Copper futures for March delivery slipped 0.1 percent to settle at $2.6105 a pound.