EghtesadOnline: U.S. stocks fluctuated with the dollar, while Treasuries retreated as post-U.S. election asset moves stalled a day before Donald Trump is slated to hold a press conference that could provide detail on his policy preferences.
According to Bloomberg, the S&P 500 Index closed little changed, while the Dow Jones Industrial Average fell from session highs as investors prepared for the fourth-quarter earnings reporting season. The Russell 2000 Index of small caps advanced, halting a three-day slide. Treasuries edged lower, while the Bloomberg Dollar Spot Index nudged higher after swinging around throughout the day. Gold jumped to a six-week high as copper surged with iron ore after Chinese producer prices climbed. Oil slipped below $51 a barrel in New York.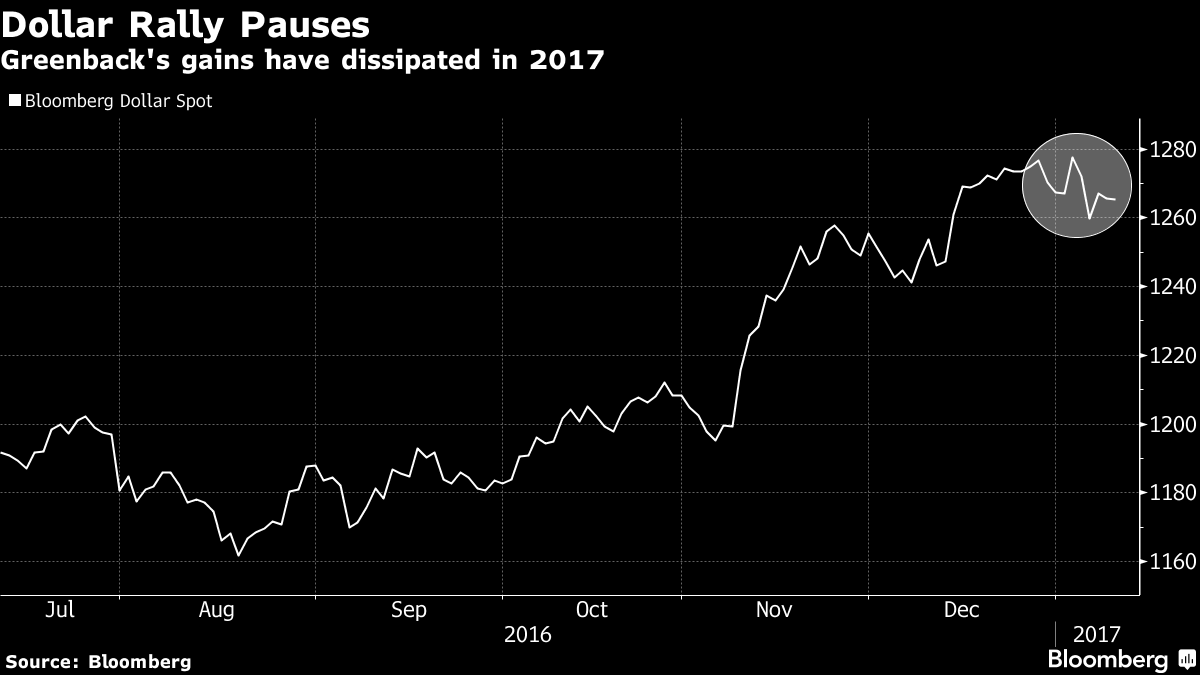 Caution crept into financial markets as the euphoria over Trump's perceived pro-growth policies faded with Congress holding confirmation hearings for his proposed cabinet members and the president-elect preparing to face the media for the first time since July. Delta Air Lines Inc. is slated to kick off the S&P 500 earnings season on Thursday, with analysts forecasting profits for companies in the index expanded by 3.8 percent last quarter. The Chinese PPI data provided a silver lining, indicating the world's second-largest economy is poised to export inflation around the world via its supply chains.
"The uncertainty about Trump's future plans for the economy is still high at present," said Thu Lan Nguyen, a currency strategist in Frankfurt at Commerzbank AG.
Stocks
The S&P 500 was unchanged at 2,268.90 as of 4 p.m. in New York, after erasing all of a 0.5 percent advance. Health-care and financial shares rose, while real-estate and energy shares slumped.
The Dow Jones Industrial Average hovered below 19,900, falling 0.2 percent with Procter & Gamble Co. pacing declines in the 30-stock gauge.
The Russell 2000 rebounded by 1 percent to push its post-election gains back toward 15 percent. The measure rose as much as 20 percent in the months after Trump's win.

The FTSE 100 Index capped an 11th straight gain in its longest rally since 2011. The index has closed at all-time highs for a record nine straight days.

Asian index futures signaled gains, with contracts on benchmarks in Japan, Australia, Hong Kong and South Korea rising by at least 0.1 percent in most recent trade.
Currencies
The Bloomberg Dollar Spot Index rose 0.1 percent with the greenback enduring a choppy trading session against both the yen and euro.
Japan's currency added 0.3 percent to 115.74 per dollar, strengthening for a second day.
The pound reaffirmed its position as the worst-performing Group-of-10 currency, touching its lowest level since Oct. 25 before rebounding to trade little changed at 1.2174 per dollar.
The MSCI Emerging Markets Currency Index rallied, adding 0.3 percent.
Commodities
West Texas Intermediate crude dropped 2.2 percent to a three-week low amid speculation U.S. crude supply is rising just as the market weighs compliance by OPEC on promised production cuts.
Oil slipped to $50.82 a barrel after sinking 3.8 percent last session.
Steel and iron ore futures surged to their daily limit in China amid more signs the government intends to squeeze excess capacity, and after the country's factory-gate inflation reached the highest in five years.
Gold futures added 0.1 percent to settle at $1,185.50 an ounce, the highest close since Nov. 29. Demand is forecast to rise ahead of Chinese New Year.
Bonds
Tuesday's $24 billion three-year U.S. bond sale drew the strongest investor appetite since August, with a gauge of demand known as the bid-to-cover ratio rising to 2.97. The yield was 1.472 percent, the highest for an auction of the maturity since April 2010.
Yields on 10-year Treasury notes rose by one basis point, or 0.01 percentage point, to 2.38 percent, after falling five basis points on Monday.
Bonds in core European countries were little changed, with the yield on 10-year bunds at 0.28 percent.