EghtesadOnline: Russia and Kazakhstan said they've met or exceeded their initial goals for trimming oil output, bringing cuts by non-OPEC nations in the first 10 days of this year to more than a quarter of the total pledged a month ago in Vienna.
Russia's oil production has shrunk by around 130,000 barrels a day in the first week of January from a post-Soviet record of 11.25 million barrels a day in October, an official at the energy ministry's CDU-TEK unit said Monday, asking not to be identified because of internal policy. The cuts from the world's biggest energy producer go beyond its initial goal for a cut of at least 50,000 barrels a day this month, Bloomberg reported.
"The Russian side is fulfilling all articles of the agreement and all the obligations it took," Kremlin spokesman Dmitry Peskov told reporters on a conference call Tuesday.
Russia and 10 other non-OPEC nations joined forces with the Organization of Petroleum Exporting Countries on Dec. 10 to end a global glut that's crashed oil prices and shaken energy-rich economies. The pact -- the first between the two sides in 15 years -- involves a reduction of 558,000 barrels a day from non-OPEC countries starting in January.
Kazakhstan's energy ministry said it has met its Vienna commitment of curbing production by 20,000 barrels a day in January. That reduction came after October's start-up of the country's $50 billion Kashagan oil field, which is set to increase production from 140,000 barrels a day in the first half of this year to 180,000 barrels in the second half, Energy Minister Kanat Bozumbayev said last month.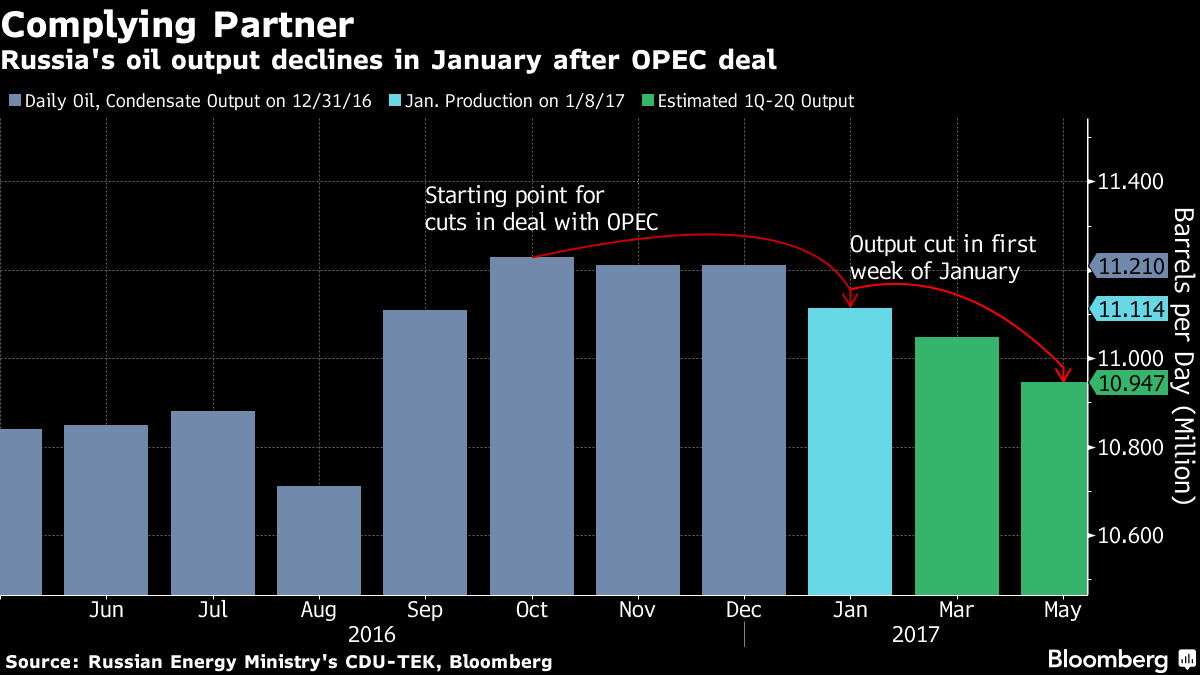 The combined 150,000 barrels a day cut represents 27 percent of the promised reduction by non-OPEC countries.
"If the cuts get confirmed, this is definitely positive, as compliance improves," Giovanni Staunovo, an analyst at UBS Group AG said by e-mail. "We should soon see inventory draws materializing."
Here are the other reduction announcements that have come out in the past month:
Oman: the non-OPEC Gulf country said on Jan. 3 its output was being cut by 45,000 barrels a day to 970,000 this month.
Azerbaijan said on Tuesday that it plans to cut output by 35,000 barrels a day as early as this month to comply with the Vienna deal.
Malaysian state oil co. will make "necessary adjustment" to the country's crude output level in line with agreement reached between OPEC and non-OPEC producers, Petronas said last month.
South Sudan is in the process of resuming crude production in Unity State, which will boost the country's output by at least 50,000 barrels a day within two months, Argus Media reported, citing a senior oil ministry official. The nation pledged in Vienna to cut output by 8,000 barrels a day.
Among OPEC countries, Iraq said it reduced volumes by 160,000 barrels a day. That's more than three-quarters of its targeted cuts of 210,000 barrels a day. The announcements come after the country's southern oil exports reached a record last month. "We should wait and see if Iraq's announced cuts translate in lower exports. So far, they haven't been visible," UBS's Staunovo said, adding that Iraq has limited storage capacity.
Saudi Arabia, the United Arab Emirates, Qatar as well as Kuwait are complying with their promised cuts, Nawal Al-Fezaia, Kuwait's OPEC governor, said on Monday.
Angola, Algeria also ordered oil companies to slash output in order to respect their pledges.
Venezuela said on Dec. 27 it would implement its pledge to cut output by 95,000 barrels a day starting Jan. 1.
A similar promise came from Gabon on Dec. 16, pledging a 9,000 barrels-a-day cut.
Under the agreement, Iran is allowed to increase its output by 90,000 barrels a day as it seeks to regain pre-sanctions' levels. Libya and Nigeria are exempt from cuts as they aim to recover lost output due to internal violence and sabotage.