EghtesadOnline: Political risks rippled across foreign-exchange markets with the pound, Turkish lira and South Korean won leading declines, while gold rose on haven demand and Chinese buying. Stocks dropped with oil.
Sterling dropped to a ten-week low after the Prime Minister Theresa May indicated she prioritized regaining control of immigration during Brexit negotiations, while tensions between North and South Korea and debates on constitutional changes in Turkey put an index of developing currencies on track for the steepest drop in three weeks. Telecoms and real estate were among the biggest losers in European shares, while oil dropped for the first time in four days. Gold rose as investor holdings posted the first back-to-back increase since the U.S. election, Bloomberg reported.
Currencies, not bonds, have become the preferred way for investors to express displeasure with political developments, because they are seen as less vulnerable to intervention. May said Sunday that negotiations on Brexit will be about "getting the right relationship, not about keeping bits of membership." A so-called hard Brexit may push the Bank of England to keep rates lower for longer, while weakening the pound and supporting foreign-focused companies in the main stock index.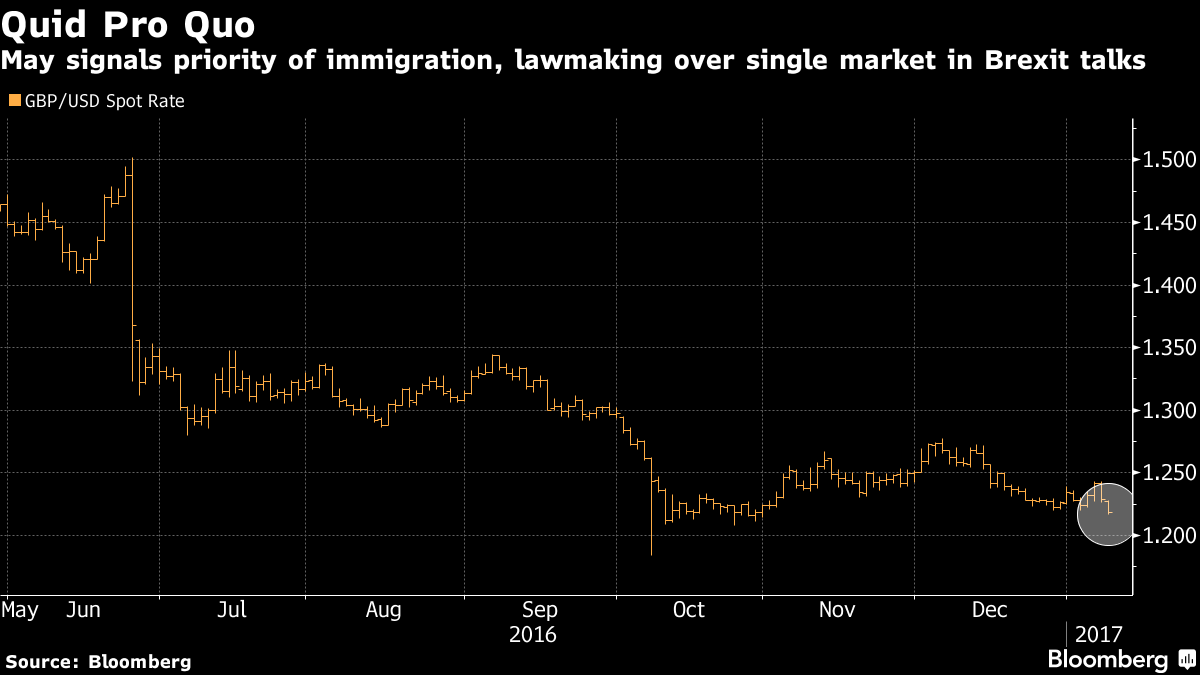 "Politics is a much more important factor these days for currency markets than it used to be," said Adam Cole, head of global foreign-exchange strategy in London at Royal Bank of Canada. "There is a lot more political uncertainty now. "
Currencies
The pound fell to $1.2159, the lowest since Oct. 31, at 11:04 a.m. in London.
The Bloomberg Dollar Spot Index rebounded from an earlier loss and was up 0.2 percent.
The offshore yuan was down 0.4 percent following Friday's 0.9 percent retreat. The central bank set the onshore yuan reference rate 0.9 percent weaker against the dollar, though still stronger than some bank models predicted.
The won fell 1.3 percent and the lira 2.2 percent, dragging the MSCI Emerging Markets Currency Index 0.4 percent lower for the biggest drop since Dec. 15.
The yen fell 0.2 percent to 117.28 per dollar and the won slid 1.3 percent, the most in two months.
Stocks
The Stoxx Europe 600 Index fell 0.5 percent, on course for its biggest decline in almost four weeks.
The main outperformer was the U.K. market, with the FTSE 100 Index heading for a 10th consecutive daily increase, as stronger economic data combined with a declining pound spurred buying.

Deutsche Lufthansa AG tumbled as much as 5.6 percent after analysts were underwhelmed by the airline's guidance update.

Swedish bank Svenska Handelsbanken AB dropped after a downgrade at Credit Suisse Group AG.

The S&P 500 futures were little changed. The underlying gauge rose 0.4 percent to a record close of 2,276.98 on Friday in New York.
Commodities
West Texas Intermediate crude oil dropped 1.5 percent to $53.16, halting its advance below $54 a barrel as an increase in U.S. drilling offset signs OPEC members are sticking to planned output cuts.
Gold rose 0.4 percent to $1,176.7 an ounce.