EghtesadOnline: Yet again, investors watched the Dow Industrial Average stop just short of the 20,000 level, even as U.S. equities resumed their post-election rally with the best week of gains in a month.
Much of Wall Street spent Friday afternoon transfixed as the Dow made half a dozen passes at the milestone and each time fell excruciatingly short. The average, which vaulted about 140 points in the 2 1/2 hours before 12:30 p.m. in New York on Friday, spent the next 3 1/2 hours trapped in a 30-point range whose upper border was less than half-a-point shy of the 20,000 level, Bloomberg reported.
"I wish we could break it so we could just stop talking about it," Matt Maley, an equity strategist at Miller Tabak & Co. LLC in New York, said by phone. "It's more important than usual because it's happening at the beginning of the year and could give investors some confidence to put more money to work."
The gauge ended the week 1 percent higher at 19,963.8, reaching and all-time intraday high of 19,999.63 at 12:43 p.m. on Friday, while the S&P 500 Index climbed 1.7 percent to 2,276.98.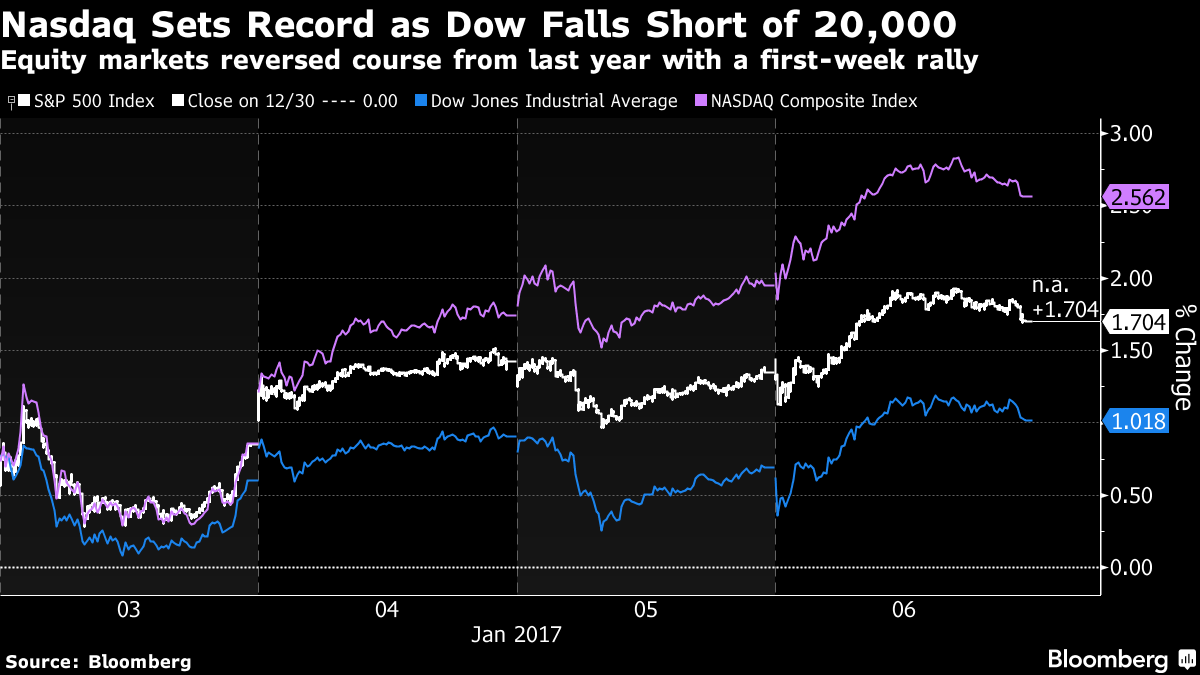 The Dow's flirtation suggests to some analysts that more than chance is keeping a lid on its progress -- that trading stops in the form of sell orders are pressuring the index each time it approaches 20,000. After needing 25 days from its November low to travel more than 2,000 points and breach 19,900 on Dec. 13, it hasn't been able to cross the last 100 points in the 16 days since.
"You can't know for sure, but I would imagine so," said Mark Kepner, an equity trader at Themis Trading LLC in Chatham, N.J. "It's not much different than Dow 10,000. 30,000 will be the same. Historically these levels initially are tough to pass."
Count Tom DeMark among skeptics the Dow will get above 20,000 anytime soon. The chart analyst said investor psychology is acting as a ceiling on the gauge -- everyone who expects the level to be surpassed has already purchased stocks, leaving an absence of buyers whenever it gets close.
"We've been confident the last three weeks we would not break 20,00," DeMark said in an interview on Bloomberg Television. "I assume there's a possibility intraday we could, but it's so unanimous, it's almost as if the election were being replayed within the market. Everyone's confident the market's going to break 20,000. If it does break, it may go quite a bit higher. But I don't think it's going to happen."
The stock market appears to be in a topping process that traces back to its November low, DeMark said, citing a technical indicator known as an offset 13 in the Dow average that was hit in the last two days and flashes sell.
"It's unanimous, every market, even the derivatives, they're all identifying tops at this time, all upside projections," he said. "The Asian markets fulfilled their highs three weeks ago, a month ago, two months ago. The European markets, some have already fulfilled their tops, one or two may have one additional day, so I guess Monday could see a flurry to the upside and maybe you do break 20,000."
Dow stocks were mixed in the week, with about half of the shares falling over the five-day period. Nike Inc., Visa Inc. and Walt Disney Co. led the gauge higher with advances of at least 4 percent. The broader market was supported by a 3 percent gain in real estate shares.
Equities climbed against the backdrop of robust economic data in the U.S. and China throughout the week, as well as minutes from the Federal Reserve that indicated officials intend to maintain a gradual approach to rates.
In the four days ended Jan. 6:
Nasdaq Composite Index set record, ending week 2.6% higher at 5,521
Russell 2000 small-caps added 0.8% on the week
Nine of 11 sectors ended the week higher

Real estate stocks led gains with a 3% advance as health care added 2.6%
Utilities and phone shares dropped with telecom stocks down 1.6%

VIX fell 19% for biggest weekly decline since Nov. 11