The economy was stronger in 2016 than several previous election years
EghtesadOnline: Research suggests factors beyond the control of any U.S. president, not their actual policies, set the course of the economy. Yet with voters, President-Elect Donald Trump will secure much of the praise or blame when it comes to the impact of his agenda over the next four years.
According to Bloomberg, here are six charts that illustrate the economy that Trump — who wants to focus on "jobs, jobs, jobs" — will inherit from President Barack Obama and how it compares with historical standards.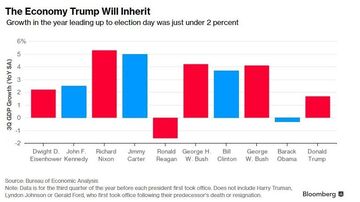 Gross domestic product is chugging along, growing at a 1.7 percent pace in the year through the third quarter. That's slower than what most prior administrations faced, and comes against a backdrop of weak global demand, aging demographics and tepid corporate investment. Trump has said he's aiming to achieve 3.5 to 4 percent average annual growth, even as real GDP expansion is projected to average just 2.2 percent next year and 2.3 percent in 2018, according to economists.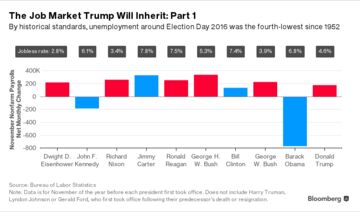 Non-farm payrolls in November came in at 178,000, the fourth-worst situation among the 10 incoming presidents included in this analysis, though still a massive improvement from the nearly 770,000 jobs lost around Election Day 2008. The 4.6 percent jobless rate in the same month puts Trump in a better situation than five of the previous six presidents — the exception being President George W. Bush, who won the election in 2000 when the unemployment rate was under 4 percent.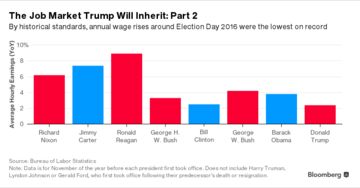 Hourly earnings in November grew just 2.4 percent, lower than the similar wage growth figure posted for each of the previous seven presidents-elect analyzed.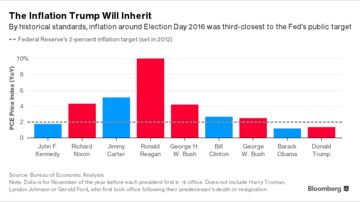 The core inflation situation is getting close to the Federal Reserve's medium-term 2 percent goal, largely unchanged from the situation inherited by presidents Obama, George W. Bush, and even Bill Clinton. That said, the Fed focuses on headline inflation, which includes volatile fuel and food and is lower today, at just 1.4 percent.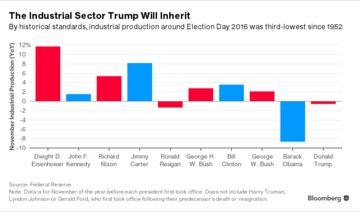 U.S. industrial production fell by 0.6 percent in November. While not the 8.7 percent contraction Obama had to overcome, reversing this will be one of Trump's biggest challenges.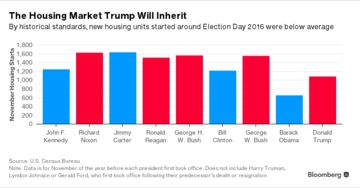 Trump is also in a better position when it comes to the housing market, with roughly 1.1 million homes beginning construction this November versus 652,000 when Obama became president-elect in late 2008. Looking back since 1952, however, this is the second-lowest November release of any of the election years analyzed.
While today's economy is a mixed bag by historical standards, one thing is clear: Obama has left Trump a 2016 economy in a better state, by many measures, than when he was first elected president in 2008 in the middle of the worst downturn since the Great Depression.