EghtesadOnline: U.S. stocks traded near a record high amid thin trading as oil posted its longest winning streak in four months. Treasuries fell amid soft demand in an auction of two-year notes.
The S&P 500 Index extended its monthly advance, with volume about 50 percent below the 30-day average. The Nasdaq Composite Index rose to its all-time high and the Dow Jones Industrial Average approached 20,000. Treasury yields rose the most in almost two weeks. Crude climbed for a seventh day as the market anticipates that output cuts from OPEC and non-OPEC producers will help speed the elimination of a supply glut, Bloomberg reported.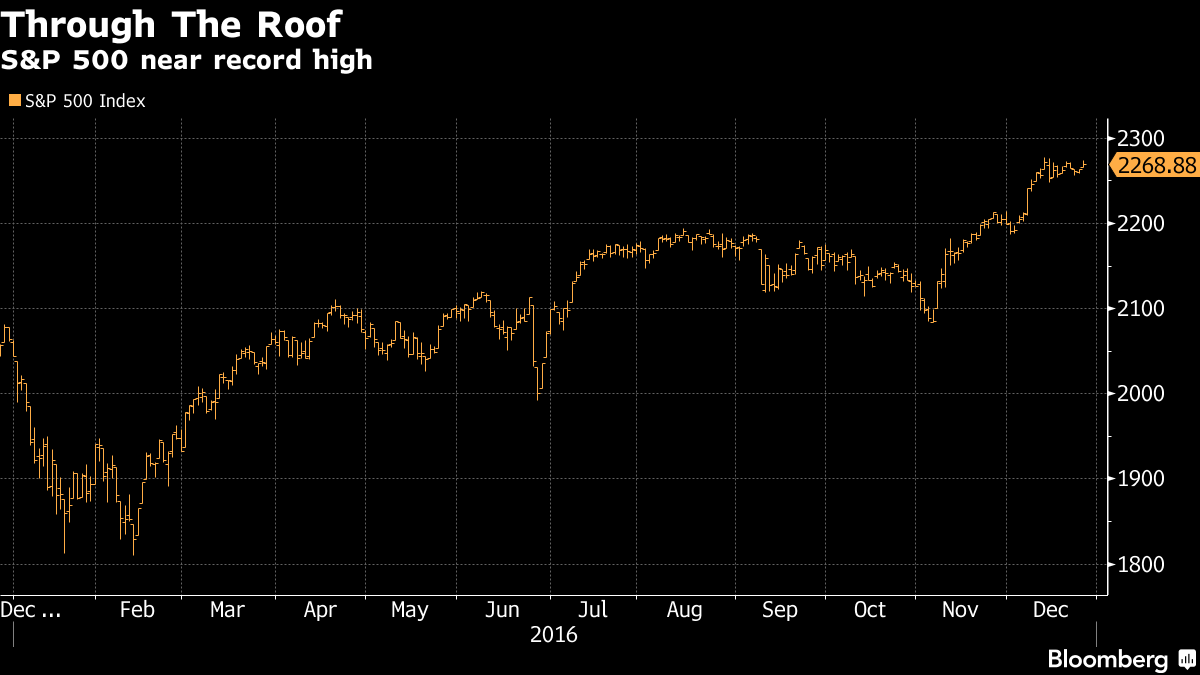 Volume is expected to be thin in the last week of trading for a volatile year. Investors have powered past shocks from the Brexit vote to Donald Trump's presidential win, propelling U.S. equities to record highs, while the dollar jumped to a multi-year peak and crude climbed to the highest in 17 months. U.S. consumer confidence rose in December, economists forecast before a release on Tuesday.
"December was quite a run for markets, and now everyone is waiting to see whether the Dow Jones touches the 20,000 level," said Benno Galliker, a trader at Luzerner Kantonalbank AG in Lucerne, Switzerland. "After such a run, everyone is a bit fearful whether we are the height of the market and we'll see a correction or the rally will continue. We still need to see better earnings and the new President Trump doing the right thing in the first days of his term."
In addition to the U.K., financial markets in Australia, New Zealand and Hong Kong remained shut on Tuesday.
Stocks
The S&P 500 Index rose 0.2 percent to 2,268.88 and the Dow Average added 0.1 percent to 19,945.04.
The Stoxx Europe 600 Index rose 0.1 percent. While the gauge is heading for its biggest monthly rally in more than a year, it's been hovering around overbought levels.
Japan's Topix index gave up earlier gains to finish lower for the fourth straight day, after data showed the nation's consumer prices dropped in November. Toshiba Corp. sank the most in a year on reports it may book a loss of as much as 500 billion yen ($4.3 billion) on its U.S. nuclear operations.
The Shanghai Composite Index, which has been hovering around the same level since mid-December, slid 0.3 percent. China's economy is closing out the year on a high note as the earliest December indicators give no signs that the expansion is faltering. Data on Tuesday showed industrial-profit gains accelerated in November.
The Jakarta Composite Index rose 1.5 percent, ending its longest losing streak since 2005.
Commodities
Crude futures advanced 1.7 percent to $53.90 a barrel in New York. Prices are set to recover next year as production cuts help re-balance an oversupplied market, Saudi Arabia's Energy Minister Khalid Al-Falih said last week. OPEC and 11 nations from outside the group including Russia have agreed to trim about 1.8 million barrels a day from January.
Gold futures for February delivery rose 0.5 percent to settle at $1,139.10 at 2:10 p.m. on the Comex in New York; futures earlier climbed as much as 1.6%
Bonds
The yield on 10-year Treasuries rose two basis points to 2.56 percent after posting its first weekly advance since the U.S. presidential election.
Bid-to-cover ratio in the two-year auction was the lowest since Dec. 2008.
Rates on 10-year German and French bonds declined.
Currencies
The Bloomberg Dollar Spot Index rose 0.1 percent, trading near the highest level in more than a decade.
The South Korean won fell 0.5 percent against the dollar, after strengthening for the first time in nine sessions on Monday. The South African rand rose 0.5 percent.