EghtesadOnline: The world's oldest bank has finally run out of time. On Friday, the Italian government said it will plow as much as 20 billion euros ($21 billion) into Banca Monte dei Paschi di Siena SpA and other banks after the storied lender failed to raise money from private investors.
The fund-raising plan, a longshot from the start, began unraveling in earnest after Italian voters defeated a constitutional referendum on Dec. 4 and Prime Minister Matteo Renzi quit. The situation turned desperate five days later, when the European Central Bank rejected Monte Paschi's plea to extend a year-end deadline for the capital raising to Jan. 20, according to Bloomberg.
After scouring the globe for investors willing to bet on the bank's turnaround, Chief Executive Officer Marco Morelli couldn't persuade enough small bondholders to exchange their debt for stock or pull in a so-called anchor investor, such as Qatar's sovereign-wealth fund, to take a sizable stake.
Here are some of the highlights of the bank's history -- from pawnshops to derivatives bets gone wrong to a final reckoning in the populist wave of 2016.
1472
The Tuscan city-state of Siena establishes Monte Pio after the Black Death killed half its population.
Modeled on pawnshops that Franciscan monks set up to help the poor, the bank goes on to make loans to local farmers.
1624
After Siena becomes part of the Grand Duchy of Tuscany, the bank changes its name to Monte dei Paschi, which literally means lending entity of pasture lands, to reflect its focus on agriculture.
1936
Under Fascist leader Benito Mussolini, Monte Paschi becomes a corporation controlled by local politicians and some of its profit is used to support civic activities such as the Palio horse race in Siena.
1995
The bank becomes a joint-stock company and is split into two entities: Banca Monte dei Paschi di Siena SpA, a bank, and Fondazione Monte dei Paschi di Siena, a non-profit foundation.
The latter takes management control of the lender and uses dividends to support public interest projects in areas including science, art, education and health.
1999
Monte Paschi's shares begin trading on the Italian stock exchange for 3.85 euros each, after demand for the stock exceeds the amount offered by 10 times.
November 2007
Monte Paschi becomes Italy's third-largest lender by assets after buying Banca Antonveneta from Banco Santander for 9 billion euros in cash.
The price was 36% above the value Santander had attributed to Antonveneta when it bought the Italian bank just weeks earlier from ABN Amro.
2008-2011
Monte Paschi Chairman Giuseppe Mussari, a lawyer and political appointee with no banking experience, uses derivatives to counter losses of more than $925 million stemming from the Antonveneta deal and other transactions.
Monte Paschi pays Merrill Lynch, JPMorgan Chase & Co, and Deutsche Bank more than $200 million in fees for the derivatives contracts and other work.
2009
Monte Paschi obtains 1.9 billion euros in government aid to boost its capital.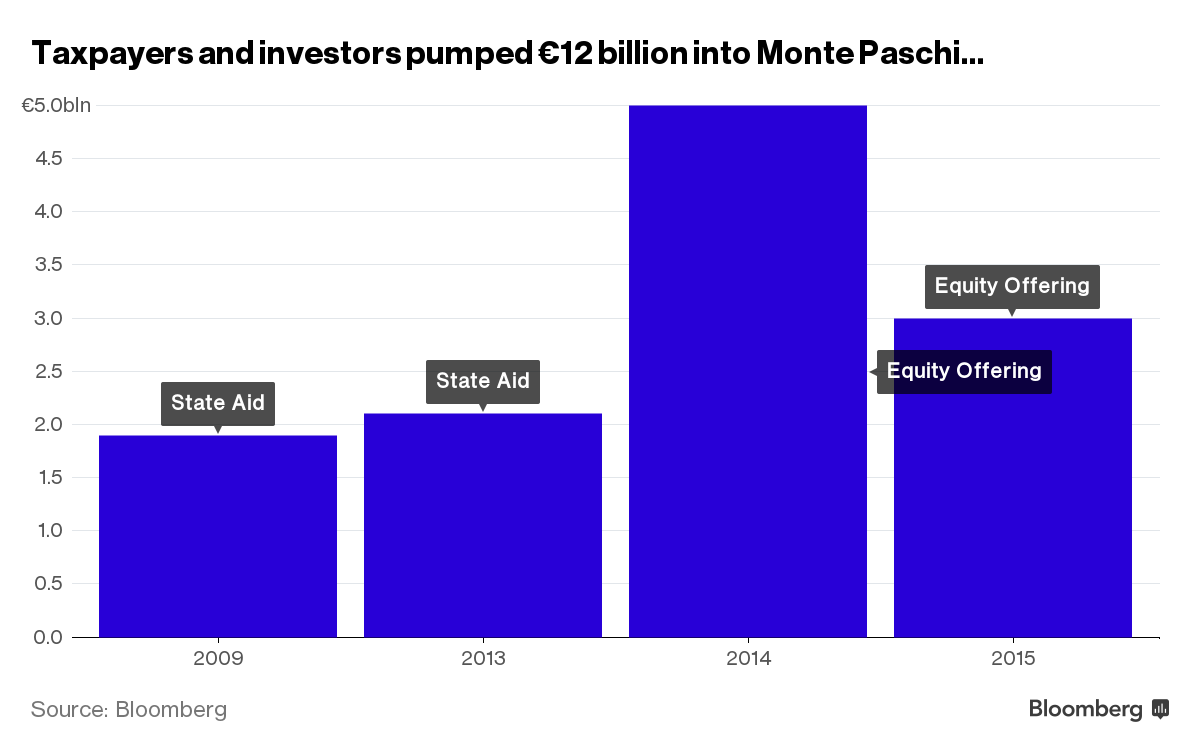 January 2012
Mussari resigns as chairman.
January 2013
A Bloomberg News report that Monte Paschi used a 2 billion-euro derivative from Deutsche Bank to obscure losses -- along with the bank's statement that a similar deal signed with Nomura Holdings Inc. was under review -- provokes national outrage and criminal investigations.
February 2013
Monte Paschi receives a 4.07 billion-euro bailout from the government, which includes the rollover of previous aid.
November 2013
The European Union approves a reorganization plan for Monte Paschi involving the state bailout, the sale of 3 billion euros in equity, and the elimination of 8,000 employees.
April 2014
Monte Paschi increases the share sale announced in November to 5 billion euros.
October - November 2014
Monte Paschi fails the European Central Bank's stress test, emerging with the biggest shortfall among lenders under review.
The bank approves a plan to raise 2.5 billion euros from investors to fill the gap.
Mussari and two other former bank executives are sentenced to three-and-a-half years in prison for obstructing regulators.
They appeal their terms.
Dec. 31, 2015
Monte Paschi has $52 billion in bad loans on its books, with provisions covering less than half of the positions.
February 2015
The bank increases the amount of capital it will raise to 3 billion euros.
January - February 2016
Monte Paschi shares plunge 61 percent amid a sell-off in European banking stocks.
The company is asked to submit data on non-performing loans as the ECB increases scrutiny of the credit quality of the region's lenders.
June
Italy begins talks with the European Commission on a plan to recapitalize Monte Paschi that may include waiving a ban on using public funds.
July 4
Monte Paschi discloses the ECB demands to cut 10 billion euros in net non-performing loans, 40 percent of its total, over three years.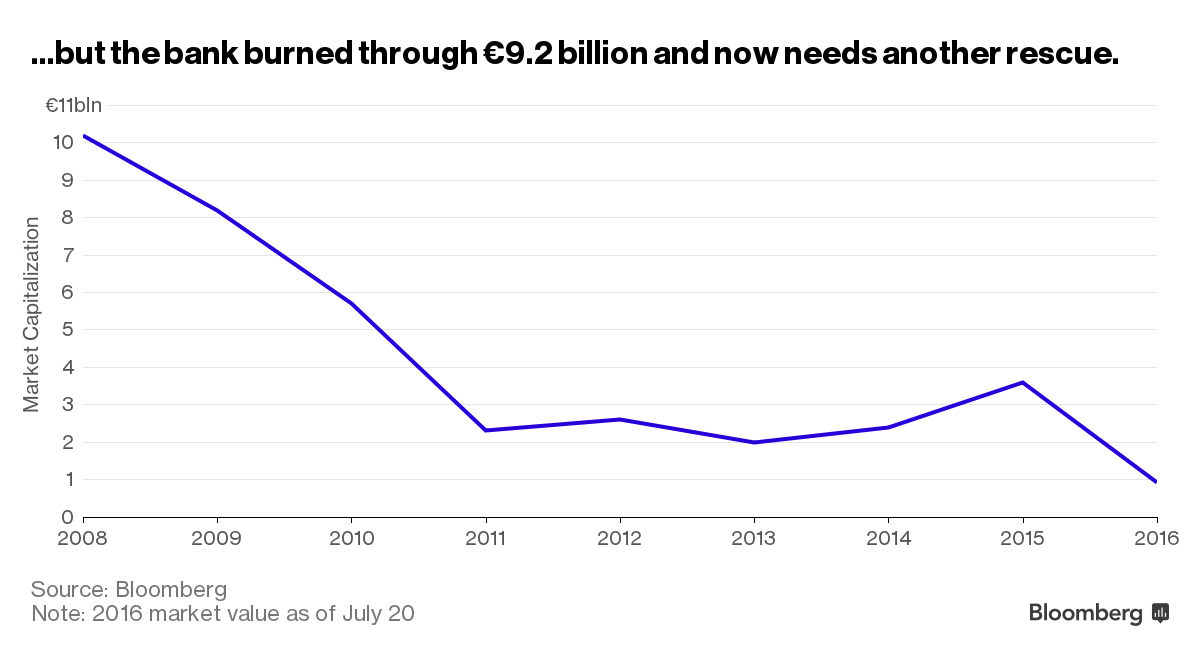 July 29
The ECB's stress tests show Monte Paschi's capital wiped out under the exam's toughest scenario.
The bank announces a plan to raise 5 billion euros selling shares to replenish its capital, more than five times its market value at the time.
Italy's treasury says public funds won't be needed.
The plan includes the disposal of 27.7 billion euros of bad loans, which will be bundled into securities and sold to investors.
Sept. 8
Monte Paschi CEO Fabrizio Viola agrees to step down just as the bank is putting its recapitalization effort into motion.
Decision suggests there are disagreements about plan's structure and execution.
Sept. 14
Marco Morelli, who served as chief financial officer at Monte Paschi before joining Bank of America Corp. in 2010, is named CEO.
He pledges to complete the recapitalization plan and lead the bank to recovery.
Chairman Massimo Tononi resigns, making way for a new management team to try to stabilize the wobbling institution.
Oct. 25
Morelli kicks off series of roadshows to pitch the equity offering.
Over six weeks, he meets with money managers and sovereign wealth funds in Qatar, New York, Europe and Asia.
The deal, co-led by JPMorgan Chase & Co. and Mediobanca SpA, is seen as a tough sell because the bank has already burned through so much cash and remains weak.
Nov. 1 to Nov. 30
Tensions mount as Italian voters prepare to vote on a constitutional referendum to streamline the government's structure.
Renzi has vowed to step down if the plebiscite is defeated.
Investors question what will happen if Monte Paschi's offering fails, given that the Italian banking sector holds 360 billion euros in soured loans, equal to a fifth of the nation's GDP.
Dec. 4
Italian voters reject the referendum; Renzi tenders his resignation in a midnight address.
Dec. 6
Morelli persuades the bank's bondholders to swap about 1 billion euros of subordinated notes for stock, a bright spot in an otherwise gloomy week.
Dec. 8
Monte Paschi asks the ECB for more time to complete the share sale, suggesting Morelli can't attract enough investors.
The bank argues that a "changed reference context" warrants an extension.
Dec. 9
The ECB's supervisory arm rejects the request, sending Monte Paschi shares down more than 10 percent