EghtesadOnline: U.S. stocks rose with equities in Europe, while bonds and gold retreated in a demonstration of financial markets' resilience to recent geopolitical events as investors focus on the prospects for increased government spending in the U.S.
The Dow Jones Industrial Average rose within 60 points of 20,000, while the Stoxx Europe 600 Index reached its highest level of the year amid deal activity. Treasuries and gold reversed gains from Monday following a probable terror attack in Berlin and the killing of Russia's envoy to Turkey. The yen approached the weakest since February versus the dollar after the central bank closed a tumultuous year for monetary policy by keeping its yield-curve and asset-purchase programs unchanged.
According to Bloomberg, markets have showed increasing immunity to terror incidents this year, with initial reactions to buy haven assets after attacks fading quickly. As trading volumes decrease before December holidays and year-end, investors may be loath to veer too far from the underlying market trends that have prevailed since the election of Donald Trump in November, namely favoring stocks and shunning bonds. A so-called fear gauge of volatility in European stocks was at the lowest since 2014.
"The market response to each new terror event is less and less pronounced," said Mike van Dulken, head of research at Accendo Markets. The move in European stocks "confirms ever-thickening investor skin."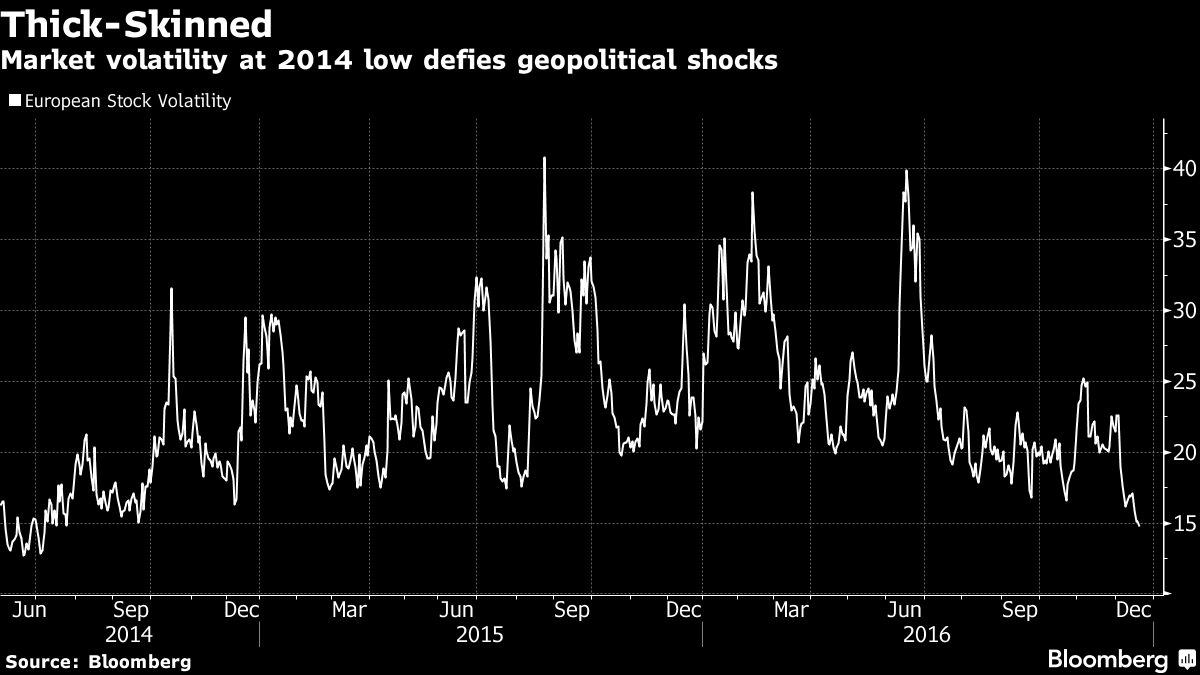 Stocks
The S&P 500 Index rose 0.2 percent to 2,267.93 at 9:31 a.m. in New York, within points of an all-time high. The Dow added 58.94 points to 19,942.
The Stoxx Europe 600 Index rose 0.3 percent, set for the highest close in 2016. Analysts are upbeat about profit at its members next year, expecting earnings to grow 12.5 percent.

Mediaset SpA jumped 22 percent to lead gains in the main gauge, after Vivendi SA said it plans to increase its stake in the Italian broadcaster owned by Silvio Berlusconi. Lloyds Banking Group Plc rose 2.7 percent after agreeing to buy Bank of America Corp.'s MBNA credit-card business in the U.K. for 1.9 billion pounds ($2.4 billion).
Currencies
The Bloomberg Dollar Spot Index resumed its rally, pushing its gain in the quarter toward 8 percent, the biggest three-month advance since the third quarter of 2008.
The euro plumbed another 2003 low against the dollar, after dropping 0.5 percent to $1.0352.
The yen posted the steepest losses of 31 major currencies, dropping 0.9 percent to 118.16 per dollar.
Bonds
Yields on 10-year Treasury notes were up three basis point to 2.57 percent after dropping five basis points on Monday.
German bunds were little changed.
Commodities
Gold slid as the dollar climbed and concerns eased over geopolitical events that had briefly supported the price. Bullion for immediate delivery was down 0.8 percent at $1,134.
Oil rose 0.3 percent to $52.44 a barrel before government data forecast to show U.S. crude stockpiles fell for a fifth week, trimming an inventory glut.