EghtesadOnline: For Janet Yellen, the labor market is great again. Yellen took a rare victory lap Wednesday, signaling the economy is strong and will improve further, allowing the Federal Reserve to continue to raise rates next year.
She said the labor market probably doesn't need fiscal stimulus to achieve full employment, and that monetary policy was about on target as inflation approaches their 2 percent goal. Asked if she's comfortable with stocks near record highs, she said rates of return on equities are within normal ranges, Bloomberg reported.
"It's important for households and businesses to understand that my colleagues and I have judged the course of the U.S. economy to be strong," Yellen said at a press conference after the central bank raised the target range for the benchmark lending rate a quarter point to 0.5 percent to 0.75 percent. "We have a strong labor market and we have a resilient economy."
The rate move was only the second in Yellen's nearly three-year tenure as Fed chair, underscoring a strategy of gradualism that was still evident in the Federal Open Market Committee's statement. In effect, policy makers are keeping an eye on the incoming Trump administration's plans to boost growth, but aren't jumping to conclusions.
"There was a clear recognition of the healing that has gone on in the labor market, a clear recognition that economic growth seems pretty resilient," said Michael Feroli, chief U.S. economist at JPMorgan Chase & Co. in New York. "On fiscal, it was mostly what I would have expected: They're taking a wait-and-see approach."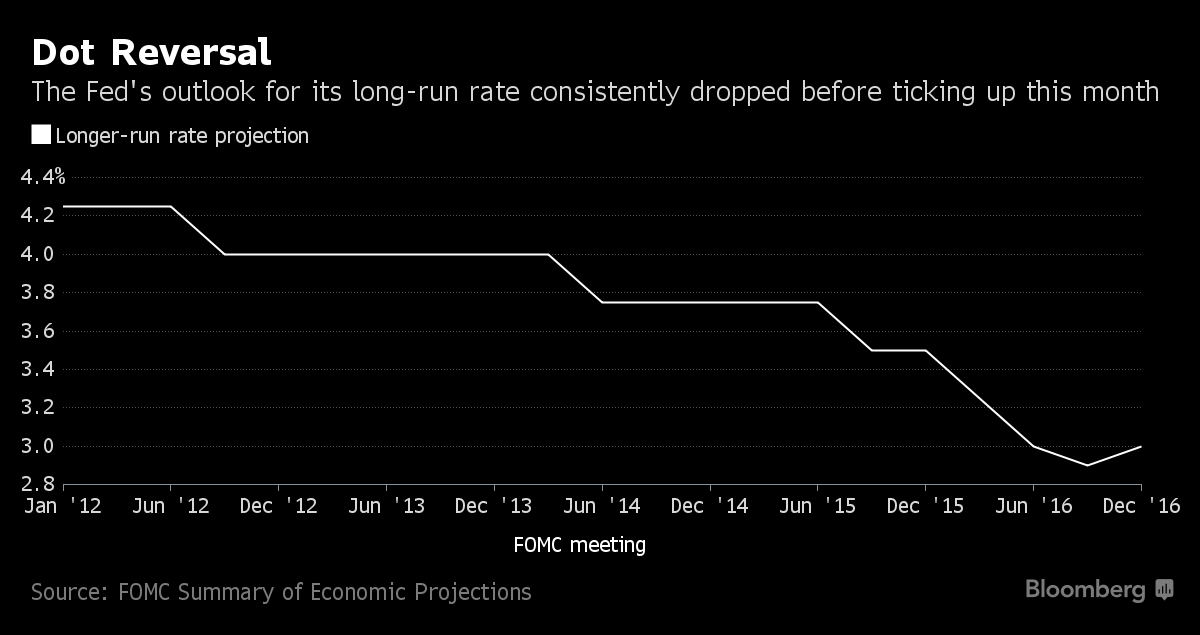 As the economy improves, Fed officials moved their 2017 rate path projections to three hikes from two, while the unemployment rate edges down to 4.5 percent over the next three years to help the committee close in on its 2 percent inflation target.
"Fiscal policy is not obviously needed to provide stimulus to help us get back to full employment," Yellen told reporters. She added that she wasn't giving Congress advice and that it was important to design policies that would boost productivity growth.
While Yellen said "some" FOMC participants "but not all" incorporated more fiscal spending into their outlook, that probably showed up more in their rate path than their economic forecasts. Overall, central bank projections for gross domestic product and inflation were mostly unchanged for the next three years, and their forecast for the long-run policy rate that keeps supply and demand in balance -- called the neutral rate -- moved up a tenth of a percent, a marginal shift toward more optimism.
"It is pretty clear they are not updating the economic forecast to reflect significant fiscal policy stimulus next year," said Ed Campbell, a portfolio manager at QMA, a unit of Prudential Financial, which manages $116 billion in Newark, New Jersey.
The unemployment rate was 6.7 percent when Yellen took office in February 2014, and it is now at 4.6 percent. The road to a tightening labor market has been a long, spirit-crushing slog for millions of Americans and Yellen has been particularly attentive to broader labor indicators during her tenure. She noted that black unemployment rates were "about back to 2007 levels as well."
Trump's Goals
President-elect Donald Trump's economic team has announced a goal of 3 percent to 4 percent growth fueled by a mix of tax cuts, fiscal spending and deregulation. It is too early for any details or specifics.
But financial markets have priced in a more robust outlook. Bond yields are up, stocks are near record highs, the dollar is stronger and, as noted in the FOMC's statement, "market-based measures of inflation compensation have moved up considerably."
Investors will be attentive to how Fed officials respond to what could be a new regime of faster growth and stronger inflation pressures. For now, they haven't. Gradualism continues to anchor their strategy and behind that is the view that the neutral interest rate is still very low, Yellen noted. It's a view that will be tested inside and outside the FOMC.
"The Fed not being behind the curve -- that argument is getting more and more tenuous," said Stephen Stanley, chief economist at Amherst Pierpont Securities LLC in New York. "Even independent of the impetus of fiscal stimulus, you could make the argument that the Fed has their work cut out for them in 2017."
"If you get a fiscal boost, even more so," he added.