Sluggish world growth has been weighing on trade, as have fading one-off boosts
EghtesadOnline: For the anti-globalization crowd, the good news just keeps coming. If you're a defender of freer trade, now would be a good time to start worrying.
A new Bank of England blog post digs into why world trade volumes have slumped versus their pre-crisis trend, and concludes that a major rebound isn't in the works. That's the lead item this week in our research wrap, which also takes a look at the productivity slump in Europe and Japan, American economic mobility and the changing life cycle of women in the workforce. Check this column every Tuesday for new and relevant research on global economic trends, according to Bloomberg.
The volume of world trade is about 17 percent below where it would be had it kept pace to its pre-crisis trend after 2011. A new Bank of England blog post blames that mainly on slower growth — but also partly on stalling in global value-chain expansion.
Global value chains — basically international production links — saw robust growth in the early 2000s as major trade agreements and improved information technology allowed companies to coordinate across borders. Now those one-off factors are in the rear view mirror.
"Political developments suggest trade liberalization will, if anything, go into reverse," the blog authors write. And with global growth subdued, "it seems unlikely there will be a demand-driven recovery in trade." This matters because trade is thought to boost productivity, so slower growth in trade could be playing into the global slump in efficiency improvements.
Aging is dragging down total factor productivity in both Japan and Europe, according to new International Monetary Fund research. Total factor productivity, or TFP, is a wonky name for the efficiency improvements that come from both capital and labor.
Continued workforce aging could reduce TFP by 0.2 percentage point a year in Europe going forward, compared to a drag of 0.1 point annually between 1984 and 2007. "The scale of this effect is substantial if one takes into account that the projected average annual TFP growth in Europe is only about 1 percentage point per annum," the IMF reports.
In Japan, changes in the distribution of the working age population depressed annual total factor productivity growth by approximately 0.7–0.9 percent between 1990 and 2007. That came about as Japan's most productive group — 40- to 49-year-olds — shrank. "The results suggest that policies designed to push the Japanese economy out of its the current muddle-through status quo must address underlying demographic headwinds."
As growth has slowed and inequality has increased, economic mobility in America has declined, new research shows. Only 50 percent of children born in 1984 earned more than their parents around age 30, based on new findings by Stanford economist Raj Chetty and co-authors, down from about 92 percent in 1940. While mobility fell in all 50 states, the decline was especially intense in places such as Michigan and Illinois, and men saw steep declines relative to their fathers.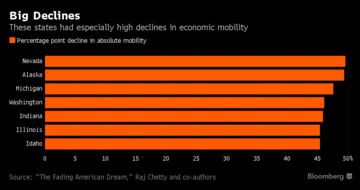 So how does the U.S. fix this? Restoring mobility to its earlier level would require real GDP growth rates above 6 percent, the authors find, so any solution would almost certainly require a more equitable distribution of income.
Women in the U.S. have a new work life cycle, according to research by Harvard University's Claudia Goldin and the Census Bureau's Joshua Mitchell. Women used to work in increasing numbers from their 20s to 40s before posting declines, but now they're shirking that trend: Women born since the mid-1950s work in greater numbers in their 20s, then drop out later and in smaller numbers than in the past as they become mothers, around their 30s and 40s. They later return to the labor force.
"Cohorts entering their older years have more work experience, often have satisfying careers rather than just jobs, have invested more in their vocations, have more of their identity bound up in their work," Goldin and Mitchell write.