EghtesadOnline: Oil may climb to $60 a barrel for the first time in almost a year and a half after Russia and other unaffiliated nations joined an OPEC pledge to reduce production and Saudi Arabia surprised the market by saying it will cut more than previously agreed.
According to Bloomberg, non-OPEC nations said Saturday they will reduce output by 558,000 barrels a day, adding to a Nov. 30 OPEC commitment to cut 1.2 million starting in January. Brent crude has surged more than 20 percent since OPEC announced its first cut in eight years. Prices jumped as much as 6.6 percent to $57.89 a barrel in early Monday trading.
The agreement is the first between OPEC and non-OPEC producers since 2001. It underscores the resolve to end a market-share war that exacerbated a global oversupply and caused prices to slump by 75 percent. The OPEC and non-OPEC plan encompasses countries that pump 60 percent of the world's oil but excludes producers such as the U.S. and Canada, which have benefited from the boom in shale output, as well as China, Norway and Brazil.
"This is an unprecedented event," said Thomas Finlon, director of Energy Analytics Group in Wellington, Florida. "The 558,000 barrel decline from non-OPEC together with the OPEC agreement will total 1.8 million barrels a day of cuts, which is about 2 percent of global production. This is enough to have an impact."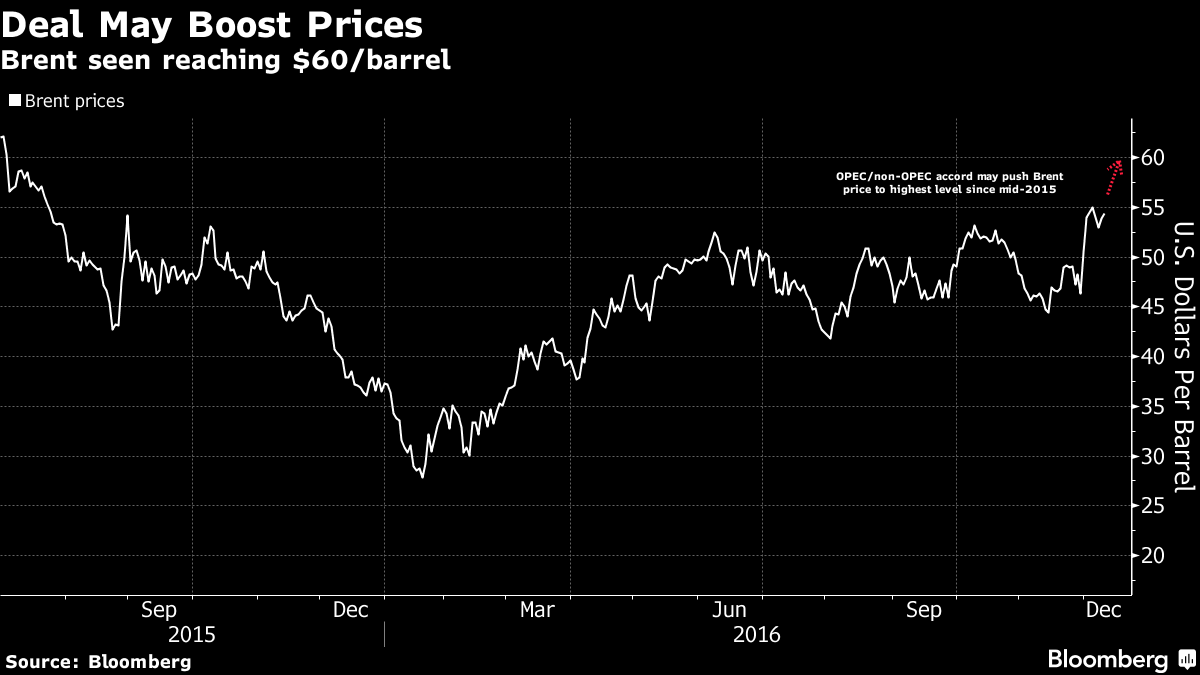 Russia had already announced it plans to trim output by 300,000 barrels a day next year, down from a 30-year high last month of 11.2 million barrels a day. At the meeting, Mexico pledged to cut 100,000 barrels, Azerbaijan by 35,000 barrels and Oman by 40,000 barrels, a delegate said.
The non-OPEC reduction is equal to the anticipated demand growth next year in China and India, according to data from the International Energy Agency. Oil officials said Mexico's contributions would be made through "managed natural decline" meaning the Latin American nation will not cut output deliberately, but will let production fall as its aging fields yield less. Other countries such as Azerbaijan are likely to follow the same route for their cuts.
The joint commitment "marks a turning point for oil markets," said Francisco Blanch, head of commodity markets research at Bank of America Merrill Lynch, in a telephone interview. "Shale producers may increase activity, but it will take at least 12 months for those barrels to come into the market. Meanwhile, OPEC barrels will exit global markets on Jan. 1."
"I can tell you with absolute certainty that effective Jan. 1, we're going to cut and cut substantially to be below the level that we have committed to on Nov. 30," Saudi Energy Minister Khalid al-Falih said after Saturday's meeting.
10 Million Barrels
Riyadh's portion of the OPEC agreement last month was a production cut to 10.06 million barrels a day, down from a record high of nearly 10.7 million barrels in July. The Saudi minister said he was ready to cut below the psychologically significant level of 10 millions barrels a day -- a level it has sustained since March 2015 -- depending on market conditions.
"The Saudis' latest deal with non-OPEC countries could potentially boost Brent crude price toward $60 this week," said Gordon Kwan, head of Asia oil and gas research at Nomura Holdings Inc. in Hong Kong.
Bank of America's Blanch forecast $70 by mid-2017.
Some analysts questioned if some of the producers would adhere to the promised cuts, particularly Russia, which accounted for more than half of the non-OPEC commitment.
'Playing Wall Street'
"OPEC is playing Wall Street very well," Stephen Schork, president of the Schork Group Inc., a consulting company in Villanova, Pennsylvania, said by phone. "The Russians have a completely horrible track record of abiding by these type of agreements. OPEC will be lucky if you see two-thirds of this agreement honored. I'm highly skeptical that the Saudis are going to play nice and cede further market control to the Iranians. "
Brent sank near $27 a barrel in January as surging output from OPEC and other sources, notably U.S. shale, pushed inventories up faster than demand.
"Strong compliance" rather than "full compliance" could still have "a meaningful impact on price," Jason Schenker, president of Prestige Economics LLC in Austin, Texas, said in an interview.
Russia and Oman will join OPEC members Algeria, Kuwait and Venezuela on the committee to oversee implementation on the accord, a delegate said.
"Assuming reasonable compliance levels, these cuts will be enough to push the market into deficit, allowing inventories to draw and oil prices to recover towards marginal cost," Neil Beveridge, a Hong Kong-based analyst at Sanford C. Bernstein, said by phone.
'Limited by Leakage'
Sarah Emerson, managing director of ESAI Energy Inc., a consulting company in Wakefield, Massachusetts, also said the collaboration with countries outside OPEC would "pull the global market into balance, if not in deficit, by the second quarter of 2017" rather than in the third quarter.
The agreement will trigger "strong prices, for sure, but the upside is limited by leakage, which may be substantial as the price climbs toward $60," she said in a telephone interview.
West Texas Intermediate, the U.S. benchmark, added as much as 5.8 percent to $54.51 a barrel on the New York Mercantile Exchange. Front-month prices have added about 20 percent since OPEC announced its plans to curb supply last month.
"The market should respond very favorably to what we saw here, could push us up to new highs," Phil Flynn, senior market analyst at Price Futures Group in Chicago, said in a phone interview. "It's a sign that the production war that was really started two years ago is over and that OPEC and non-OPEC countries feel that they can work to raise prices and not worry about market share."