EghtesadOnline: Oil jumped to the highest since July 2015 after Saudi Arabia signaled it's ready to cut output more than earlier agreed and non-OPEC countries including Russia pledged to pump less next year.
Futures rose as much as 5.8 percent in New York and 6.6 percent in London. Saudi Energy Minister Khalid Al-Falih said Saturday the biggest crude exporter will "cut substantially to be below" the target agreed last month with members of OPEC. His comments followed a deal by eleven non-OPEC countries including Mexico to join forces with the group and trim output by 558,000 barrels a day next year, the first pact between the rivals in 15 years, Bloomberg reported.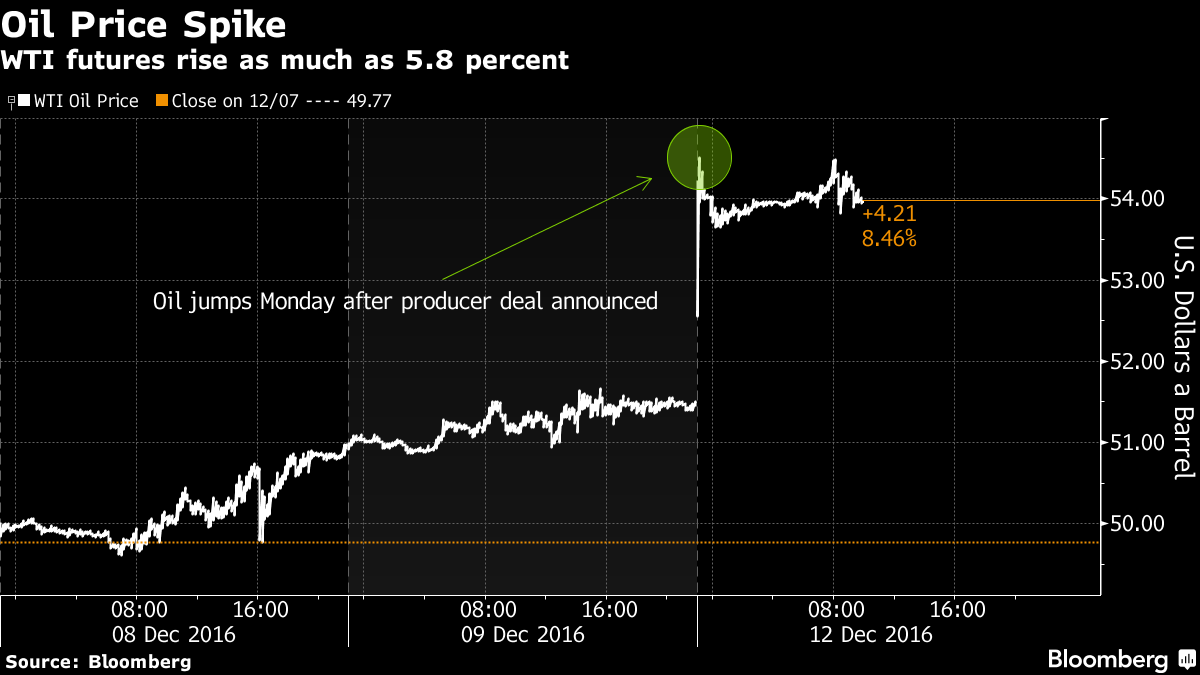 U.S. oil futures have gained about 20 percent since the Organization of Petroleum Exporting Countries agreed on Nov. 30 to cut output for the first time in eight years. Saudi Arabia, which initiated OPEC's decision in 2014 to pump without limits, is leading efforts to take back control of the market. The OPEC and non-OPEC plan encompasses countries that supply 60 percent of the world's crude, but excludes major producers such as the U.S., China, Canada and Brazil.
"This signals Saudi Arabia aims to hasten the oil-market rebalancing," said Giovanni Staunovo, an analyst at UBS Group AG in Zurich. It's "likely to trigger oil-inventory drawdowns at the start of 2017."
West Texas Intermediate for January delivery rose as much as $3.01 to $54.51 a barrel on the New York Mercantile Exchange, the highest level since July 2015. The contract was trading at $53.89 at 9:57 a.m. in London. Prices gained 3.5 percent over the previous two sessions to close at $51.50 a barrel on Friday.
Brent for February settlement jumped as much as $3.56 to $57.89 a barrel on the London-based ICE Futures Europe exchange. The global benchmark crude traded at a $1.97 premium to February WTI.
Into Deficit
"Assuming reasonable compliance levels, these cuts will be enough to push the market into deficit," Neil Beveridge, a senior analyst at Sanford C. Bernstein in Hong Kong, said by e-mail. "This level of coordination is unprecedented."
Oil and gas companies gained in Europe, rising 2.1 percent compared with a 0.4 percent drop in the Stoxx Europe 600 Index. Africa-focused explorer Tullow Oil Plc advanced 8.9 percent and Italian oil major Eni SpA added 3.5 percent.
"I can tell you with absolute certainty that effective Jan. 1 we're going to cut and cut substantially, to be below the level that we have committed to on Nov. 30," Al-Falih said Saturday in Vienna. The Saudi minister added that the country was ready to take production below 10 million barrels a day, a level it has sustained since March 2015.
Al-Falih and his Russian counterpart Alexander Novak also revealed Saturday they have been working for nearly a year on the agreement, meeting multiple times in secret. OPEC two weeks ago agreed to reduce its own production by 1.2 million barrels a day, and Saudi Arabia has long insisted that any cuts by the group be accompanied by action from other suppliers.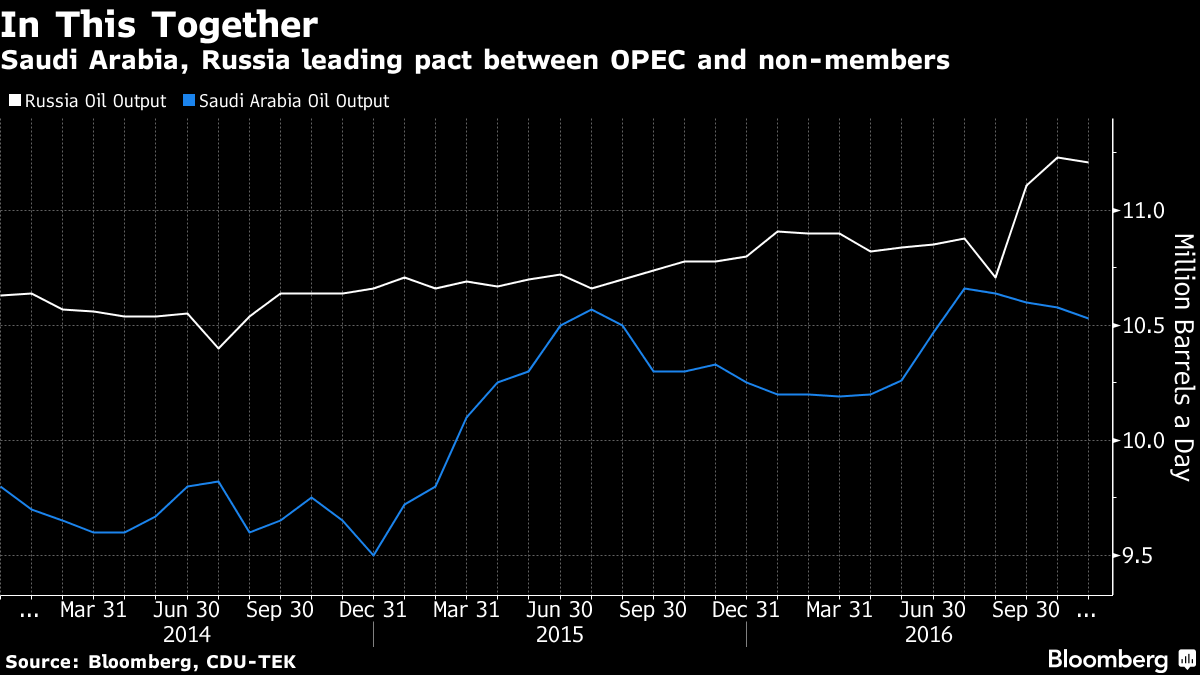 "The reality is both Saudi and Russia desperately need higher prices, with oil their number one export," said Michael McCarthy, chief market strategist at CMC Markets in Sydney. "Agile U.S. shale producers will jump back into production on West Texas well before $60 a barrel."
U.S. explorers rushed back to the shale patch with the largest weekly addition of oil rigs since July 2015, according to Baker Hughes Inc.
The ideal price for oil is about $60 a barrel, because any higher would unleash a surfeit of shale production, Nigerian Minister of State for Petroleum Emmanuel Kachikwu said in a Bloomberg TV interview.
OPEC output rose last month to 33.787 million barrels a day on increases from Libya, Nigeria and Angola, according to independent estimates known as secondary sources, said person familiar with the data.