EghtesadOnline: The Organization of Petroleum Exporting Countries is meeting with countries outside the group in Vienna on Saturday to agree on a pact to curb oil supply and drain record global stockpiles.
OPEC, whose members agreed on their first production cuts in eight years last month, wants commitments from countries outside the group to cut by 600,000 barrels a day, in what would be the first such accord with non-OPEC producers since 2001. About half of that is expected to come from Russia, Bloomberg reported.
"We already have a deal," said Saudi Oil Minister Khalid Al-Falih ahead of the meeting with non-OPEC countries. His counterpart from Algeria, Noureddine Boutarfa, added: "I think all the countries that are here intend to cut."
The talks in Vienna on Saturday come after OPEC and Russia failed to reach an agreement to cut output in April in Doha where Saudi Arabia sunk the deal at the last minute. Russian Energy Minister Alexander Novak said on Saturday the Doha failure caused serious damage, but lesson were learned.
"Back in April we were very close to reaching an historic agreement, which could have marked a beginning of new era in the global oil market," he said. Now, the "active and responsible" participation of non-OPEC nations in the deal will be critical, he added.
Saudi Arabia, OPEC's de facto leader and the world's top oil exporter, has long insisted that any reductions from the group should be accompanied by action from other suppliers. OPEC last month agreed to cut its own output by 1.2 million barrels a day, abandoning the 'pump-at-will' policy it initiated in 2014 that sent oil prices down from $100 a barrel to less than $50 a barrel.
Since OPEC agreed to its cut and Russia announced its intention to contribute, oil prices have risen 17 percent. Brent crude, the global benchmark, briefly rose above $55 a barrel earlier this week for the first time since May 2015.
Saudi Arabia this week informed customers in Europe and North America that it would supply less oil in January than December, reassuring Russia and others in the non-OPEC camp that the oil-club is making good on its cuts. The U.A.E's oil minister said on Saturday that it will take similar action.
"Our target remains the same, about 600 from non-OPEC and of course OPEC is fully committed," Al-Falih said after arriving in Vienna on Friday evening. "I'm sure you are following the news about actual notifications to the customers by a number of countries notably Saudi Arabia. It should be a continuation of the positive spirit of cooperation and collaboration between OPEC and non-OPEC."
Al-Falih said he expected 10 to 11 countries from outside OPEC to be on a declaration after the meeting at the group's headquarters. Some commitments from non-OPEC are likely to come for natural production declines that would have happened anyway rather than voluntary production cuts, according to people familiar with the talks, who asked not to be named because the discussions are private. Russia is expected to commit to a genuine cut.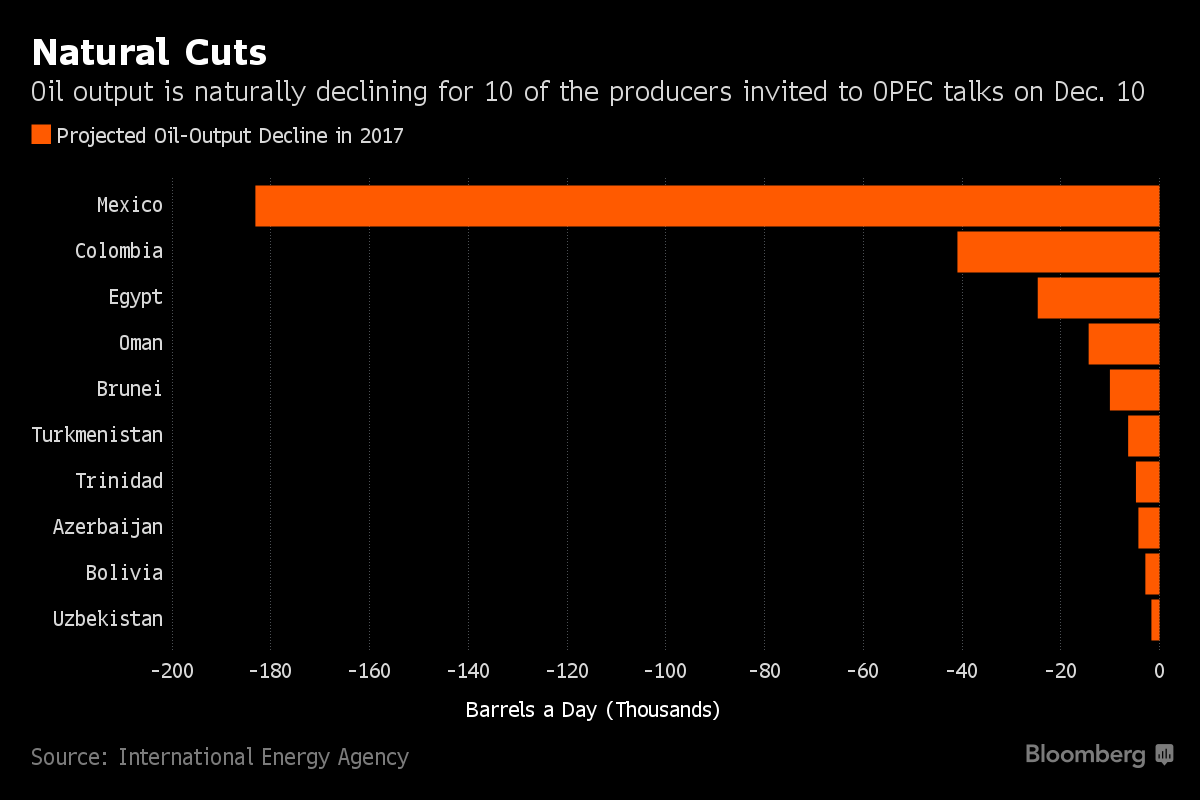 Kazakhstan, which is boosting output after the opening of a new giant oilfield, is prepared to consider freezing production, rather than cutting it, the country's energy minister, Kanat Bozumbayev, said before the meeting.
On top of Russia and Kazakhstan, the following non-OPEC countries are expected to attend the meeting: Azerbaijan, Oman, Mexico, Sudan, South Sudan, Bahrain, Malaysia, Equatorial Guinea, and Bolivia. Brunei won't attend but is expected to commit to trim its output. Including OPEC, the countries gathered in Vienna account for roughly 60 percent of the world's oil supply.
OPEC and non-OPEC countries are trying to drain bloated crude inventories to push prices up. The oil market will rebalance "toward the middle of next year," according to Nigeria's Minister of State for Petroleum Emmanuel Kachikwu, bringing an end to more than three years when supply exceeded demand. However, Bloomberg News calculations based on OPEC data show that across the whole of 2017 there will be little overall reduction in record oil inventories -- even if the group convinces non-members to join supply curbs at a meeting on Saturday.
"Even with 100 percent compliance from both OPEC and non-OPEC producers global stocks are unlikely to fall in the first half of 2017," said Tamas Varga, analyst at brokerage PVM Oil Associates Ltd. in London. "That should keep oil prices in check."