EghtesadOnline: Mario Draghi warned that the region's feeble inflation outlook means European Central Bank stimulus won't end any time soon.
"The presence of the ECB on markets will be there for a long time," the institution's president said in Frankfurt after the Governing Council agreed to add more than half a trillion euros to its bond-buying program and extend it until at least the end of 2017. Quantitative easing is "in a sense open-ended, it's state-contingent," he said.
According to Bloomberg, Draghi cited weak underlying price pressures, political uncertainties and inadequate government reforms as he laid out the reasons for expanding the ECB's asset-purchase plan to at least 2.3 trillion euros ($2.4 trillion). He and his colleagues have frequently stressed that the euro area's economic upturn is largely reliant on continued monetary easing as governments fail to play their part.
"I heard a dovish message," said Holger Sandte, senior European economist at Nordea Markets in Copenhagen. "He's basically saying that the next tapering is coming only in 2018."
The market reaction suggested confusion among investors, who initially focused on a reduction in bond buying to 60 billion euros a month starting in April from 80 billion euros currently -- interpreting the ECB as being hawkish. The euro was down 1.4 percent at $1.0606 at 5:21 p.m. Frankfurt time, while German 10-year bonds climbed to the highest since January and two-year notes rallied before giving up gains.
Draghi said new staff economic projections showing euro-area inflation averaging 1.7 percent in 2019 were "not really" close to the central bank's goal of just under 2 percent. He also reiterated the ECB's line that the economic outlook remains subject to downside risks.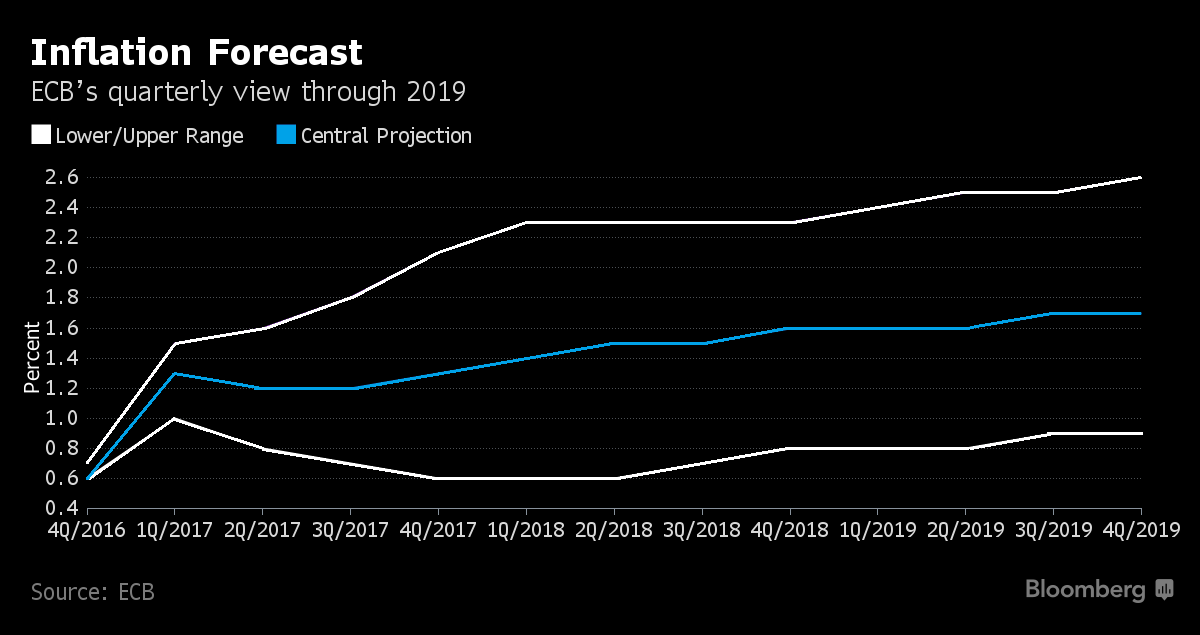 Most economists surveyed by Bloomberg had predicted QE would be prolonged after March at the current pace for about six months. While the Governing Council considered such a scenario, there was "very broad consensus" for the option that prevailed. The ECB kept its main refinancing rate unchanged at zero and the deposit rate at minus 0.4 percent and didn't discuss tapering -- or a phased reduction of bond purchases to zero.
"The ECB and Mario Draghi did their best to confuse markets by feeding both the hawks and the doves," said Jim Smigiel, chief investment officer for alternative strategies at SEI Investments. "We see the market's obsession with a 'taper' as being misplaced and view this as a strong commitment to the current extraordinary monetary policy."
The extension will be accompanied by adjustments to the program's rules, a move necessary to avoid running out of assets to buy. Central banks will be allowed to buy debt with a yield below the deposit rate, previously a minimum eligibility requirement. The minimum duration of debt was lowered to one year from two years.
Issue Limits
Many economists had also predicted the ECB would increase the share of bonds it could buy to as much as 50 percent. Most issue and issuer limits are set at 33 percent. Draghi cited "an increasing awareness of legal and institutional constraints" for not taking that step.
He reiterated his call for governments to implement structural reforms that can cement the recovery, saying that political concerns are no excuse. Germany, France and the Netherlands all have elections in 2017, following on from political upsets in the U.K. and Italy -- as well as the U.S. -- this year.
"Countries that need reforms need to undertake them regardless of what is the general political uncertainty," he said. "The best way to deal with uncertainty is to restore growth, job creation."
While Draghi said the risk of deflation has largely disappeared, annual price growth is still only 0.6 percent. Inflation hasn't been in line with the ECB's goal since early 2013, with forecasts repeatedly being lowered. With that in mind, Draghi said policy makers haven't discussed how they would react to better-than-expected economic data.
"We seem to be far away from any such high-class problem." he said. "There are no signs yet of a convincing upward trend in underlying inflation."