EghtesadOnline: Gold pared a third weekly drop as the dollar halted a rally that sent bullion prices to a nine-month low and pushed silver into a bear market.
Bullion's first gain in four days cut this week's loss to 2 percent. Prices have tumbled as strong economic data and the prospect of more spending after Donald Trump's U.S. election win boosted bets for higher interest rates. Investors are selling out of gold-backed funds at the fastest pace in three years, according to Bloomberg.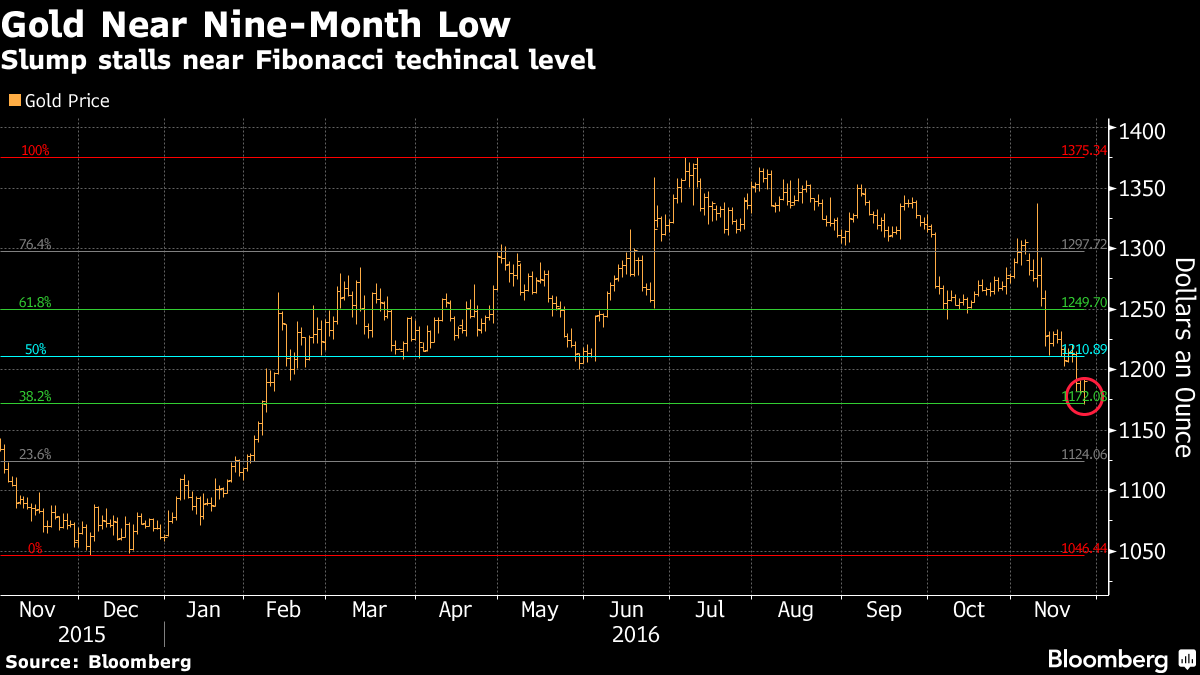 The metal rebounded on Friday as the Bloomberg Dollar Spot Index retreated from a recent high. Gold's decline earlier stalled at $1,171.18 an ounce, which is near a 61.8 percent retracement of the rally from December to July. The Fibonacci figure is used by some traders and analysts to determine support levels.
"There's a good argument to be made that this is a calm before the storm," Anthem Blanchard, the chief executive officer of Anthem Vault in Austin, Texas, said in a telephone interview. "There's probably going to be a lower-than-expected rate increase, or maybe it will be the same as last year. Those are some real catalysts for gold prices in dollar terms."
Gold for immediate delivery rose 0.2 percent to $1,183.83 at 1:35 p.m. in New York, according to Bloomberg generic pricing. It's down 7.3 percent in November, heading for the biggest monthly drop since June 2013.
Traders are certain that the Federal Reserve will raise rates next month, curbing the appeal of owning bullion because it doesn't provide any yield. Holdings in gold-backed funds have dropped 85.5 metric tons so far this month to 1,902 tons, the lowest since June, data compiled by Bloomberg show.
"Every time there's an uptick in rates, there's a downtick in gold," George Gero, a managing director at RBC Wealth Management in New York, said in a telephone interview. "Investors haven't been keeping gold on the radar as you've had consecutive up days in stocks, and that's the main headwind for gold right now."
In other precious metals:
Gold futures for February delivery slid 0.5 percent to $1,186.10 an ounce on the Comex, which was closed Thursday for an U.S. public holiday.

Silver futures for March delivery gained 0.6 percent.
On the New York Mercantile Exchange, platinum dropped while palladium climbed.