EghtesadOnline: The U.S. stock market is partying like it's 1999. For the first time since that year, the four major benchmark indexes hit all-time highs, thanks to an ongoing post-election rally that has lasted for three weeks and lifted almost everything from banks to industrials to small-cap stocks.
Investors kept piling into equities for the week, with the amount of money deposited to exchange traded funds since the Nov. 8 vote accounting for almost 40 percent of this year's total, Bloomberg reported.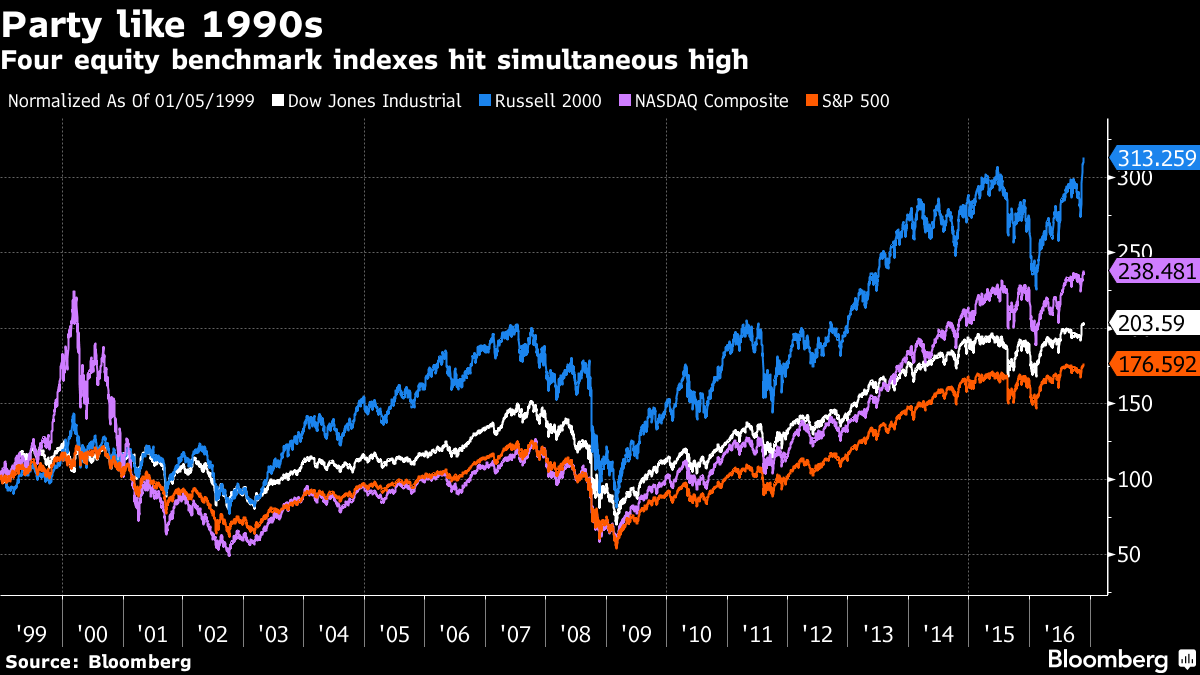 About $1 trillion has been added to equity values since Donald Trump's victory, driven by speculation that his plans to cut taxes and boost fiscal spending will accelerate a rebound in corporate profits. Companies that rely more on domestic sales have led the charge higher, with the Russell 2000 Index of small-cap shares rising 15 days in a row, the longest since 1996.
"We're continuing the slow incremental march higher with earnings-per-share,'' Brian Jacobsen, the chief portfolio strategist at Wells Fargo Funds Management LLC, said in an interview on Bloomberg Television Friday. "And a presidential election that markets took it in stride maybe gave people a little bit of a second wind, anticipating tax cuts and regulatory relief that could propel earnings is 2017.''
The S&P 500 Index ended the holiday-shortened week up 1.4 percent, while the Dow Jones Industrial Average advanced 1.5 percent. The Nasdaq Composite Index rose 1.5 percent and the Russell 2000 added 2.4 percent to top off a 15-day, 16 percent rally.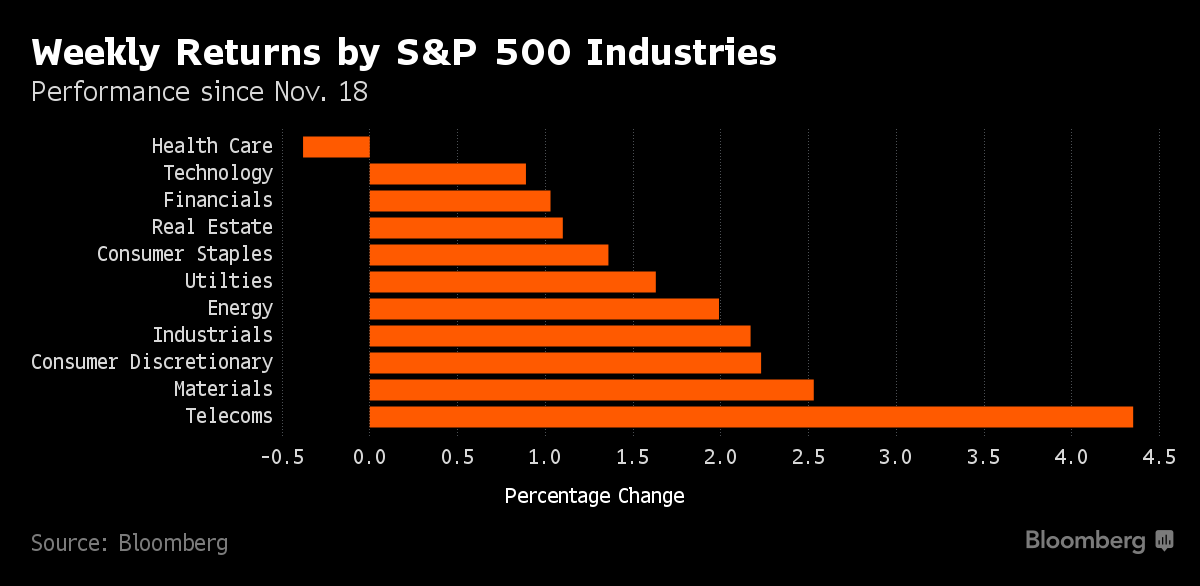 With equities booming, investors are now showing some fear of missing out on the stock market action. They added more than $3 billion to U.S. equity ETFs during the week, bringing the flurry of inflows to more than $40 billion over the past three weeks, data compiled by Bloomberg show.
At the same time, demand for protection against losses is collapsing. The CBOE Volatility Index slipped for a third-week, extending its drop to 44 percent from its peak prior to the election. At 12.4, the fear gauge, know as VIX, is about one-third below its historic average.
"We can ride through the end of the year,'' Scott Bauer, senior market strategist at Trading Advantage in Chicago, said in a Bloomberg Television interview. "But the other side says, 'Take a little off the table by buying this protection because it's too cheap not to.'''