EghtesadOnline: The dollar's gains reverberated across emerging markets as the case for multiple U.S. interest-rate increases strengthened. Copper surged.
Shares in developing nations extended their November slide as benchmark gauges from Brazil to Indonesia retreated. Turkey's lira and India's rupee touched record lows, while the Philippine peso dropped to the weakest since the global financial crisis. German bund futures pared gains as the European Central Bank was said to have room to delay some decisions on the future of its stimulus program. S&P 500 futures advanced, with American markets closed for the Thanksgiving holiday. Copper headed toward its best month in a decade, gold slipped and oil traded near $48 a barrel, Bloomberg reported.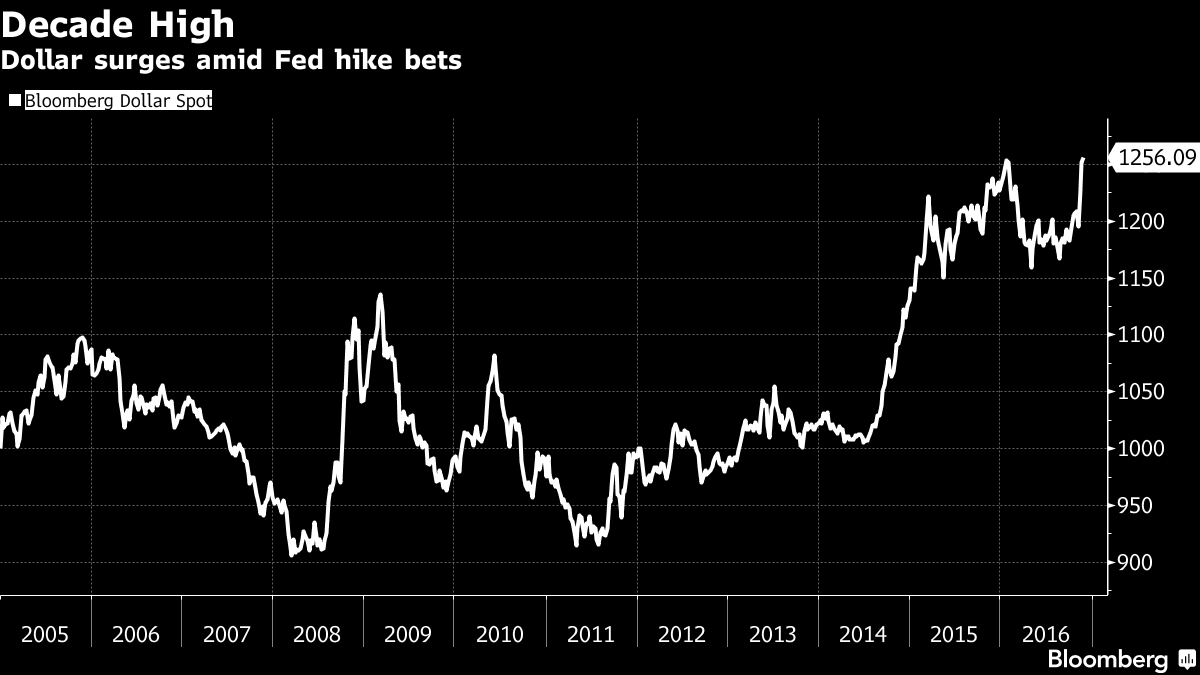 The greenback traded near the strongest level in a decade after better-than-estimated economic reports fueled speculation the U.S. is strong enough to withstand higher interest rates. The odds of a December hike surged to 100 percent and the probability additional moves by June climbed to 66 percent, according to fed fund futures data compiled by Bloomberg. Those bets have weighed on emerging markets on the perception that a jump in U.S. yields would curb demand for riskier assets.
"The dollar has been really strong in anticipation of Yellen's move next month and that strength in the U.S. dollar is ultimately going to mean that emerging-market assets would be seen as disadvantaged," said Nicholas Teo, a strategist at KGI Fraser Securities in Singapore.
Currencies
* The MSCI Emerging Markets Currency Index slipped 0.1 percent at 12:24 p.m. in New York.
* The lira slumped even after Turkey boosted interest rates.
* The rupee touched a record low as global funds dumped Indian assets.
* The Philippine peso neared 50 to the dollar.
* China's yuan touched an eight-year low as the central bank weakened its reference rate.
* The yen traded near the lowest in eight months, while the euro advanced.
Stocks
* Emerging-market shares extended a two-day drop as Indonesia's benchmark slid 2 percent.
* S&P 500 futures rose 0.2 percent.
* The Stoxx Europe 600 Index rose, led by health-care companies.
* Japanese shares rose for a 10th Day as a tumbling yen boosted exporters.
* Hong Kong stocks dropped the most in a week as developers tumbled.
Commodities
* Copper climbed as much as 3.5 percent amid bets on stronger global demand.
* Most other metals gained, with zinc heading for the highest since 2008.
* Gold fell to the lowest since February amid a dollar rally.
* Oil was little changed as Iraq's prime minister said the country will curtail output as part of a broader OPEC supply deal, while Russia said it would go no further than a freeze.
Bonds
* Rosneft PJSC approved a 1.07 trillion ruble ($17 billion) bond program, the biggest ever by a Russian company.
* Havila Shipping ASA lenders intend to call in their debts, risking bankruptcy at the Norwegian offshore vessel operator, after bondholders failed to support a debt restructuring.
* Citigroup Inc. is selling the first structured notes tied to Egypt's sovereign debt in six years.