EghtesadOnline: The Turkish central bank's unexpected interest-rate increase provided only a fleeting respite for the nation's beleaguered currency, with the lira's knee-jerk advance dissipating within hours of the decision to boost borrowing costs.
Turkey's currency, which climbed as much as 0.8 percent after the announcement, reversed gains amid speculation the central bank will hesitate to deliver further rate hikes to counter the impact of higher U.S. interest rates. That pushed it to a fresh all-time low against the U.S. currency, according to Bloomberg.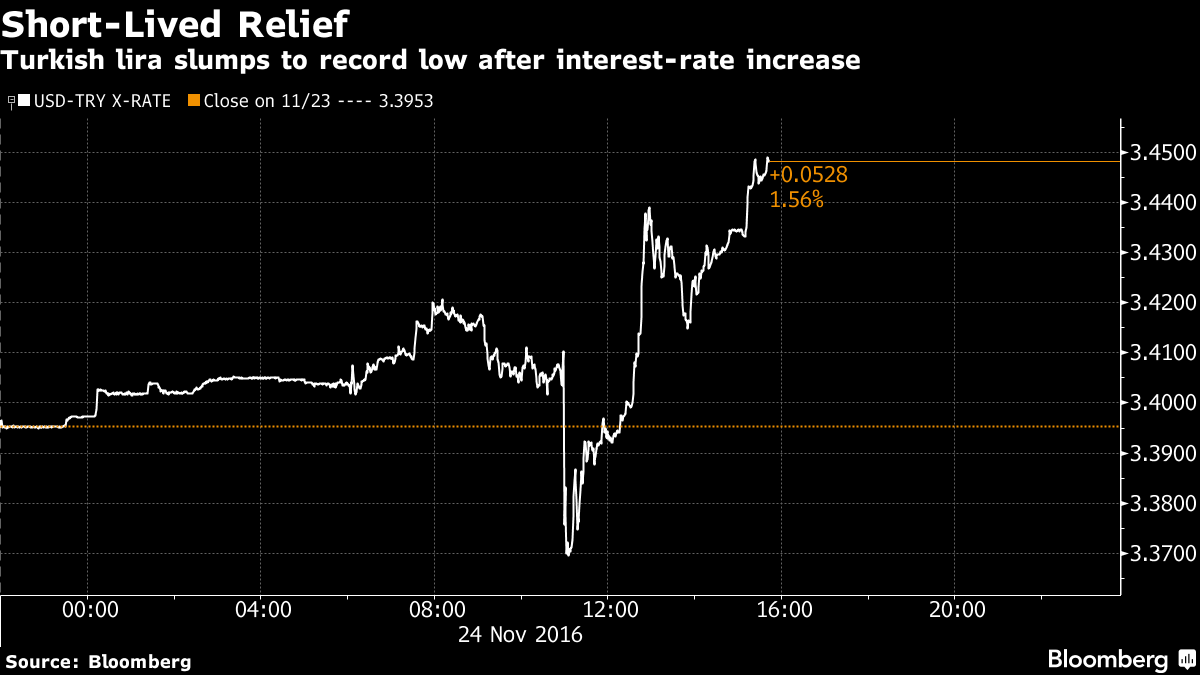 The currency has weakened the most in emerging markets this quarter, slumping to successive record lows since Donald Trump's election victory stoked inflation expectations, driving U.S. yields higher and diminishing the appeal of riskier assets. The median estimate of economists in Bloomberg survey was for no change as central bankers steer a course between political pressure from President Recep Tayyip Erdogan for low rates to revive a slowing economy and to mitigate against a tumbling currency.
The central bank slashed the overnight lending rate by as much as 250 basis points this year through October, even as inflation remains more than 200 basis points above the central bank's target.
There was little in the central bank's statement "that suggested this was the beginning of a hiking cycle," Henrik Gullberg, a strategist at Nomura International PLC in London, said in an e-mailed note. "At this stage the central bank was not able to pre-commit to further hikes 'if necessary' and therefore this remains more like wishful thinking."
The lira weakened 1.5 percent to 3.4473 per dollar as of 6:45 p.m. in Istanbul. It earlier touched a record 3.4494.
The central bank raised the overnight lending rate 25 basis points to 8.5 percent, and boosted the one-week repurchase rate 50 basis points to 8 percent. The central bank's decision defied pressure to reduce borrowing costs from the government, helping to dispell some investor concerns about the monetary authority's independence.
"It is positive in the sense that the central bank showed that they can move," said Erkin Isik, a strategist at Turk Ekonomi Bankasi AS in Istanbul. "However, it's yet to be seen whether 25 basis-point hike in the lending rate will be enough to reverse the earlier underperformance, which I think also depends on the global backdrop."
The reaction in Turkish bonds proved more resilient, with the yield on 10-year securities falling 14 basis points to 11.24 percent. It closed at a record-high on Wednesday.