EghtesadOnline: Oil traders and analysts grew more confident that OPEC will reach a deal to curb global oversupply next week as delegates said talks on assigning quotas to individual countries made good progress.
Today's discussions went well, Libyan OPEC Governor Mohamed Oun said as he left the group's headquarters in Vienna on Monday evening. The two-day meeting, a warm-up for a full OPEC meeting next week, will continue tomorrow.
According to Bloomberg, oil rose 4.4 percent to close at $48.90 a barrel in London on Monday, the highest in three weeks, as Goldman Sachs Group Inc. said the likelihood of a deal next week meant the bank was bullish on oil prices in the short term. Prices extended gains on Tuesday, climbing as much as 1.1 percent to $49.45.
"With greater confidence that the global oil market can finally shift into deficit later next year, we now believe that there is a strong rationale for low-cost producers to deliver a swift production cut to normalize inventories," analysts including Damien Courvalin said in a research note Monday.
Several other developments contributed to the rally: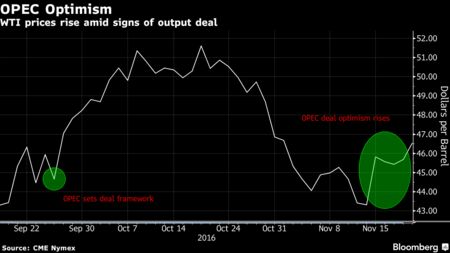 The Organization of Petroleum Exporting Countries in September proposed limiting the 14-member group's output to a collective 32.5 million to 33 million barrels a day, which would be its first cut in eight years.
Hurdles to a firm deal remain, however. Most importantly, Iran has sought special treatment since it's newly free of international sanctions, and Iraq has contested OPEC's production estimates. Today's meeting, alongside intensive diplomacy among member states, is aimed at resolving those differences.
The urgency for a deal has grown even stronger since the Algiers meeting in September, according to Goldman Sachs.
"Oil fundamentals have weakened sharply since OPEC announced a tentative agreement" and the current glut will increase to about 700,000 barrels a day in the first three months of next year unless OPEC acts, according to the bank's research note. Any cut would have to come primarily from Saudi Arabia, Kuwait, the United Arab Emirates and Qatar, with other members keeping output steady at current levels through the first half of 2017, it said.