EghtesadOnline: Oil jumped on optimism OPEC will agree to a supply-cut deal, while Asian equities and industrial metals rebounded from last week's losses. The dollar held near a January high, with traders all but convinced the Federal Reserve will pull the trigger on a rate hike in December.
Crude rose as much as 1.4 percent in New York, adding to a 5.3 percent advance last week. With an OPEC meeting next week in Vienna, Iran's Oil Minister said it's "highly probable" members will reach a consensus, according to comments published by the country's Shana news service. Most benchmark Asian equity indexes advanced, with Japan's Topix index rallying for an eighth day, and futures signaled a higher open for European shares. The yen weakened past 111 per dollar as a gauge of the greenback rose to its strongest point since Jan. 29. Nickel, copper and zinc gained at least 2 percent, Bloomberg reported.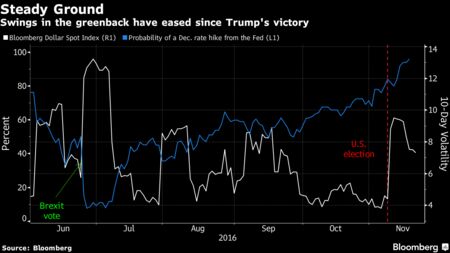 While the prospect of Donald Trump as U.S. president unnerved markets in the lead up to the election, his vow to boost infrastructure spending has turbo-charged bets on a Fed hike, underpinning the dollar's steepest two-week rally versus the yen since 1988. Fed Chair Janet Yellen told lawmakers that the central bank is close to boosting borrowing costs, with speculation the president-elect will bolster fiscal stimulus already fueling bets on further policy tightening in 2017. In Europe, Angela Merkel said she'll run as German chancellor again, news that may calm markets after an exceptional few weeks.
"We have little doubt that the world is shifting into a new paradigm where politics and fiscal policy will gain far more prominence," Philip Borkin, a senior economist in Auckland at ANZ Bank New Zealand Ltd., said in an e-mail. "Markets are indeed behaving that way already as the 'Trump trade' of higher yields and the dollar remains the centerpiece of market moves."
Stocks
Futures on the Euro Stoxx 50 Index added 0.2 percent as of 7:12 a.m. in London, with contracts on U.K. and French benchmark indexes also climbing.
The MSCI Asia Pacific Index rose 0.2 percent, with a gauge of Chinese shares traded in Hong Kong climbing 1.1 percent to head for the steepest regional gain.
In Japan, the Topix rose 1 percent to post its longest run of daily advances since August last year. The Nikkei 225 Stock Average climbed more than 20 percent from this year's low to enter a bull market last week, and Citigroup Inc., AllianceBernstein and Bordier & Cie all see further gains for Japanese shares.
S&P 500 Index futures increased 0.1 percent to 2,183.25. U.S. equities extended the rally sparked by Trump's election win last week, with small-cap shares the biggest beneficiaries.
Commodities
West Texas Intermediate crude rose for a second day, adding 1.2 percent to $46.24 a barrel after climbing 0.6 percent on Friday. Brent gained 1.2 percent to $47.40 per barrel.
Oil has rebounded since hitting the lowest in almost two months last week as members of the Organization of Petroleum Exporting Countries began making renewed diplomatic efforts before their meeting Nov. 30 to finalize the output deal informally agreed to in September. The group is seeking to trim output for the first time in eight years, a plan that's been complicated by Iran's commitment to boost production and Iraq's request for an exemption to help fund its war with Islamic militants.
Nickel rallied from a two-week low as industrial metals renewed their advance amid optimism over demand in China and the U.S.
The metal used in stainless steel added 3 percent on the London Metal Exchange after prices slumped 3.6 percent on Friday to close at the lowest since Nov. 4. Copper jumped 2.3 percent as money managers boosted their bets for price gains on the Comex to the highest ever. Gold rose 0.4 percent.
Currencies
The yen weakened 0.2 percent to 111.11 per dollar following last week's 4 percent slide, the biggest since July. Strategists are raising forecasts for dollar gains against the yen at the fastest pace in more than a year after a Bank of Japan fixed-rate bond-buying operation -- that attracted no offers -- pulled 10-year Japanese government debt yields back toward zero.
"The trend for yen weakness will continue amid a very violent and volatile market next year," said Shusuke Yamada, the chief Japan foreign-exchange and equity strategist at Bank of America Merrill Lynch in Tokyo. "Even without any additional expansion of stimulus by the BOJ, the power of policy easing will strengthen automatically."
Traders see a 98 percent likelihood of the Fed raising interest rates at next month's meeting, fed funds futures show.
The South Korean won led the retreat among major currencies versus the dollar, slipping 0.3 percent, while the Australian dollar lost 0.1 percent. The Bloomberg Dollar Spot Index was little changed.
Bonds
The debt market took a breather, with 10-year Treasury yields slipping two basis points to 2.34 percent following last week's 21 basis-point surge.
After being largely left behind in the era of cheap money, savers may ultimately emerge as the big winners in a world where Trump is president. Yields on 30-year Treasury bonds have risen about a half-percentage point since the election as Trump's ambitious spending plans prompt traders to ratchet up their expectations for inflation and growth.