EghtesadOnline: The global bond rout intensified Monday, with a gauge of Treasuries volatility surging to the highest since February, on expectations that President-elect Donald Trump will increase government spending to boost economic growth and stoke inflation.
The yield on the benchmark 10-year note climbed to 2.26 percent, the highest closing level since Jan. 1. The move marks a quick reversal -- just four months ago, it touched a record-low 1.318 percent, surprising analysts who back in January predicted it would end the year at 2.75 percent, Bloomberg reported.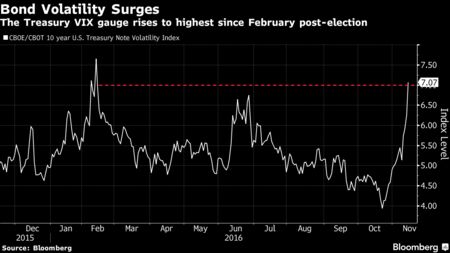 The selloff on Trump's election last week wiped a record $1.2 trillion off the value of bonds around the world as investors speculated the Republican would pursue stimulative fiscal policies. Yields on two-year notes, the coupon maturity most sensitive to monetary-policy expectations, rose to 1 percent for the first time since January as traders to added to bets the Federal Reserve will raise interest rates next month.
"The volatility comes from the unknown factor -- given the lack of details around his policies, there is a lot of uncertainty," said Gary Pollack, who manages $12 billion as head of fixed-income trading at Deutsche Bank AG's Private Wealth Management unit in New York. "It does cause this give-and-take, or back-and-forth, to figure out where is the right place the market should be."
Benchmark 10-year note yields jumped 11 basis points, or 0.11 percentage point, to 2.26 percent as of 5 p.m. in New York, according to Bloomberg Bond Trader data. The 2 percent security due in November 2026 dropped 31/32, or $9.69 per $1,000 face amount, to 97 21/32.
Treasury two-year note yields rose nine basis points to 1 percent. U.S. 30-year bond yields rose eight basis point to 3.01 percent, the highest closing level since Jan. 1.
The CBOE/CBOT 10-Year Treasury Note Volatility Index rose for a fourth day to its highest level since February.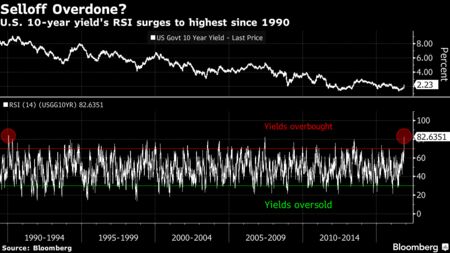 Technical indicators such as the relative-strength index are signaling the Treasuries selloff may have gone too far, too fast. The 10-year yield's RSI rose to about 83 on Monday, the highest since 1990, with a number above 70 signaling yields may be overbought -- or, in other words, that the notes may be oversold.
BlackRock Inc., the world's biggest money manager, said U.S. bond investors should favor Treasury Inflation-Protected Securities as the gap between yields on 10-year Treasuries and equivalent-maturity TIPS, a measure of inflation expectations, touched 1.97 percentage points, the highest since April 2015.
"We see a post-election reflationary trend and a Fed willing to let inflation run hotter putting pressure on longer-term bonds," Richard Turnill, BlackRock's London-based global chief investment strategist, wrote in a post on the company's website Monday. "We prefer TIPS over nominal bonds."
TIPS have returned about 5.8 percent in 2016, versus about 2.3 percent for conventional Treasuries, according to index data compiled by Bloomberg.
Inflation Gauges
While the outlook for inflation is picking up, price increases have yet to match the Fed's target.
The annual change in the price index for personal consumption expenditures has been less than 2 percent for years. The Fed identified this gauge in 2012 as the one it will use for its target.
Traders assign about a 92 percent probability to a Fed interest-rate increase in December, according to data compiled by Bloomberg based on fed funds futures, up from 84 percent on Nov. 11. The calculation is based on the assumption the effective federal funds rate will trade at the middle of the new range after the central bank's next increase.
'Paradigm Shift'
"We are reaching a paradigm shift in the bond market," Matt Eagan, a money manager at Loomis Sayles, which oversees $245 billion, said in an interview with Bloomberg Television. "Trump's policies, at least taking them at face value right now, are inflationary at a time when the slack in the economy is actually tightening and we have very aggressive monetary policy."
Investors should hold an underweight position in Treasuries, said Tuan Huynh, the Singapore-based chief investment officer for Asia and the Pacific at Deutsche Bank Wealth Management.
"The markets are clearly pricing in a big fiscal stimulus plan," Huynh said. "The Fed might need to react with stronger rate increases." The 10-year yield should be closer to 2.5 percent than 2 percent over the next 12 to 18 months, he said.