EghtesadOnline: Two of Japan's biggest banks are redoubling their efforts to lend to the renewable energy industry as negative interest rates at home prompt them to search for stronger yields abroad.
Mitsubishi UFJ Financial Group Inc. and Sumitomo Mitsui Financial Group Inc. have pushed past European competitors such as Banco Santander SA in writing project finance loans to clean-energy developers during the first 10 months of the year, according to data compiled by Bloomberg New Energy Finance for its conference starting Tuesday in Shanghai.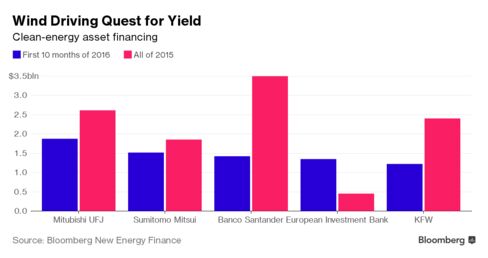 The institutions have been enticed by steady yields from offshore-wind projects in the North Sea, backed by government subsidies and Europe's quest to reduce greenhouse gas pollution.
Those projects have helped make up for a slowdown in the domestic market, where banks are finding it tougher to make money on loans. Interest rates at Japan's domestic banks fell to an average 0.703 percent in August, the lowest since at least 1993, according to the Bank of Japan. Meanwhile, Japan's solar boom has lost pace amid cuts in the tariffs that solar power producers receive and the growing difficulty in finding suitable locations for large-scale projects.
"Lending for overseas projects will continue so long as there's no weakening of policies" to support clean energy, said Megumu Murakami, who studies climate change finance for the Japan Research Institute, a unit of Sumitomo Mitsui. "The banks have a strong motivation to strengthen lending in renewables" with many governments in developed countries aiming to reduce greenhouse gas emissions by 80 percent by 2050, she said.
League Tables
MUFG, Japan's largest lender, is in the top position as lead arranger of clean energy asset financing so far this year with $1.88 billion, followed by Sumitomo Mitsui at $1.52 billion, pushing Banco Santander of Spain, last year's top provider, to third, according to BNEF, which will host the "Future of Energy" summit in Shanghai on Nov. 1 and 2.
"We have long been leading the renewable energy market especially in Europe and North America," Yoko Yanagida, head of the bank's power and infrastructure department, said in an interview. "In Japan, we take pride in our renewable financing which began about 15 years ago, even before the feed-in tariffs started. That allows us to attract developers and there is demand for financing."
Santander officials declined to comment.
Negative Rates
The Bank of Japan slashed its benchmark policy rate below zero earlier this year after some central banks in Europe started experimenting with negative rates in 2014. The idea is to deliver a jolt to the economy by discouraging saving. It's also prompted banks and investors to search more widely for assets that pay a yield.
MUFG and its Japanese megabank peers Sumitomo Mitsui and Mizuho Financial Group Inc. have traditionally been active in financing renewable projects in Europe and the U.S., according to BNEF.
"We have been a pioneer in providing project finance for renewables and for other environmentally-conscious infrastructure projects," Masako Shiono, a Mizuho spokeswoman, said by e-mail. "We will continue working on projects where we can apply our expertise."
Low returns in Japan and relatively higher returns offered by renewable projects benefiting from incentive programs called feed-in tariffs or similar guaranteed power purchase agreements continue to make those markets appealing, said Ali Izadi-Najafabadi, a Tokyo-based analyst with BNEF.
'Hungry for Yield'
"The megabanks have naturally become ever more hungry for yield globally" after the Bank of Japan's adoption of its negative-rate policy earlier this year, he said. "This has resulted in MUFG, Sumitomo Mitsui and Mizuho all being among the top 10 lead arrangers for asset financing of renewables projects in 2016 year-to-date."
The timing of the BOJ's negative rates also coincided with a surge in investment opportunities at U.K. offshore wind projects, an area of development that accounts for the largest share of renewable financing provided by the three banks this year, Izadi-Najafabadi said.
"Europe has been moving ahead with offshore wind installations and projects are usually of large scale with good sponsors," said Yuichiro Himuro, a spokesman for Sumitomo Mitsui. "That contributes to wind's big share in our portfolio."
One wind development in particular, the first and second phases of the $3.9 billion Beatrice Cape offshore wind farm, helped pushed MUFG into the top position. Bank of Tokyo-Mitsubishi UFJ co-financed the wind project off the northern coast of Scotland together with about a dozen overseas banks.
The bank is also looking to fund more clean energy projects in developing parts of Asia such as Malaysia, Thailand and India, Yanagida said.
Growth Opportunities
"Renewables in Asia, outside of Japan and Australia, still have lots of room to grow," Yanagida said. Solar projects in India and Malaysia offer plenty of potential, while wind opportunities are available in Thailand and Taiwan, she said.
MUFG had about $10 billion in outstanding loans for renewable projects as of the end of March, Yanagida said. The Americas and Asia accounted for 65 percent and 20 percent, respectively, while the remainder was to countries in Europe, the Middle East and Africa. The bank hasn't set a target specifically for clean energy for this year, she said.
A growing number of solar projects in the Middle East may also offer opportunities, Yanagida said. Elsewhere, the U.S. will remain an active market thanks to tax credit support for wind and solar.
MUFG is also looking at wind projects in Australia. The bank also wants to add biomass and wind projects to its portfolio in Japan, where solar has dominated most of the expansion in recent years, according to Yanagida.